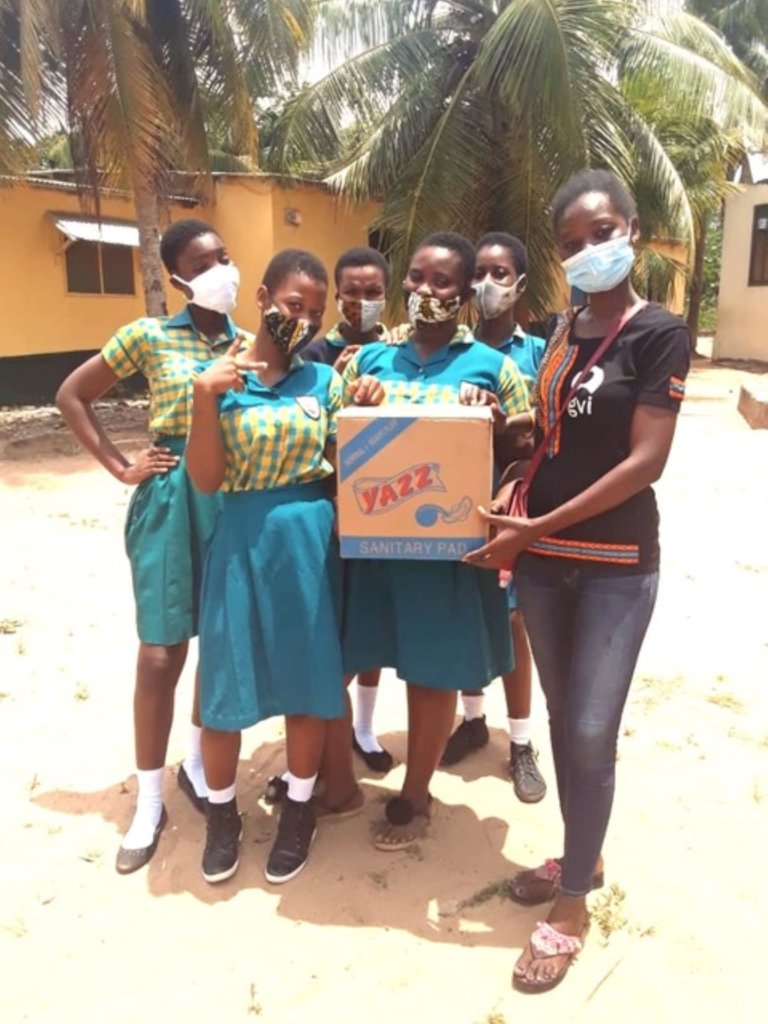 Like NGOs everywhere, we have had to adapt to some difficult circumstances during 2020 and to-date, with the team working extremely hard to ensure our impact is sustained while safely reacting to and navigating through the global COVID-19 pandemic. We are deeply embedded in our community, the safety of the women and girls of Kokrobite – and supporting them as best we can through the lockdowns and other pandemic pressures – has been our highest priority. Fortunately with the support of our donors, our team has been able to successfully continue our important work in women's empowerment and health.
As our donors and supporters will be aware, our collaborative project,runs a program of menstrual health education and distribution of sanitary products for female students at our local partner schools in Kokrobite. The program allows for all girls of 11 years plus to participate in educational workshops to discuss reproductive and menstrual health and to be offered advice and guidance on safe and hygienic good practice. In addition, each school is provided with sanitary pads, sanitized wipes and other resources to distribute to female students as and when they experience their monthly reproductive cycles. However, with schools shut due to the global pandemic, female students have been at home, often being supported by family members who have seen their employment and income opportunities reduced by the pandemic, and so many of the girls have been unable to access the sanitary resources they need.
In response, we have utilised donations from our donors to purchase and distribute sanitary products to hundreds of these girls directly in their homes. Working with teachers from our partner schools, the sanitary products were purchased and distributed door-to-door, with each female student being provided with a 3-month supply at-a-time to safely meet all their needs. In addition, our team has been able to work with our partner schools to provide advice and guidance on the sanitization and protective measures the girls can take to minimise the chances of contracting COVID-19 and generally staying safe and healthy until their schools can reopen. With some schools having been unable to reopen until January 2021, our team will continue to monitor those girls who need support and will continue to replenish their sanitary supplies as required.
In order to support our partner schools to reopen in a safe and responsible manner following the pandemic, and to help provide improved health and medical care to all students in the community in future, our collaborative project has also worked to accelerate the delivery of a first aid and hygiene training program for teachers from the local community. With access to emergency medical care very limited in the local community, major hospitals and medical facilities can take several hours to access, putting lives at risk due to the delay in those all important first medical responses. By taking advantage of the school closures and subsequent availability of local teachers, we worked full time over a 6 week period through August and September 2020 to deliver a bespoke 5 day course to 20 local educators. While maintaining safe distances, working with groups of no more than 5, and implementing strict sanitation measures, we were able to complete this important training whilst absolutely minimising the risk of exposure to COVID-19. The first aid component of the course was centred around Emergency First Response principles, training attendees on emergency primary care/CPR, secondary care/first aid, and children's health and first aid. The course combined different learning approaches, practical, and written examinations, with every attendee demonstrating they had learned the full theoretical knowledge and practical skills being taught: all 20 educators met the full requirements to become qualified emergency responders, thus passing the course and earning a formal certification.
As well as ensuring that hundreds of local female students had access to appropriate sanitary products during the lockdown, with the help of our donors, we have been able to train 20 teachers and educators to provide critical first aid and medical care to the thousands of children who returned to school in Kokrobite in January 2021. The impact this has on the ability of schools and the wider community to provide illness and injury care to children cannot be over-exaggerated: 4 of our partner schools have transitioned from having zero first aid trained teachers to having at least 4 formally qualified first aiders on-duty at any one time.
The success of this collaborative project has resulted in our team seeking funding to expand this training program to focus on women/mothers from the community, in order to train them in adult, family and children's first aid. In 2021, our team is aiming to train at least 50 women in essential injury and illness responses, thus extending the medical care that the children of Kokrobite can receive from the classroom to the home.
We would therefore like to extend a huge thank you to everyone that helped us launch these projects!