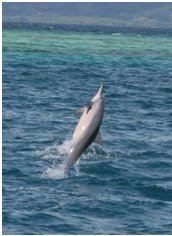 On route to Dawasamu, the anticipation of viewing the acrobatic Spinner Dolphin's in their natural habitat was written across the GVI volunteers faces. This would be a trip to remember. Here is an update straight from the field, by one of our volunteers Jack:
On arrival we were shown to our accommodation by the wonderful staff at Nataleira Lodge – because it is owned by the local community all funds directly benefit the local people and their appreciation really shows. I can't begin to explain how warm, friendly and inviting they are and how much they care for their local pod of resident Spinner Dolphins located at Moon Reef. Having set up the Dawasamu Environment Movement (DEM) and inviting GVI to help carry out research conservation is a key goal and our presence is really appreciated.
Having the opportunity to meet and work alongside Dr Cara Miller was a real privilege. Currently working for the Whale and Dolphin Conservation Society (WDCS) as the South Pacific Regional Manager as well at the University of the South Pacific (USP) she is an expert in her field and would be our mentor for the next 2 weeks. On our first day Dr Miller presented her previous findings on her Spinner Dolphin research and introduced how GVI was going to help. This included carrying out three main research methods to collect data that would be used to create a conservation management plan for the Spinner Dolphins of Moon Reef.
On our first day on the research boat we were met by Junior and Phillipe two local DEM members who Dr Miller and GVI were going to help train in the research methods that we would carry out so they could continue in our absence. They were also our vessel's captains.
After our initial daydream it was time to get to work, weather conditions were recorded and we were good to go. Armed with 3 SLR cameras our first task was to assess the site fidelity of Spinner Dolphins frequenting Moon Reef. The most effective and easiest method is to take photo identification of individual dolphin dorsal fins; GVI volunteers got a lot of practice. Each dorsal fin is unique and acts as a fingerprint. However, trying to take pictures of such a fast moving wild animal is not easy but after a few
hours we had it down.
Second on our agenda was to witness and record group and social behavior using behavioral scan sampling techniques. This was a great way to see these animals in action performing majestic spins up to 7 times whilst also throwing in a back flip if they felt like it. Boat trips would be made 6-10am, 10am –2pm and 2-6pm to record and analyze the Spinner Dolphins daily behavioral cycle.
Our third research method was looking into the acoustic repertoire of these creatures and analyzing what whistles were made during different times of the day.
Two weeks of this exciting research was combined with some really great trips and fun times. A real highlight shared throughout the group was visiting Dawasamu secondary school to educate the pupils on marine conservation covering plastics to shark fining. Two USP students Nunu and Sophie accompanied us throughout the project carrying out their thesis on Spinner acoustics. With their help plus Junior's, Phillipe's and Tim's (playing guitar) we were able to deliver a conservation song which was enthusiastically received.
Once our data had been collated it was reviewed, entered into Dr Miller's database and forwarded to DEM and FLMMA (Fijian Locally Managed Marine Area network). This will go on to aid the management plan designed future conserve these beautiful creatures. It was a real achievement and extremely rewarding.