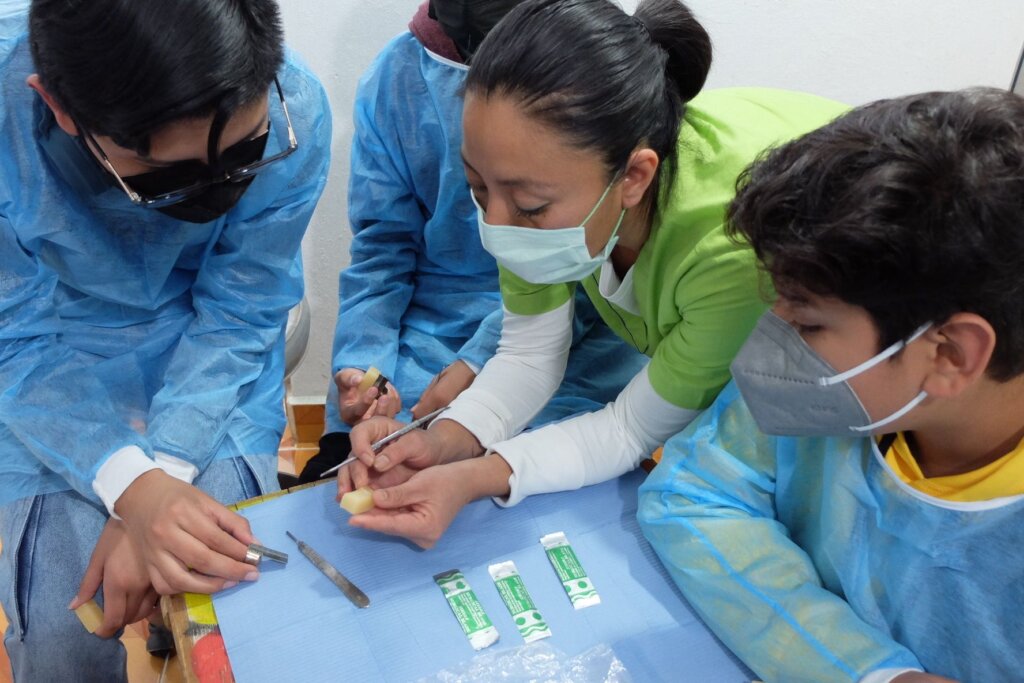 Due to a sudden rise in covid19 cases, we decided to stay at home for two weeks in January. Fortunately, in the beginning of February, we were able to meet again in person. Our students kicked off with the module Technology. Together with waterfront engineer, Jorge Lacruz, of the shipbuilding company Damen they dived into the world of vessels. Jorge is originally from Venezuela and shared his personal experience with the kids. What it is like to work in another country and culture and what kind of skills are needed to be able to fulfil the job of a waterfront engineer. He also emphasized the importance of teamwork. No ship is built without good teamwork! Jorge brought various scale models to the classroom and the students put this into practice right away, with great results! It was great to have a Damen employee in the classroom again. We are grateful for Damen´s ongoing collaboration with Mundo de Talentos.
Also during the Technology module, our first year students met with Ángel José Solís Domínguez, who studies Mechatronic Engineering. He was a source of inspiration and shared with our students how he got to win a 100% scholarship at the university Tec de Monterrey to study a degree in Engineering. Together they dived into the world of mechanical electronics and they discovered how to make a jet propulsion rocket with space aerodynamics! During the last class of the Technology module, our eyes turned green and our minds became more aware. We went to Parque el Encuentro where specialists from Cántaro Azul shared their experiences in Eco-Technologies, water management and ecological alternatives in environmental care. Our students learned about the pH and hardness of the water, observed samples under a microscope and learned about dry toilets. Everything aimed at sustainable environmental management.
In February, Mundo de Talentos took its first steps outside of San Cristóbal de Las Casas. We kicked off with our pilot project in the village of Teopisca in Chiapas! Together with 20 very motivated students of the high school José Antonio Gutierrez and with their parents we started the activities of our program. We are very excited about this new adventure and will evaluate these first steps in May/June. Our goal is to start with a complete group of 40 students in Teopisca in September 2022.
Also during the past few months, we introduced a new module; Innovations! This module aims to bring out creativity in our students and inspire them to think outside of the box. Our second-year students met with guest teacher Juan Carlos Aguilar, from Jaguar Cycles, who produce bicycles and other objects with bamboo. Together they discussed and presented how innovation and creativity are strongly connected and part of their daily lives. The next week, our students met with guest teacher and engineer, Carlos Garcia of Technologías y Energías del SE, who works with solar panels. It was a complete success and very inspiring class! Carlos explained the importance of the use of solar panels how they work and how you install them. Our students learned how to put this into practice right away. After a session of great teamwork, the students were able to test their own solar panels in the sun, with great success!
During the module of Arts and Crafts our first-year students met with Genaro Cruz Moreno and Roberto Francisco Pérez Alcázar of training/beauty centre and barbershop lesc-Glamour. The guest teachers shared their work experience based on the history of barbershops. They emphasized the importance of a good service to guarantee a pleasant experience for the clients and explained more about the costs of running a business. The students learned various techniques in handling combs and scissors. In addition, they studied the anatomy of the head for the use of technical vocabulary in a barbershop.
During these past few months, our first-generation alumni met with some covid-related bad luck and several sessions were cancelled. Fortunately, in March they could continue with their Mundo de Talentos journey, and dived into the world of odontology with dentist Alba Cruz and her team. During this masterclass they learned about the skills that a dentist needs to develop and what kind of study should be completed. During the second part concentration and focus were needed when our alumni made prototypes of teeth! And with the participation of a lab rat, they could observe the cleaning of the mouth.
Last but not least, in March, our students visited the firemen in San Cristóbal de Las Casas!
They learned about the noble work of firefighters, the importance of teamwork, fire management and how to avoid risks at home. The students observed how the truck and the hoses work, and they got to experience how to slide down the fire tube! And during class a notification came through… A grass fire was attended. It was incredible to see the fire man in action and how quickly they respond to the call. Very exciting and inspiring!