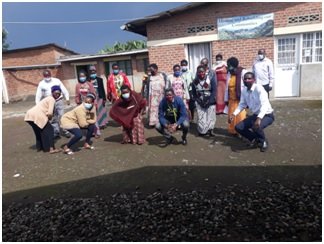 HROC-Rwanda Summary Report: October-December 2020
Introduction
With great pleasure, we share with you the summary of what we have been doing during these three months. It wasn't easy, but you made us pushing and going on. The summary includes, Workshops done, HROC Center constructions, food relief, health insurance, and a thanking note.
Picture 1: Workshop at the HrocCenter,with teachers before going back to school after lock down due to covid-19. Alternative to violence program. "HROC Rwanda is our refreshing place! More workshops to our fellow teachers," They added.
Picture 2: HROC workshop with HROC HIV/AIDS group. After coming together and forming a saving group, HROC through GlobalGiving provided a HROC basic workshop. "Problem shared, problem solved." From there, they meet once a week at the HROC Center for the saving and the sharing their challenges.

Picture 3: HIV/AIDS benefiting from the food relief during the covid-19 hardships! All the 25 people from this group got the little food to survive including rice, beans, cooking oil, flour, cleaning soaps. This helped them to regain confidence and strengths.
Through GlobalGiving, Hroc Rwanda was able to provide Health Insurance to 200 hundred families, and 300 people got the year 2020-2021 Health Insurance.
Picture 4: Widows, vulnerables benefited from Health Insurance, Febronie.
Picture 5: One of the 300 hundred beneficiaries to Health Insurance, Nyirambagare, a widow.
Picture 6: The dormitory at the HROC Center is almost done. We hope to accommodate people, including the HROC International Training participants. The ceiling is needed.
Thank you
We HROC Rwanda, are full of gratitude and glad to partner with you. You came in and brought another positive change.
HROC Rwanda,
Solange MANIRAGUHA