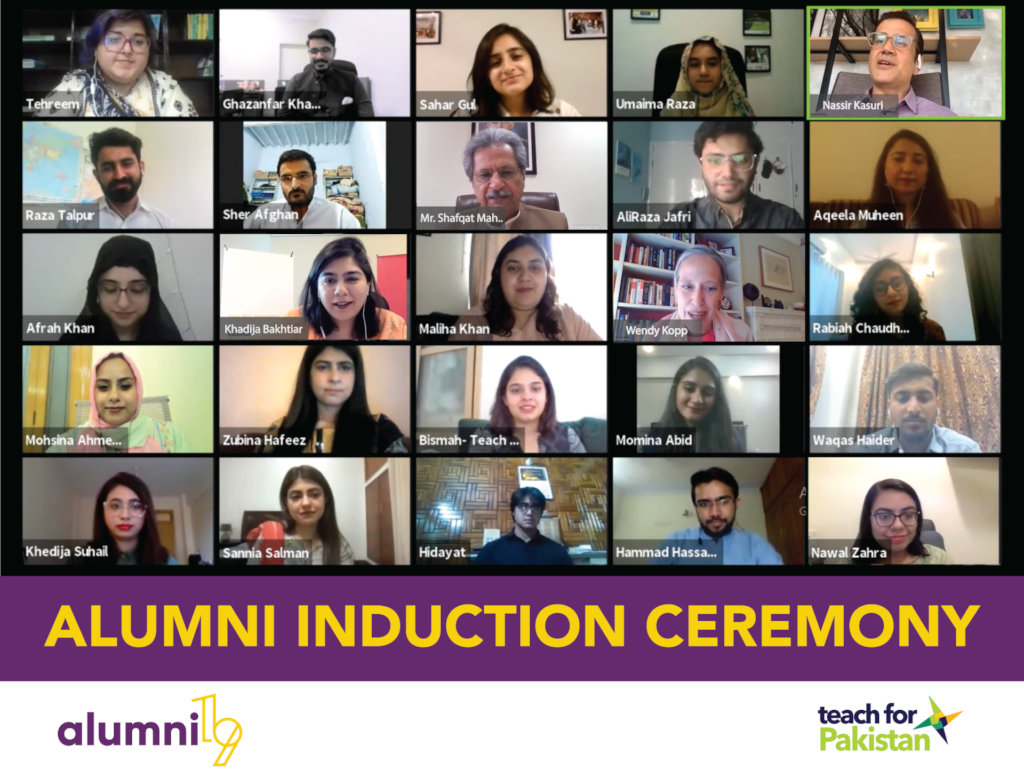 Dear Supportors & Champions!
We celebrated the completion of its 2019-2021 Fellowship cohort's two-year teaching placement, and graduation into the organization's Alumni movement of lifelong education leaders and champions. The Federal Minister for Education and Professional Training, Mr. Shafqat Mahmood, graced the occasion as Chief Guest, and Ms. Wendy Kopp, CEO and co-founder of Teach For All delivered the Keynote address at the virtual "Alumni Induction Ceremony."
These 28 inspired graduates from prestigious universities who, in 2019, began teaching across 15 public schools in underserved sectors of Tarnol, Nilore, Bhara Kahu and Sihala, completed the Fellowship today. They join the 117 older Alumni who are working from all fields towards education reform and development in Pakistan.
Speaking about the Teach For Pakistan Fellowship, Mr. Shafqat Mahmood remarked, "It has, of course, a great impact on children because [Fellows] are here because they are committed to educating the young people…but also has an amazing demonstration effect on other teachers around them. We hope to further cement our partnership with Teach For Pakistan and we are about to launch a new project with the organization."
In her keynote address, Ms. Wendy Kopp congratulated the graduating cohort on their tremendous achievements, and reminded them of their role in shaping a better tomorrow through collective leadership. She said, "When we can galvanize "collective leadership," i.e., when there are change agents working collectively and collaboratively at every level of the education system, in policy and the whole ecosystem around children, and when those people work to inspire and support the leadership of others in the system – including students, parents, teachers and other allies – that's when we see systemic change happen."
Our 5th grade student, Umaima from the federal government school in Tarlai was the student speaker for the ceremony. She thanked her teachers for helping her find her voice and strengthening her self-belief. "I think if every child in Pakistan had teachers like mine, who encourage their students to change and grow, then each classroom in the country would be a much happier place of learning. I hope one day, every child in Pakistan experiences that," she said.
Our Fellows are creating opportunities in their classrooms for many other young students like Umaima. Recently, we partnered with Science Fuse, to introduce a STEM-focused digital literacy program called 'Scientists of Tomorrow', developed with the support of Malala Fund. This project focused on providing subject-specific pedagogical training to teachers so they could in turn nurture their students' natural sense of curiosity for science. A two-month training and development program was conducted by Science Fuse in which 13 of our Teacher Fellows participated; Nawal was one of them.
The 'Scientists of Tomorrow'
Bhara Kahu is one of several rural sub-sectors of Islamabad where one of our Teacher-Fellows from the 2019 cohort taught English and Social Studies in a local public school. Most of her students resided in the area and their parents were employed as house-help or as waiters in small hotels in Bhara Kahu. Due to frequent school closures mandated by the government, Nawal saw her students' learning disrupted time and again. In the second year of Nawal's Fellowship, she participated in the project with Science Fuse having noticed that her students were taught science subjects in a way that failed to engage their curiosity.
In addition to teaching English and Social Studies, she held special Science classes for 8 weeks which were informed by Science Fuse's curriculum. Each week, Nawal would attend a training by Science Fuse and conduct a Science class which encouraged students to partake in experiments using everyday household items. During the program, students were introduced to four iconic female scientists, their contextual challenges, and their achievements. A few weeks later, during one of her English classes, Nawal prompted the class to write a letter to a celebrity. One of her students wrote a heart-warming letter to Ms. Valentina Tereshkova (first woman to have flown into space) – and one of the female scientists introduced during the Scientists of Tomorrow program - and invited her to come visit their classroom. This was the impact of the project, where young girls were idolizing women who had excelled in the field of science and technology. Additionally, through Nawal's participation in the 'Scientists of Tomorrow' program, she was able to communicate with other public-school teachers across Pakistan and exchange innovative ways of teaching science.
We are grateful for your support throughout the year and hope you will continue to cheer us on as we move towards even bigger things as an organization!
Thank you!
Team Teach For Pakistan