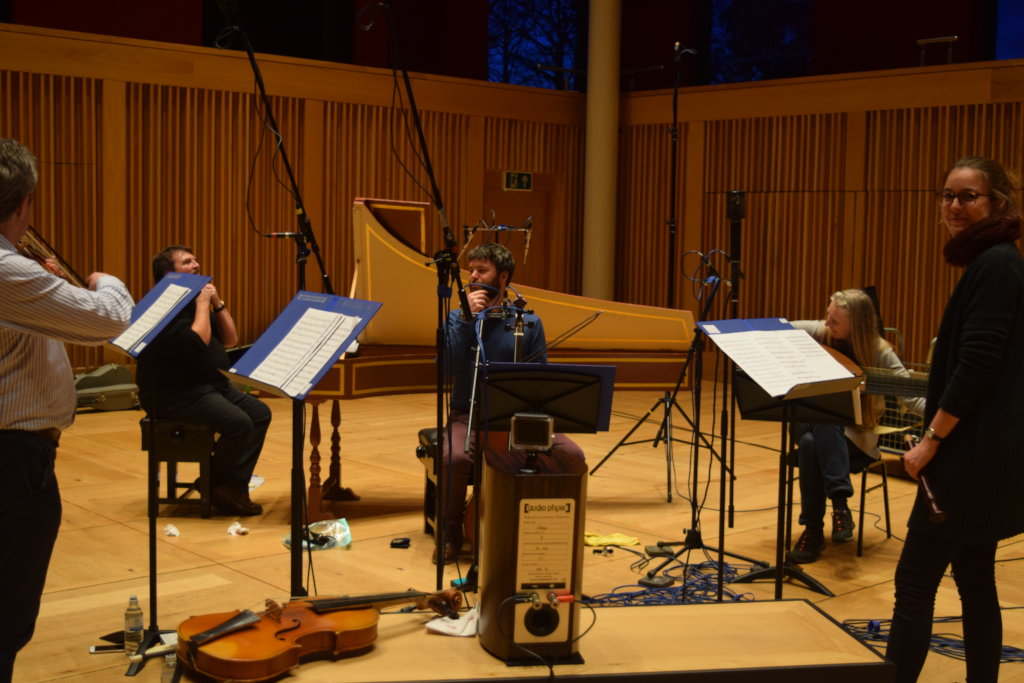 Dear Supporter,
This is a short update on La Serenissima's 'roadmap' for 2021 and a reminder that your generosity has helped build confidence for our players during this barren time. Firstly, please accept our thanks for your support to the campaign - we have raised well over half of our target and thanks to continued donations, the fund continues to grow.
We have made a small number of modest grants to musicians, as well as one major grant to an artist who slipped through the Government support framework. These gifts have enabled players to plug the gaps in their financial lives at a time when it's been almost impossible to work in the industry they have spent years training for. Thank you for enabling us to help these valued artists. As we have explained before, as the SEISS scheme is withdrawn later in the year, we predict that the need for additional grant-making will increase as it's likely our return to the concert platform will limp into life gradually - of course, we HOPE this wont be the case!
Having prepared for a new recording to take place in February (Vivaldi's Women) and excitement that we'd get to perform the programme in Saffron Hall in the same month, the UK lockdown ended all hopes. We were unable to organise the work without local accommodation near the recording venue in Wells, and some key artists were unable to travel to the UK to make the album, thanks to restrictions on entering the country and quarantine regulations. This was a large chunk of work for a large group of musicians that had to be shelved at short notice - now postponed until the Autumn when we hope quarantine rules will have eased and the country will be more 'open' for business.
We have also, sadly, seen the postponement to our April appearances for cultural tours operator Kirker Holidays due to the continuation of restrictions on gatherings. We are happy to say that new dates are being planned with the company, but of course we've been raring to get back to work and this looked so promising!
It remains to be seen whether La Serenissima will be able to go ahead with a performance at Beverley Festival in May. We await news from the promoter...
On the positive front, we do have a LIVE STREAM set to go ahead as part of the WIGMORE HALL series on 31 March! Please watch and share the good news if you can! All info can be found on the links below. It's free to watch, but you do need to create an account on the Wigmore's site to view. The programme is really exciting - music by Ariosti, Telemann, Valentini and Vivaldi with rising star Jess Dandy (contralto). Adrian is working hard to prepare for this unexpected return to the stage at the end of the month.
We also have hope that a nunber of high profile concerts will go ahead from the summer, including work for Cheltenham Festival and Chipping Campden Festival, and also a collaboration (our first) with Longborough Festival Opera in a run of shows of Monteverdi's The Return of Ulysses. Needless to say, other events remain under question as promoters continue to grapple with the uncertainty of the Covid situation and the pressure on finances caused by social distancing.
Adrian and I continue to feel that recording remains the only way that we can create work for our team AND remain connected to audiences whilst 2021 plays out. We have begun the process of trying to raise funding for projects later in the year, including a patch of work in June, August and October. We have applied to Round 2 of the Cultural Recovery Fund in the hope that we wont be overlooked a second time. We have also applied to a new fund, the Continuo Foundation, to enable us to make up the balance for the first recording / filming / podcasting project we hope to run (in June). This is a new trust set up during the pandemic to help support work creation for freelance groups and artists; their mission has never been more needed. We await news of these applications and hope to have good news for our band soon. We also continue to appeal for donations to our Serene Recovery Fund to enable La Serenissima to keep working in 2021 and beyond. The appeal got off to a promising start in January with a number of major gifts and pledges helping us get on track to raise a daunting target of £100,000.
You may have seen that new album Settecento was released on 12 February, entering the UK Specialist Classical Chart at Number 7 and being streamed more than half a million times in the first two weeks - an amazing achievement for an album of obscure chamber works. The recording was highlighted on BBC Radio 3's Record Review and Essential Classics and selected as John Brunning's Drive Discovery on Classic FM in its first week of release too.
Adrian is midway through the editing of our recording of Brescianello's Opus 1 Vol. 1 - due for release in the autumn on Signum. This was the first patch of work we could create for artists following the UK's first lockdown and the musical results are really wonderful. We're very excited to share such uplifting and beautiful works with our followers so please WATCH THIS SPACE!
Thank you for engaging with the life of our ensemble and for demonstrating your solidarity through support to this campaign. We are all so grateful.
With our thanks
Camilla
Links: