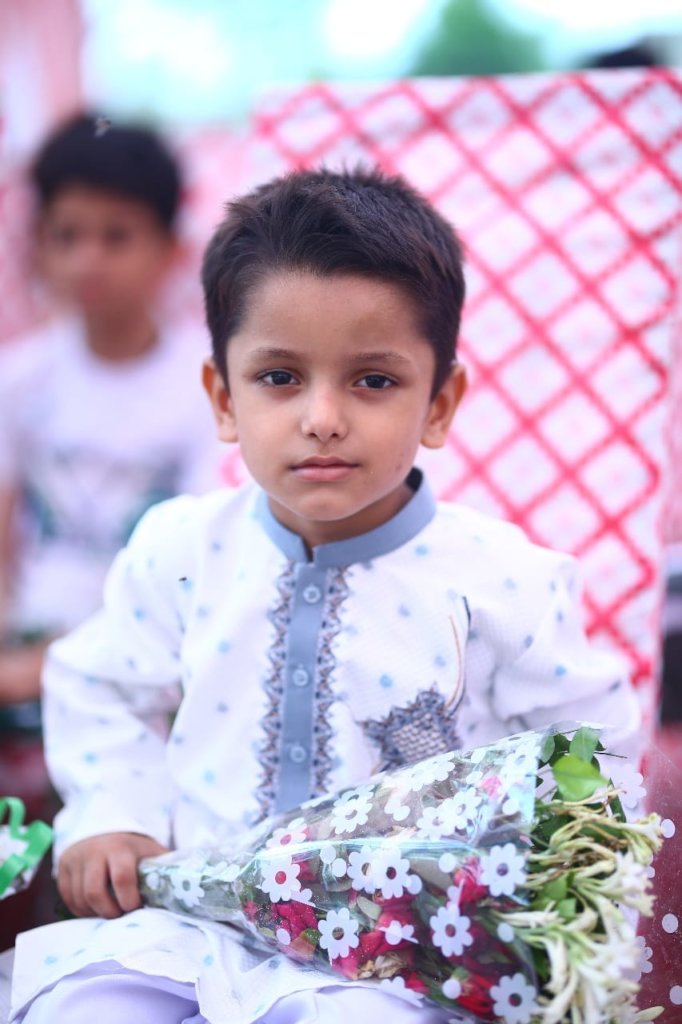 Pakistan is blessed with the best mangoes present in the whole world, therefore, mangoes are not considered merely a fruit, rather they are a Festival and a Celebration. The scorching sun of summers is cherished in Pakistan just because it brings those mouth-watering mangoes to us.
It has become the tradition of MyHome Al-Mustafa that every year we celebrate a grand Mango Party, in which all the children, administration and the trustees together with our Chief Patron Dr Haji Muhammad Hanif Tayyab, gather for lunch/dinner and then enjoy the Mangoes together. Eating and celebrating together ties the children and our elders into a bond not lesser than that of a family. This season, though the party was a little low-scale, but was not skipped. The children were also engaged in many more fun learning activities.
A few of the celebrations were:
Children were engaged in several learning activities and a fun gala on 05th May.
My Home Al-Mustafa children celebrated the Eid gala show on 07th May.
My Home Al-Mustafa children engaged in playing Boards games on 29th May.
My Home Al-Mustafa organized a Mehfil-e-Zikar Mustafa program on29th May.
My Home Al-Mustafa arranged an outdoor picnic for children to Mangho Pir and Hub Dam on 7Th AUGUST.
My Home Al-Mustafa children celebrated 14th August the Independence Day of Pakistan Children performed different activities and showed patriotism toward beloved their country.
The orphans residing at My Home Al-Mustafa are divided/grouped according to their ages into the following four groups:
4 to 8 years
8 to 12 years
12 to 14 years
14 to 16 years
Initiatives to Prevent Covid Spread:
The management of MyHome keenly evaluates the ongoing settings to make changes for the betterment of our children. It is indeed not an easy job to keep a group of hundred children safe and healthy during this ongoing pandemic, which has kept on hitting the city of Karachi real hard. By the grace of Almighty God and the efforts of our team at MyHome Al-Mustafa, there has not been a single case of Covid-19 detected yet. We have taken strict measures to improve their living by ensuring and implementing safety measures at MyHome.
Schooling
As all the children are enrolled at our school Al-Mustafa Academy, therefore its is easy for us to keep an eye on the safety of children even when they are at school. The school administration ensures to maintain distance in school settings. During the peak period of the fourth wave of Covid-19, which was the deadliest of all as the virus has turned into a Delta strain, we kept the school closed and continued the education process from the home.
Food
It is said that you are what you eat, so it is the policy of Al-Mustafa to provide wholesome food to all the residents of our shelter homes, especially the children, as healthy food is essential for their growth. At MyHome Al-Mustafa, we always try to set a balanced diet plan including all the essential proteins, carbs, fats and vitamins. The menu is also revised according to the seasonal needs of children. Apart from other safety measures, we have also revised the menu with the addition of more fruits and veggies to improve the immunity of children, though it hardly needed any alterations.
Physician's Visits
To keep an eye on the overall health conditions of the children, we ensure a weekly visit of a Consultant Pediatrician who also remains in touch online with us in case of any emergency.
We will keep on sending you more field reports in the coming days. Till then, please receive warm wishes from our children and ourselves.