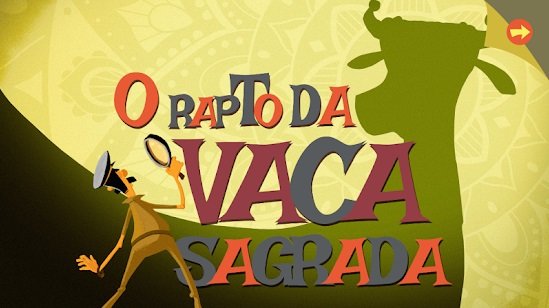 It is a great pleasure that CENPEC announces the launch of the virtual book: The Rapture of the Sacred Cow. Because of GlobalGiving contribution, children's literacy material has been developed by experts and is available free on Google Play and the Apple Store. It is well known that more and more children demand the use of digital technologies also in schools, which dialogue with the time and the way that they can learn.
Believing that the production of virtual and interactive content can be an excellent educational tool, the CENPEC team produced the electronic book, with lesson suggestion from the elements present in the production of The Sacred Cow Abduction.
Synopsis of the virtual book
A shrewd detective embarks on a mind-blowing journey to find a holy kitty in distress. She it would have been kidnapped in India and the path leading to the discovery it includes a fun set of interactive activities related to the Portuguese Language. How do you help an Indian detective decipher a few codes of our language to finally bring the sacred kitty back to its people? The cow has been sent to Brazil? Help him unravel this and many other mysteries!
In this electronic book full of interactive activities, childrens in the literacy phase are invited to interact with letters and words on the screen, to work on a very important and common question in this period of literacy: the exchange of consonants in the constitution of words and the identification of these letters, by the children, from their sonority.
Download now (click on the stamp to access the virtual book)


Versão em Português

É com imenso prazer que o CENPEC anuncia o lançamento do livro virtual O Rapto da Vaca Sagrada. Por causa da sua contribuição, o material voltado para crianças em fase de alfabetização foi elaborado por especialistas e está disponibilizado gratuitamente nas plataformas virtuais Google Play e Apple Store.
É sabido que cada vez mais as crianças demandam o uso das tecnologias digitais também nas escolas, que dialogam com o tempo e o modo pelo qual podem aprender. Ao acreditar que a produção de conteúdos virtuais e interativos pode ser uma excelente ferramenta educacional, a equipe do CENPEC elaborou o livro eletrônico e sugestão de aula a partir dos elementos presentes na produção O Rapto da Vaca Sagrada.
Sinopse do livro virtual
Um astuto detetive embarca em uma alucinante viagem para encontrar uma vaquinha sagrada em apuros.Ela teria sido sequestrada na Índia e o caminho que leva à descoberta do seu paradeiro inclui um divertido conjunto de atividades interativas relacionadas à Língua Portuguesa. Como auxiliar um detetive indiano a decifrar alguns códigos da nossa língua para, enfim, devolver a vaquinha sagrada ao seu povo? Teria ela sido enviada para o Brasil? Ajude-o a desvendar este e muitos outros mistérios!
Neste livro eletrônico repleto de atividades interativas, estudantes em fase de alfabetização são convidados a interagir com letras e palavras na tela para trabalhar uma questão muito importante e corriqueira neste período de alfabetização: a troca de consoantes na constituição das palavras e a identificação destas letras, pelas crianças, a partir de sua sonoridade.
Baixe agora (clique no selo para acessar ao livro virtual)