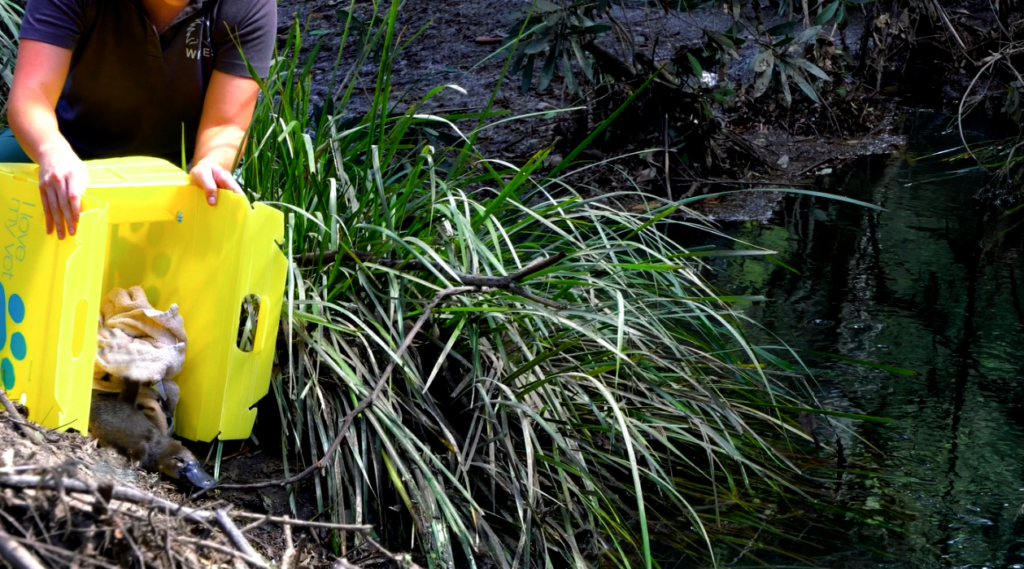 The platypus is one of the world's most unique animals. Platypus live only in Australia and they are one of the few egg-laying mammals known as monotremes.
These fascinating creatures have an extremely streamlined body and a bill that is covered with smooth, soft skin. The skin of the bill contains specialised sensory receptors that enable them to navigate underwater.
Our volunteers are out rescuing native animals every day and it is relatively rare that we receive calls to assist a platypus. Platypus are listed as a 'near threatened' species, making every single life saved and returned to the wild critical for the long-term survival of the species.
As a valued contributor to our project "Support Australian wildlife - Rescue to Release" we would like to share this special story and rare footage of a rescued platypus being released back to the wild.
A couple of weeks ago a platypus had found its way into a water treatment plant and the concerned staff immediately called WIRES rescue line for assistance.
Everyone involved was relieved that there were no injuries detected and that after a few days of veterinarian observation at Taronga Wildlife Hospital to ensure all was well this little one was ready to go back to the wild.
While the platypus was in care large parts of NSW were experiencing devastating floods and it was not until the flood waters had receded that the plans in place for his release could be actioned.
He made a splash back into the wild after being transported for release by a member of the WIRES Emergency Response team and is expected to thrive. We would like to share with you this special video of his release.
Ordinarily, on release a platypus would slide immediately into the water and swim away, but we were fortunate enough to witness a platypus returning to its natural environment and enjoy every moment, his activities on release were almost a thank you gift to all the hard work our volunteers do rescuing and caring for so many animals before their release.
Each and every rescue and release relies on the support of those who care about our unique wildlife. Your donation goes to ensuring we can reach more animals in distress and get them the help and care they need sooner, so on behalf of all the animals and WIRES volunteers, thank you.
Regular donations allow us to better plan for the future and allow us to direct more time and resources into our life-saving rescue and care services. Choosing to become a regular monthly donor to our project "Support Australian Wildlife - Rescue to Release" will provide ongoing life-saving help for all the animals we rescue.