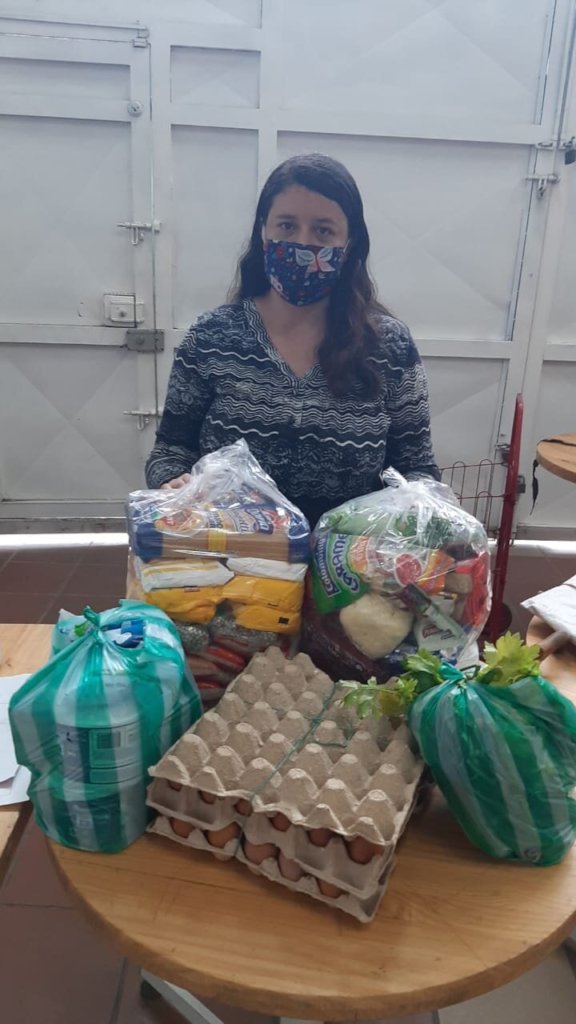 What this report talks about
In this report we present the use that has been made of the campaign fundraising: "Care and solidarity in times of COVID"; This was inaugurated in April and thanks to it we have managed to support the lives of more than 80 families in the south-west of Bogotá.
Stay despite the hardship
When habits were confined to us based on the new reality created by the pandemic, questions, uncertainties and fears came to us. So personally as well as collectively. And in that group and as a PT house, the challenges to continue accompanying the lives of the girls, boys and young people who participate in the programs were not strange to us. How can we let families know that they are not alone? How do we sustain each other in hope?
The pandemic with determination and without hesitation transferred us to the essence: to the family, to what is ours, to the earth, to mutual care, to material and spiritual food; to life without washers. We are located there and we want to continue moving from that foundation.
Reflections on the pandemic
"The pandemic and quarantine are revealing that alternatives are possible, that societies adapt to new ways of life when necessary and it is felt that it corresponds to the common good" (De Sousa, 2020, p. 31). Nothing different is what we have experienced with the increased interest on the part of many people in all latitudes to ensure that a fundamental need such as food is satisfied.
While it is true that the pandemic makes us all vulnerable without exception, it is also true that there are some "all" who are more vulnerable, "a large part of the world population is not in a position to follow the recommendations of the World Organization of the Health to defend themselves from the virus because they live in small or highly contaminated spaces, or they are forced to work under risky conditions to feed their families "(De Sousa, 2020, p. 25).
Our experience as an organization has always been alongside the most vulnerable, the most excluded, the neglected; next to that large proportion of the world population that with difficulty can abide by the recommendations and stay at home because they must seek their own support and that of their loved ones in the "daily search". It is for this fact that we deeply appreciate, value and appreciate the generosity of those who have joined this initiative and with their work ennoble us as a species.
De Sousa, B. (2020). The cruel pedagogy of the virus. S.F. Recovered from: http://www.mediafire.com/file/8ooqd3s87eyzoty/Boaventura_de_Sousa_Santos_-_La_cruel_pedagog%25C3%25ADa_del_virus_%2528Trad.%2529-Freelance_%25282020%2529.pdf/file
How do we develop our action?
Next, we show how we have been able to support the families with the greatest violation and who actively participate in the programs of the PT Foundation.
• On May 6, we were able to benefit 38 families by delivering 38 market vouchers that contained the basic food of the family basket. This allowed almost 200 people to have food in their homes for at least 3 weeks.
• On June 12, we delivered 80 shelves for 80 families with cleanly grown products (oregano, spearmint, yanten, spinach, lettuce, celery, chard, kale, parsley, guascas and nettle); dough with Andean tubers (patties and cubio muffins and arracacha cake); pickles of vegetables, jams, antipasti and patés that also allowed families to supplement their diet and prevent them from going out to find sustenance for their homes in such a difficult time and thus exposing themselves to contracting the coronavirus.
• On July 16, we delivered markets to 35 families, most of whom are recyclers and in some cases, because they could not stay at home, they were infected with the virus, but fortunately they managed to recover. This market contained both perishable and non-perishable foods, which has allowed, above all, that children and older adults who are part of these families can increase their defenses against the virus.
We are infinitely grateful to all the people who joined and continue to join this cause. We know that most of this solidarity has come from the Netherlands and we want to make this recognition. To give great value to the support they have given us despite being so geographically distant. Your support has been hope for our families and has allowed us to resist the pandemic. A big hug and all our gratitude!!!