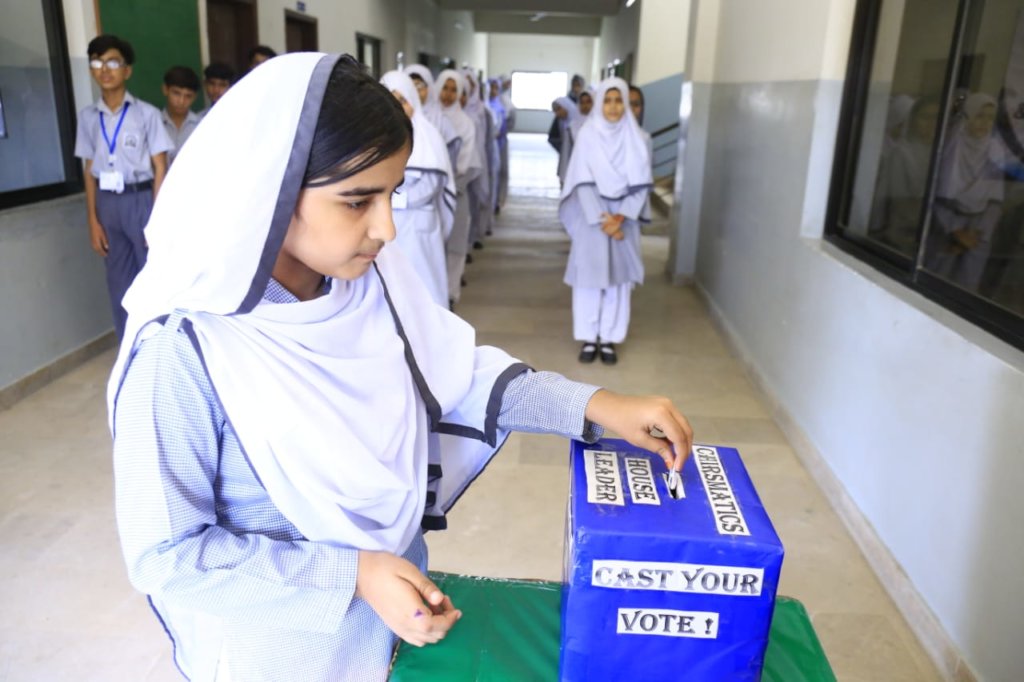 Yes, you read it right, an election campaign is the highlight of the story today...
Democracy is what we believe in and democracy is what we want our children to learn. The best and the most effective learning experience a child can have is only through practical experiences and that's why the management of Al-Mustafa Academy organized an election campaign to elect Presidents, Vice-Presidents, Captains and Vice-Captains of different houses and clubs, in order to demonstrate to our children the right ideas of what actually democracy is.
Detail of Elections and Campaign:
Election Campaign:
An awareness campaign week was held. Flags were designed, badges were distributed, slogans were raised, charts were prepared and the nominees visited the classes and delivered speeches seeking votes to help them win. The campaign inculcated courage and confidence in them. Campaigns were highly participative, each nominee performed really well throughout the time period.
Balloting:
Each student was supposed to cast a vote and exercise the right. Vote casting took place. Ballot box for each house was maintained; ballot chits were arranged, specifying the names of the nominees representing respective houses. Stage draft was prepared to make a setup for background and tables were arranged to place the ballot boxes and ballot chits. Students were brought grade wise to cast the votes. Voters received an impression on their thumbs to verify.
Vote Counting:
After the votes were cast, the counting took place.
Oath Taking Ceremony:
The elected Presidents along with the Vice-President, Captains and Vice-Captains were announced. and sashes were presented to the winners. Thereupon, the oath was taken by all the winning officeholders to take up the elected positions with a great sense of responsibility in uplifting their respective house and club systems.
I sincerely hope that you enjoyed reading this report, we will soon come up with some more interesting events happening at Al-Mustafa Academy.