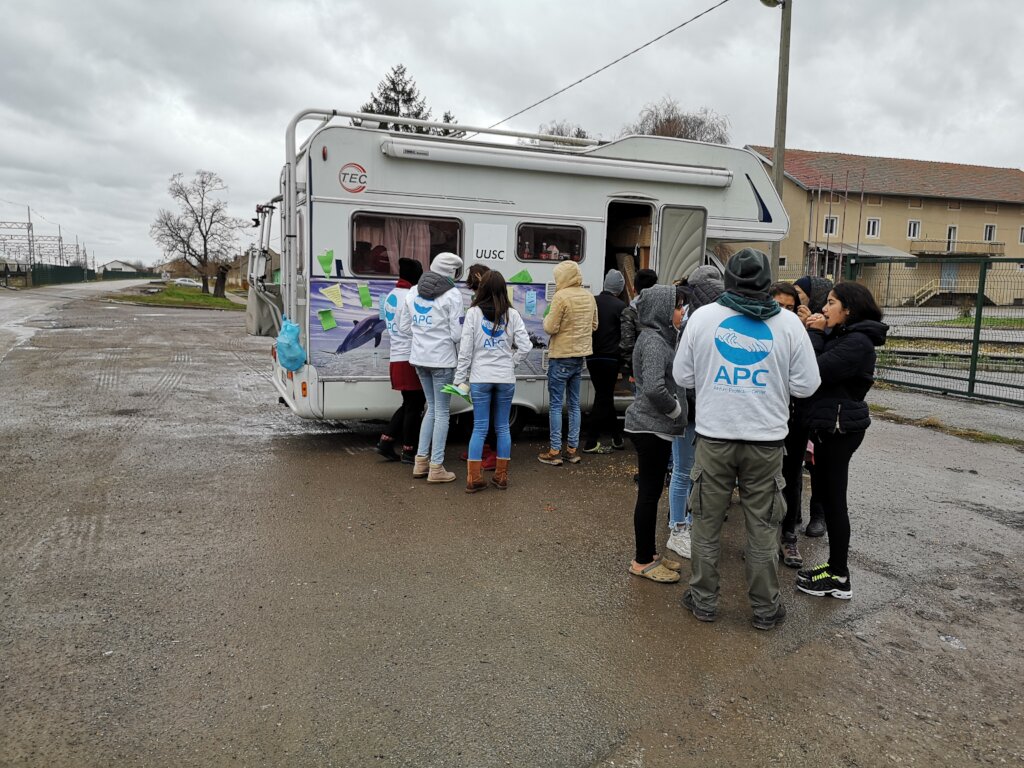 Saddly, in spite of declared EU Member states' solidarity regarding Ukrainian refugees, treatment toward young refugees coming from Africa or Asia is discriminatory and highly contradictious in practice, often in breach with local, EU and international law.
In parallel with Ukrainians, refugees and exiles from Asia and Afrika are continuously coming to Serbia. Many in order to reach and cross over EU external borders.
Either alone or with the support of local or regional smuggling and criminal networks, young exiles are traveling along EU-Balkan migration routes from Turkey, moving across Greece, Bulgaria, Kosovo and N.Macedonia to Serbia. For them, Serbia is the last frontier before reaching promissed lands of the Western Europe, where they can meet with their relatives, start their new lives alone or within communities of their countryman.
Just in last year, more than 68 000 persons were registered by Serbian authorities in Serbian camps, while thousands more were moving irregularily, out of any notice to existing camp reception authorities.
Same trends continued in first five months of 2022 with more than 250 exiles entering Serbia daily. At any moment, more than 800 regugees are staying in Northern Serbia along Serbia-EU borders. Among them, between 5% and 10% are underage, between 15-18 years old. Many refugees are inexperienced, manipulated and often under control of smugglers. Almost all are lacking relevant information, psychosocial assistance, or expert support, staying in a serious risk to become exploited by criminals and human traffickers while staying in northern Serbia and trying their chance to cross successfully EU-Serbia borders.
Just before their dreams come through, young exiles are facing violent, inhuman and degrading treatment by no one else but police forces of Hungary, Croatia and Romania, patroling along borders with Serbia that are densely covered with physical barriers and border fences. The intention of EU polices is to stop migration and prevent refugees to come into EU, while smugglers purpose becomes overriding. The message is clear, there is no movement for migrants further on. Violence and pushbacks to Serba are measures that are awaiting refugees, no matter of their age, gender or origin.
Once facing it, refugees are often in a need of health care, psychosocial assistance, accommodation and further institutional care upon their involuntary return to Serbia.
Even if they get into Serbian collective camp accommodation upon their pushbacks' return, minors and youth are still deprived of any trustworthy information regarding asylum procedure in Serbia or how to enter into legal frames in the country. Often confused, they are unable to distinct what kind of rights they are entitled to enjoy and what kind of obligations they are obliged to respect, if or how to report abuse, violence, misconduct, threats or maltreatment.
Moreover, minor refugees are disregarding threats from COVID_19, lacking reliable information and knowledge about the virus, but also lacking means for protection from COVID_19 and lacking information on the local Serbian healthcare system, local health centres and emergency support, and it's functioning.
To address above mentioned challenges and protect minor refugees and exiles, we were moving with our camper and other vehicles to remoted areas of Vojvodina, Northern part of Serbia (e.g. Subotica, Prozivka, Backi Vinogradi, Zadruga, Makova sedmica, Suncani breg, Horgos, Novi Sad, Kikinda, Sombor, Sikara, Kelebija, Principovac, Adasevci, Šid, etc.), from our regional offices in Belgrade and Subotica, that served us as a starting points and bases for our field operations.
Our mobile office – camper vehicle, provided a safe space for our beneficiaries to receive APC holistic aid (information, legal, psychosocial and humanitarian) properly, not only along the borders, but also in the large transit centers, across remote areas, in suburbs of cities and in abandoned buildings & makeshift shelters across Vojvodina, they otherwise wouldn't have the opportunity to receive. All that in order to pull minor refugees out of their irregular context and out of the reach of smugglers and criminals.
Moreover, we are reporting any signs of same danger for unaccompanied minors to police and social services, in order to prevent any risk and to act in the fastest possible manner.
Often that proves crucial having in mind that camp managements, social and other system services are slow, inactive and usually without real information nor presence among refugee groups within camps
With our APC mobile camper office we are moving swiftly and efficiently to any place we are aware of hosting children in danger, along remoted border areas, camps or urban areas across Northern Serbia.
Up to now in the reporting period, we provided 45 refugee children/youth with valid legal and other information on system functioning, on asylum procedures, on risks of traffickers, smugglers, criminals, on ways of recognizing threats, as well as on manners of protection and on manners of reporting existing risks, providing chidlren and youth with our contacts and contacts of other responsible institutions.
APC mobile team is usually working all day long in the field in order to serve as many refugee children and youth as possible, while being present at one location per time and working often in spite of weather conditions. Thus, our efficiency and outreach is high, enviroment friendly and saving additional fuel, energy and resources.
On course of the reporting period, we ensured more than 10 vulnerable refugee children/youth access to asylum and to asylum guaranteed rights, to avoid irregular stay in local communities/open areas across Serbia.
We provided legal counselling to 45 minor migrants across Serbia, out of which 3 were unaccompanied minors. Our lawyers helped minors to learn about their rights, and secured them to get accommodation in asylum camps and appropriate institutional accommodation where they were provided access to food, clothes, humanitarian and basic health aid. Our lawyer and social worker were intervening before local social welfare institutions and camps managements, to provide safe space and accommodation for children, separated from the adults and possible perpetrators.
Our team provided psychosocial support to 15 unaccompanied children in camps, helping them to overcome traumas they experienced on the road and difficult living conditions and other challenges in the camps.
APC mobile office team was sharing humanitarian aid to 88 children and youth in need of blankets, clothes, shoes, but also food and hygiene. APC mobile team was transporting humanitarian aid with camper vehicle and sharing it on course of its regular field, legal, psychosocial and other project activities.
Moreover, we are initiating guardian procedures and social protection procedures for minors encountered in the open alone or within various mixed age groups, while our holistic legal, psychological, social and humanitarian aid is available to minors they otherwise wouldn't have in forests, along the borders, in the large transit centers, remote areas, in suburbs of cities, abandoned buildings & makeshift shelters, etc.
Along reporting period we have provided children/youth with valid information on COVID threats and ways of protecting themselves, on new developing circumstances related to the disease, but also providing information on their rights related to asylum system and on their obligations, problems and threats related to irregular stay in the country.
We were distributing COVID protection products, as masks, gloves, viziers, to children and youth, lacking same protection means in state accommodation and in the open. In order to strengthen their immune system we were distributing liquids, vitamins, immune boosters. Very important was to provide sanitizers, soaps, shampoos, alcohol sprays and hygiene to beneficiaries, in order to improve their hygiene and responding to their specific needs.
Moreover, we were intervening in situation when children/youth were in risk of having no accommodation, hygiene, food, nor basic living conditions or when they were in risk to be exposed to violence of local criminals or smugglers. With our field intervention and initiatives before local social welfare centers and other institutions, we were pulling children out from the streets and danger into safe setting.
With the use of camper vehicle, we protect and empower children, saving them from danger and securing them safe space for counseling, information sharing, psychological and social support. They are recognizing our mobile APC camper team as their support and friends they can trust, they can rely on and seek for protection. Through relation of trust and by word of mouth, our APC camper lawyer, psychologist, social worker and interpreters are able to transmit information and be sure that children had understood it and had received it with trust.