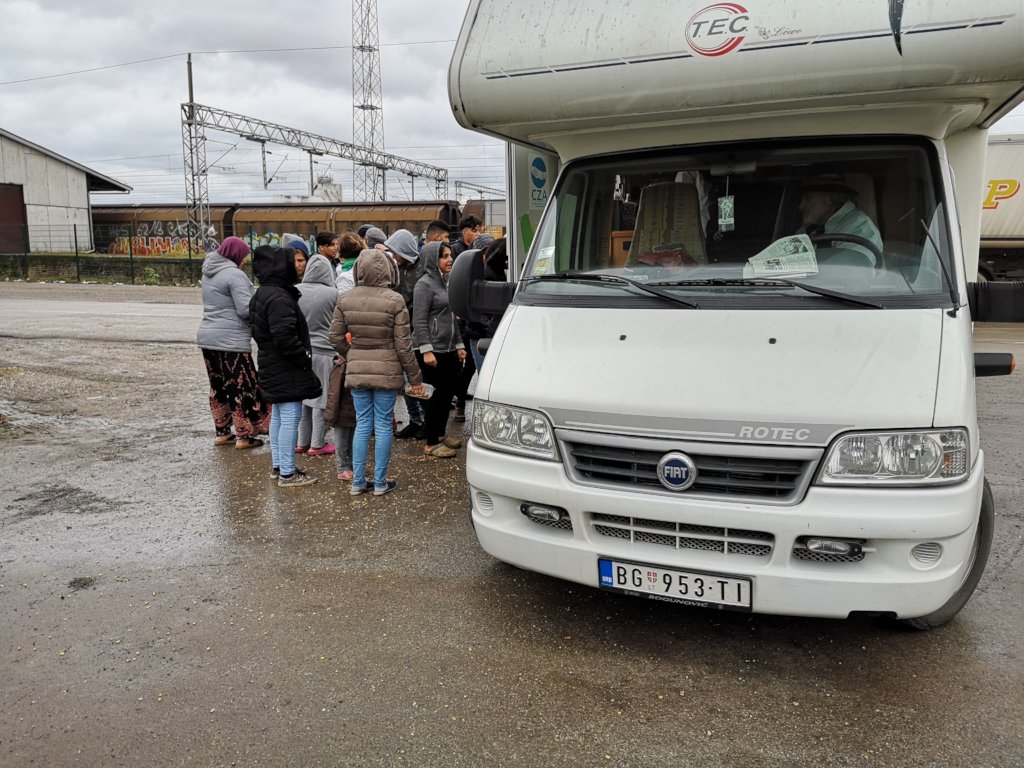 APC mobile office team of lawyer, psychologist and social worker, is continuously helping young refugees & migrants being stranded in Serbia, while push-backs, violence and COVID-19 are wrecking havoc across Serbian – EU border areas, especially along Hungarian, Croatian and Romanian borders with Serbia. Illegal push backs of refugees from EU to Serbia are becoming common practice. While new refugees are coming from the south (using route across Turkey, Greece, N. Macedonia or Kosovo, to Serbia). Many refugees are coming to Serbia after staying in Greece for a while. Most of them are youth, originating dominantely from Afghanistan, Iraq and Syria.
For many refugee youth coming in high numbers over the Balkan Migration route, Serbia is the last migration buffer zone before entering EU zone. They are facing with ignorance of the Serbian institutions, staying mostly in irregular position in transit camps or staying in the open areas across Serbia Dare COVID-19 situation and police violence across EU - Serbia external borders (Serbian borders with Croatia, Hungary and Romania) are taking its tough on their humanitarian, health care and psychosocial condition, on their COVID protection, legal position and their daily needs
Along reporting period we have provided children/youth with valid information on COVID threats and ways of protecting themselves, on new developing circumstances related to the disease, but also providing information on their rights related to asylum system and on their obligations, problems and threats related to irregular stay in the country.
Moreover, we were intervening in situation when children/youth were in risk of having no accommodation, hygiene, food, nor basic living conditions or when they were in risk to be exposed to violence of local criminals or smugglers. With our field intervention and initiatives before local social welfare centers and other institutions, we were pulling children out from the streets and danger into safe setting.
Our camper team was providing holistic legal, psychological, social and humanitarian aid more in urban areas having in mind greater presence of children and youth in the towns and cities across country, mostly due to increase of newcomers and more intensive migration from Greece and Turkey to Serbia in the reporting period. At the moment more than 200 migrants are entering country daily. Among them many are children and youth.
Our mobile office – camper vehicle, secured a safe space for our beneficiaries to receive our holistic aid properly, they otherwise wouldn't have the opportunity, along the borders, but also in the large transit centers, remote areas, in suburbs of cities and in abandoned buildings & makeshift shelters. All in order to protect & empower children and youth, pulling them out of that irregular context and out of the reach of smugglers and criminals
We were moving to remoted areas in Southern Serbia (Presevo, Vranje, Bujanovac, Dimitrovgrad, Pirot, etc.) and Vojvodina Northern part of Serbia (Subotica, Prozivka, Backi Vinogradi, Zadruga, Makova sedmica, Suncani breg, Horgos, Novi Sad, Kikinda, Sombor, Sikara, Kelebija, Principovac, Adasevci, Šid, etc.), from our offices in Presevo, Belgrade and Subotica, that served us as a starting points and bases for our field operations. Our field trips are usually lasting for whole day long, and APC mobile camper team is working in the field during the whole day in order to serve as many refugee children and youth as possible, while being present at one location per time and in spite of weather conditions.
In that circumstances, more and more refugee children/youth are getting stuck across north and south of Serbia, the last migration buffer along EU borders, often being daily pushed illegally back to Serbia in dozens from Serbia's neighboring countries - Croatia, Hungary, Romania or Bosnia. Additionally, Serbia is facing with significant and chronic increase of new coming refugee unaccompanied minors coming mostly from Afghanistan, Pakistan and Syria. The new coming children in 2020 are reaching Serbia in faster manner then before, in approximately a week long period from Turkey and Greece via Macedonia, Kosovo or Montenegro to Serbia.
Once refugee children and youth enter Serbia they lack proper information and face no legal/psycho protection, lacking shelter, food, hygiene, health and other care. Refugee children are feeling afraid and disoriented, becoming easy pray of criminals and smugglers or corrupted individuals and even corrupted camps' representatives, who are offering them various services to complement inefficient state system of reception and support. Unaccompanied minors are often perceived and treated as adults by institutions and the system itself.
With our APC mobile camper office we are moving swiftly and efficiently to any place we are aware of children in danger, along remoted border areas, camps or urban areas across Northern and Southern Serbia. Up to now in the reporting period, we provided 60 refugee children/youth with valid legal and other information on system functioning, on asylum procedures, on risks of traffickers, smugglers, criminals, on ways of recognizing threats, as well as on manners of protection and on manners of reporting existing risks, providing them our contacts and contacts of other responsible institutions.
Moreover, we are initiating guardian procedures and social protection procedures for minors encountered in the open, while our holistic legal, psychological, social and humanitarian aid is available to minors they otherwise wouldn't have in forests, along the borders, in the large transit centers, remote areas, in suburbs of cities, abandoned buildings & makeshift shelters, etc.
In that manner we protect & empower children, saving them from danger and securing them a safe space for counseling, information sharing, psychological and social support. They are recognizing our mobile APC camper team as their support and friends they can trust, they can rely on and seek for protection. Through relation of trust and by word of mouth, our APC camper lawyer, psychologist, social worker and interpreters are able to transmit information and be sure that children had understood it and had received it with trust.
On course of the reporting period, we ensured more of 23 vulnerable refugee children/youth access to asylum and to asylum guaranteed rights, to avoid irregular stay in local communities/open areas across Serbia,
We provided legal counselling to 27 minor migrants across Serbia, of which 7 were unaccompanied minors. Our lawyers helped minors to learn about their rights, and secured them to get accommodation in asylum camps and appropriate institutional accommodation where they were provided access to food, clothes, humanitarian and basic health aid. Our lawyer and social worker were intervening before local social welfare institutions and camps managements, to provide safe space and accommodation for children, separated from the adults and possible perpetrators.
Moreover, we are reporting any signs of same danger for unaccompanied minors to police, and social services, in order to prevent any risk and to act in the fastest possible manner. Often that proves crucial having in mind that camp managements, social and other system services are slow, inactive and usually without real information nor presence among refugee groups within camps.
Our team provided psychological support to 10 unaccompanied children in camps, helping them to overcome traumas they experienced on the road and difficult living conditions and other challenges in the camps.
During our field visits, we talked with young refugees about their experiences, their long and dangerous road, their hopes and dreams and current problems they are facing in reception, asylum centers and in other areas in Serbia.
Unaccompanied migrant children were among the most vulnerable group of migrants and they are in need of special care appropriate to their age, we are now able to provide with our APC mobile refugee office.
APC mobile office team was sharing humanitarian aid to 98 children and youth in need of blankets, clothes, shoes, but also food and hygiene. APC mobile team was transporting humanitarian aid with camper vehicle and sharing it on course of its regular field, legal, psychosocial and other project activities.
APC started it own Social Bakery and use Bakery's food production capacities to prepare and distribute traditional food, bread and pastry to children and youth across country. That add additional positive dimension to the project, having in mind that APC mobile team is now able to offer sustainable food support to beneficiaries living in destitute or lacking sufficient food rations in/out of collective accommodation on course of its field activities.
We were distributing COVID protection products, as masks, gloves, viziers, to children and youth lacking same protection means in state accommodation and in the open. In order to strengthen their immune system we were distributing liquids, vitamins, immune boosters. Very important was to provide sanitizers, soaps, shampoos, alcohol sprays and hygiene to beneficiaries, in order to improve their hygiene and responding to their specific needs at that moment.