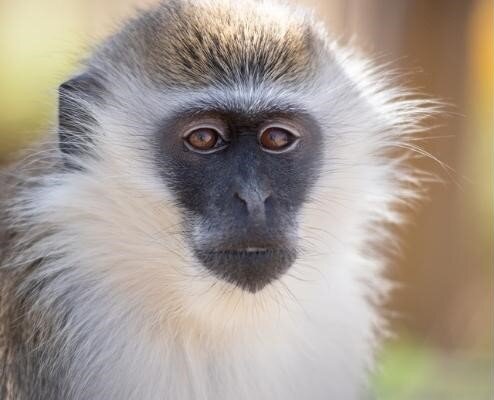 July 2022 Update: New lives for rescued primates
Thank you for choosing to support our work to rescue monkeys from lives of abuse in the USA and Zambia.
Our partners at Born Free USA and the Zambia Primate Project (ZPP) have been busy since our last update in April, rescuing monkeys from appalling conditions and providing care and rehabilitation.
Born Free USA is delighted to provide an update about two of the monkeys, Kiki and Willis, who were rescued from the pet trade last year. Thanks to the generous support of our donors, they are blossoming at the sanctuary!
Kiki has now been at the sanctuary for over a year and her progress has been astounding! She has firm relationships with the other monkeys, she is a healthy weight, her fur is lustrous, and her personality is shining through. Affectionately referred to as "The Princess" by her human caregivers, Kiki knows her worth and doesn't tolerate unbecoming behaviour from the other monkeys – particularly pesky little Willis, who insists on trying to get refined Kiki to play with him constantly!
Willis has been at the sanctuary for about eight months and Kiki and Willis have already developed a somewhat comical pairing. Despite still being a young monkey at six years old, Kiki is more reserved than her three-year-old companion and his persistent energy can sometimes lead to him being scolded by Kiki. She likes to play chase, but on her terms. She likes him to groom her but will rarely return the favour. When Willis hides around the corner and jumps out at her (something he clearly finds delightful), she is quick to give him a sharp slap to let him know he crossed a line.
What this is teaching both of the young monkeys – neither of whom had been properly socialized with other monkeys – is healthy boundaries. It is vitally important for Kiki and her friends to know how to manage interactions like these to be able to live safely and happily in their small troop.
Meanwhile the Born Free-supported ZPP team, the second quarter of 2022 has been equally busy. The team has continued to support and monitor the troop of vervets released into Kafue National Park in October 2021, and they are doing extraordinary well!
Used to the abundance of wild fruits during rainy season, this second quarter the troop needed to start moving into new territories to find their needed food and as expected the entire troop have lost their swollen fat wellfed bellies of the rainy season. Weight loss is completely expected in dry season, so the team keeps a close eye on the troop to ensure their weight loss is never concerning, otherwise their diet would be supplemented for a short period of time until they are able to find food by themselves. The troop is now spending 90% of their time in their new discovered territory by the Lwansada river. It is great progress for their first year in the wild after many years in captivity!
And incredible news, Abby, one of 2021's most horrible confiscations, a young female vervet chained to a block of cement in total darkness with guinea pigs in Mufulira, who was released in October with the rest of the troop after an intense period of rehabilitation, is pregnant! A huge success from the team and the project, which is one of the world's most successful primate and release projects. The newborn is due anytime now!
The team has also been busy rescuing and caring for multiple vervet monkeys and baboons, and preparing them for eventual release back to the wild as part of the soft release programme once they are ready to thrive.
Thank you for your continued support for this vital work to protect primates in both Zambia and the USA.