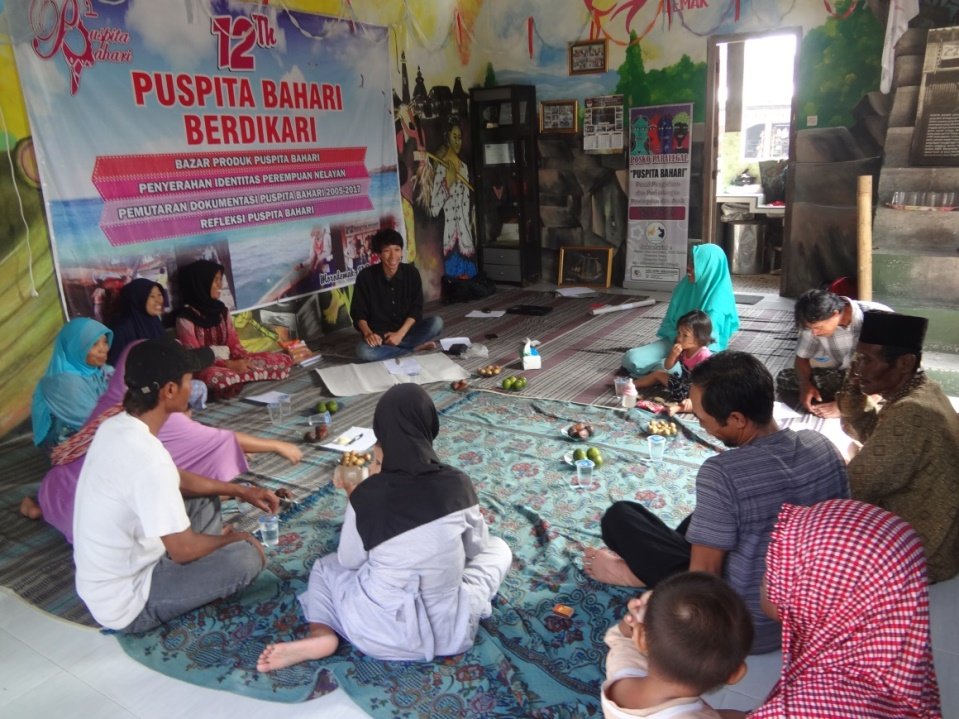 In 2018, Pundi Perempuan with donation from Global Giving and other donation from Indonesian public continues its support for women organization works for the elimination of discrimination and violence against women. One out of 5 Pundi Perempuan grant was dedicated to Puspita Bahari, a community based organization that fight for women fisheries rights to get their work status admitted by the goverment.
Mrs. DW, her name. She has been fishing with her husband for five years. Depart from home at the afternoon and return in the morning. She is good at spreading nets, controlling boat engines and bargaining for catches to traders. If examined further, she has more tasks to do rather than her husband. When landing on the beach, Ms. Darwati was still responsible for selling fish to the merchant, while her husband returned home to cleanse himself and rest.
For years she had been working as a small scale fishery, face the same risk in loosing life while doing fishing, but her fate was completely different from her husband. Suppose there is a work accident, Ms. DW, would not get insurance from government, because her status on the Identity Card is a "housewife" who only helped the husband's work in the sea. While her husband, who acknowledged having profession as a fisherman in their ID card is eligible to get government guarantees, such as health and life insurance.
Realizing that this case are experienced by many women fisheries in the area, Puspita Bahari, a women fisheries organization, led by Ms. MS, educated the fishermen (male and female) about their basic rights. The education was delivered to the fisheries in villages, namely Morodemak and Purworejo in sub-district Bonang, Demak District, Central Java.
One of the issues discussed and followed up is to change the work status in the identity card of female fisheries, because it relates to access to government guarantees.
There is no easy way for women fisheries to get recognition of their identity as fishermen. More than nine months of struggle to be able to change their status on the ID card. The biggest challenge is precisely coming from village government officials who strongly object to changing identity from "housewife" into "female fishermen". They make it difficult by using religious arguments about the roles and responsibilities of women. The same incident was experienced again during an audience with the Central Java Provincial Parliament. Ms. MS was humiliated by local parliament member. They break the struggle of fishing women to get their status using religious arguments.
The Puspita Bahari team persisted in advocating for village officials. Finally they village head and apparatus were willing to issue a statement to deal with the change of identity to the Civil Registration and Civil Service Service, but with the profession as a "fisherman laborer". Obviously women fishermen are not pleased with the profession of fishing laborer, because they do not work with landlords but catch fish with their own boats, machines and nets.
Puspita Bahari then asked for support from their network. A legal aid institution in the city of Semarang facilitated to meet with the village officials to province parliament, and encourage media to make a coverage about the issue. Pundi Perempuan then support the struggle by financing some of the expenses of 31 female fisheries in doing their advocacy process. "We don't have a budget to come to sub-districts, to the government office in the city and to meet with the parliament member. Pundi Perempuan fund was used to finance the trip, to communicate with the network and other advocacy needs".
Network pressure and media that support Puspita Bahari's efforts have finally succeeded in changing the identity of fishing women on ID cards to obtain their rights as fishermen women protected by the state.