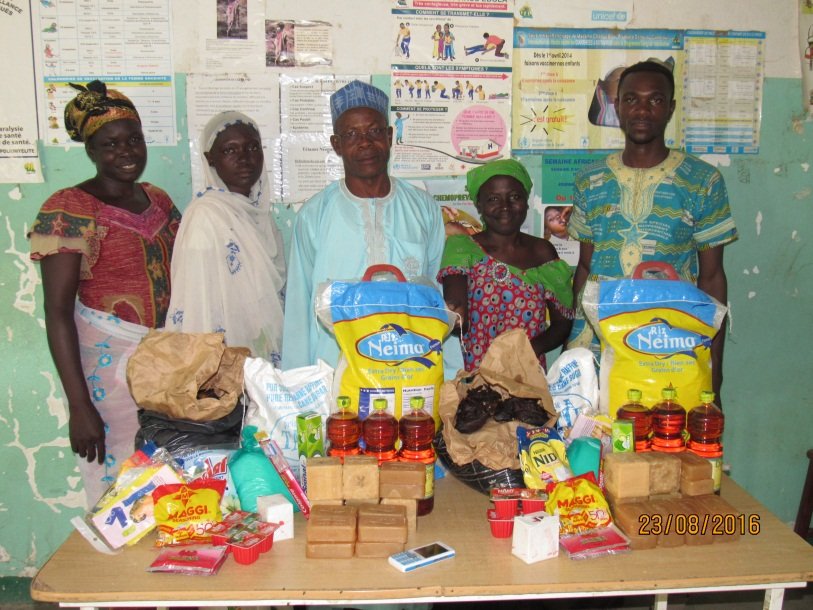 EFA Cameroon at the "bedside" of HIV-AIDS patients
Two women received gift in Makabaye integrated health center during the ceremony presided over by the head master of the hospital.
In its health politics of saving PLHIV in their endurance, AEFA Cameroon has instaured joyce in two different families who consider later as unsupportable children. This by giving them food items and hygienic materials constituted of rice, oil, sugar, milk, groundnuts,fishsoap; salt, lighter; toot pace and brush. Communication Secretary of AEFA Cameroon Ponto'o Maina Gabriel while presenting donation, he said the aims of that action which is to facilitate and favorize better live and fight against stigmatization of People Living with HIV. The Integrated health Center manager, nursery Maoundé Wakilou while giving the donation to beneficiaries, he call the beneficiaries to consider themselves as other person in society and to follow carefully time and day of taking drugs. After expressing his satisfaction for that kind of action, he asked them to always come in his hospital for assistance.
After receiving the donation, beneficiaries expressed their satisfactions and presented their expectations.
The first receiver grils said, "I thank AEFA Cameroon for this gift that I was not thinking on that. I contracted HIV three years ago I started taking drug very late that is why I have one of my legs and hands are disables. For the moment I want help to arrange my bed and create a small job that I can do. I don't really know if I will have recover".
" The younger grils said, I am happy for that action of AEFA, I thank people who are giving their time to think to people like me. I stopped studies in class 5 my mother and father died two years ago I am living with my grandfather so I am the one providing food and everything in the house. As activity I am selling soya beans to have money. I want to create a small shop in my neighborhood as incoming generated activity in view to ameliorate my entrances and ensure my basic needs".
"I am the head master of the Makabaye Integrated health Center. I first of all want to thank AEFA Cameroon and people of global giving who spend their time for PLHIV. Joining my effort to that action I promise AEFA Cameroon to assist technically when need with my staff and to always advise those Peoples who need support".