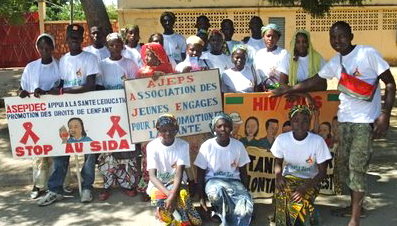 "Treatment or prevention?"
In the absence of a cure for HIV, for the past 30 years this question has been the center of debate. For those of us who have dedicated our lives to the fight against AIDS, recent research has given us a glimmer of hope—and may have finally ended this debate.
In May, the University of North Carolina at Chapel Hill released results from the HPTN 052 study which indicate that putting an HIV-positive person on treatment as soon as HIV infection was detected reduced the risk of them transmitting the virus to their sexual partners by 96%. Ninety-six percent. The evidence was so compelling that the trial was actually ended early and results published years before expected. For anyone who has worked in the uncertainty of research, this just doesn't happen.
EFA's beneficiaries have experienced these benefits first-hand. Since receiving treatment, their improved health status has empowered them to become HIV advocates, peer educators, and leaders in their communities, gaining the respect of those who once stigmatized them.
On World AIDS Day 2011 and every day, over 50 EFA peer educators conducted community-wide education events in over ten communities. Some members are sitting down with local religious and traditional leaders to explain how they can help achieve an AIDS-free generation. Others are going door-to-door, encouraging people to get tested for HIV at the local health center, and describing why an AIDS-free generation is important to their community.
We have the technology. For the first time ever we can actually see the way forward. We can envision an AIDS-free generation. Not a generation free of HIV, but free of AIDS.
So, forget the debate—treatment IS prevention. Putting people living with HIV on treatment early will not only extend their lives, but will also prevent new HIV infections among their HIV-negative sexual partners.
The tragedy is that this innovative and groundbreaking research comes at a time of declining levels of funding for HIV, of donor "fatigue" for financing national HIV programs, and of re-shifting priorities away from HIV strategies and towards broader health sector initiatives.
The United States government has taken a significant step. During a speech delivered by Secretary Clinton at the National Institutes of Health in November, she re-committed the U.S. government's development efforts towards supporting the global AIDS response in achieving an AIDS-free generation. It is time for other governments to meet this call.
Through our Peer Education program our members learn the tools they need to stay healthy, live positively, and they receive education on antiretroviral drug adherence and strategies. Our peer education program trains members to go out into their communities and educate others about the basics of HIV transmission and prevention, and the importance of getting tested.
In 2011, our peer educators provided basic HIV education to over 20,000 people, and over 5,000 people were referred to their local health center to get an HIV test.
EFA is doing its part and we would like to graciously thank you for the support you've given us through Global Giving. We wouldn't have made it this far without you, but we've still got a long way to go and count on your continued support.
We are together. Nous sommes ensemble.
modified from an EFA blog published in December 2011.