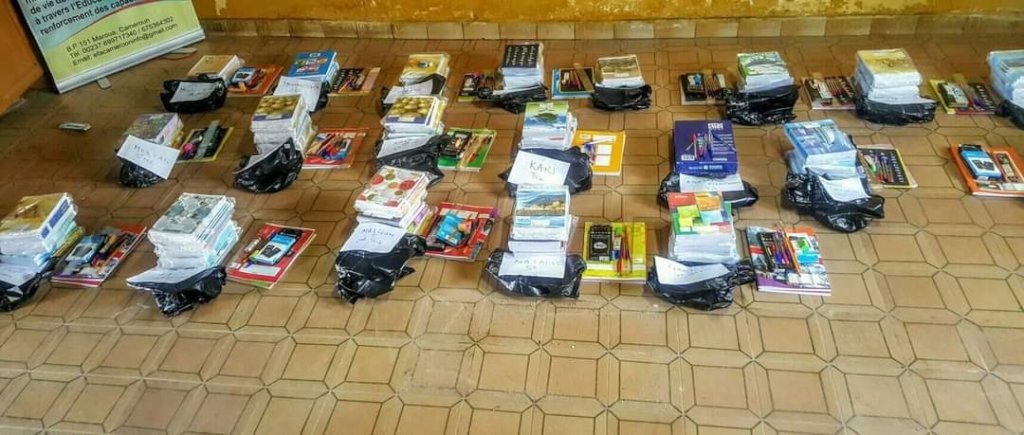 REPORT FOR THE DISTRIBUTION OF SCHOOL KITS TO OEVs OF EFA CAMEROON PARTNER ASSOCIATIONS AND COMMUNITY MEMBERS
As usual, EFA Cameroon has always reserved space for assistance in terms of school kits during the back-to-school period for some vulnerable children of her network of association partners and other children in the community.
Activity
It is in the light EFA Cameroon assisted 20 children of 04 of her partner associations and the Maroua community.
ASSYSGOD Godola 02 01 03
ABEPSA Maroua 01 02 03
AJEPS Maroua 01 02 03
AJEPS Mokolo 02 01 03
COMMUNITY Maroua 03 05 08
TOTAL 09 11 20
The kits distribution activity took place on Saturday October 10 2020 at EFA Cameroon Head Office Maroua from 10 am to 1 pm and Wednesday October 16, 2020 in Mokolo.
The joy observed on the faces of the children as they received the school kits was sufficient prove of their willingness to go to school. Parents on their part got relieved of the burden linked to providing school needs for their children.
Testimonies
1- «I am called Doudou Yaya, treasurer of « Association des Jeunes Engages pour la Promotion de la Sante » (AJEPS) Maroua, I am grateful to GlobalGiving and EFA Cameroon who have always assisted in the education of children of members of our association. Here I am today with my child who is a second-year university student; without the support of GlobalGiving, he would have dropped out given my vulnerable state."
2- Mairamou Hamadjouma a member of « Association des Sympathisants du Secteur Godola et Dogba » (ASSYSGOD) said ; « it's since 2006 that EFA Cameroon is with us, she took charge in the creation and legalization of our association. We would never be exhausted of appreciating especially GlobalGiving who has been faithful in supporting EFA Cameroon's activities. Right now, our children have received school assistance just like in the past years, they are quite performant in school. We wish EFA and her potentional donor, GlobalGiving a long live for their assistance to the OEVs."
From the testimonies, we were convinced that GlobalGiving's assistance was strongly anticipated because many vulnerable children have been able to continue their studies. We sincerely appreciate all who support EFA Cameroon from far and near especially GlobalGiving for her close collaboration.