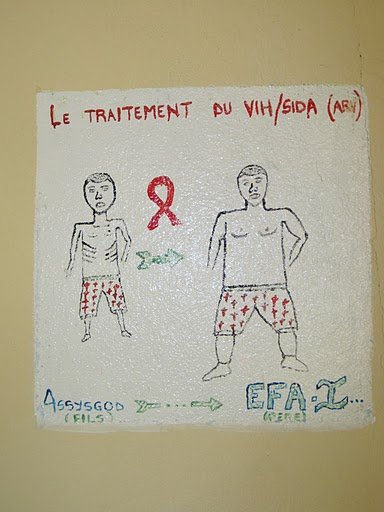 EFA Activities for April-June 2011
EFA International's peer educators and support associations continue to expand with increasing projects and activities. In March and April, a TrustAfrica grant enabled EFA International's peer educators to reach more than 8,000 community members in more than 10 communities with talks about sexual- and gender-based violence (S-GBV). Peer educators focused on discussing preventing S-GBV and communicating gender equality education messages.
EFA International's Treasurer, Andrew Koleros, and Secretary, Kayt Dickens, also visited the regional office in Maroua, Cameroon for a couple weeks this quarter as part of a consulting and monitoring and evaluation visit. While in Maroua, Kayt attended several of the associations' meetings; visited two associations' enterprise projects; conducted computer trainings in Picasa, Google Docs and Google sites with regional office personnel; and conducted follow-up interviews with participants of the S-GBV trainings.
Andrew conducted site visits to associations while in Maroua, and associations also set their goals for 2011. Goals include additional member recruitment, increasing the number of community education sessions, and improving income generation activities. Associations also identified their strategies for achieving these goals, as well as discussed what technical assistance EFA International can offer to aide in meeting the goals.
This quarter, the Maroua regional office hired an accountant. The office also is improving operations by implementing weekly staff meetings to discuss both current and upcoming projects. EFA International's technical assistants are continuing to develop new associations in the communities of Pete and Bogo, both in the Extreme North of Cameroon. EFA International's Program Manager, Technical Advisor and Peer Educator Trainer are in the planning stage of a project to design and produce image and educational resource materials for Peer Educators.
In June, the coordination committee for the Youth Empowerment Network will meet for two days. EFA International also plans to officially register an association in Tokombere.
In addition to the Trust Africa grant S-GBV trainings, EFA Board member in-country visits and other special activities conducted this quarter, habitual activities also continued, including home visits, community education sessions, association meetings, and enabling association members to get care, treatment and CD4 tests, as needed.
EFA International would like to deeply thank all of the Global Giving donors and supporters who help make our work of enabling African youth to live positively possible. Without your help, EFA International's projects wouldn't be carried out, and we are so grateful to you for helping us to conduct them and help individuals in Cameroon!
Links: