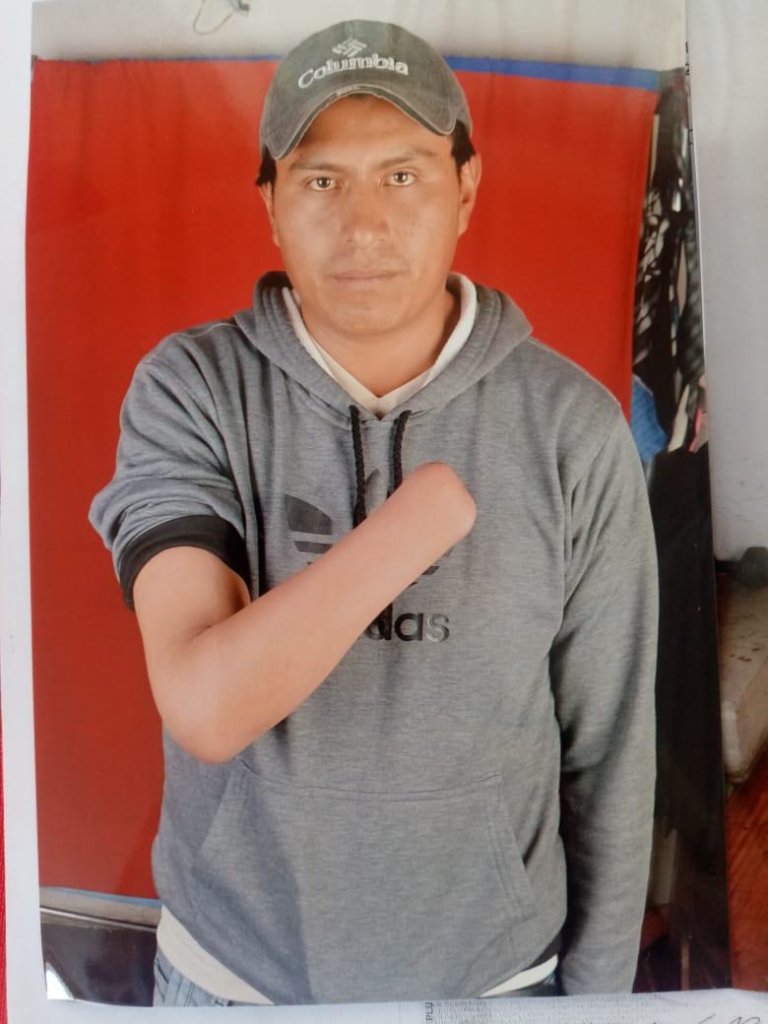 This is the story of Rogelio, a young man who lost his hand in a tragic accident.
"My name is Rogelio, I live behind Mt. Illimani, Bolivia, in a small town called Coni in the Tiwanaku Community and I work in agriculture. My hand was destroyed on the anniversary of my village when we were setting off fireworks. I was lighting one, saw the sparks, and tried to throw it away. But it exploded in the instant while it was still in my hand. When I woke up I felt intense pain and I saw what remained of my hand. I remember that I cried and wanted to kill myself. Then I remembered my children, they needed me and that gave me the strength to live on.
After the accident, I was brought to the hospital where I stayed for almost two weeks. They amputated the rest of my hand and closed the wound. I should have stayed longer but I had to get back to my family. So I spoke to the doctor and told him that I felt fine and I was ready to leave, but the truth was that I was still really suffering from pain. I also could not afford to stay longer.
When I returned home, it was very hard to return to "normal". I couldn't write or sign anything anymore. In the village, the children asked their mothers why I didn't have my hand. And the mothers would sometimes say, "He must have been a thief and that is what happens when you steal - so don't steal or they will cut off your hands". The children stared at me and I felt like such an outcast. That's why is why I hid my hand in my pocket ever since.
But in 2020 my luck changed and I received a prosthetic hand with the help of Bolivians Without Disabilities, in the USA.
When I returned home again, with my new prosthetic limb, I wanted to see the look on my children's faces when they saw my new hand. I wanted to see what my children would say because it's identical to the other hand I have.
Today, I am leaving and feeling complete once again. I won't have to hide my hand, nor cloak my arm always in a jacket. I hope that many other amputees can be helped so that they can put the pieces of their lives back together. This hand is a blessing. I had been very sad, but for the first time in a long time, I feel happy and optimistic again. Thank you for helping make this dream come true.