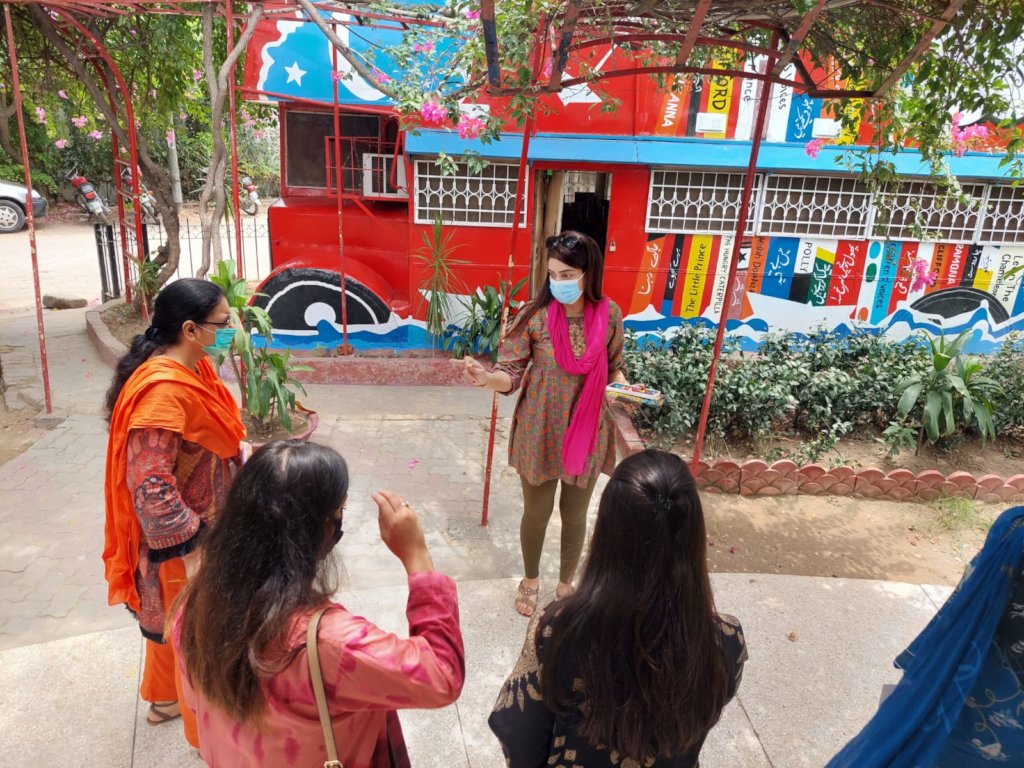 Projects on the Go (POG) a maker space on wheels, has been designed to empower and enable young girls to explore various skills and gain enough mastery in any one to set up a small online business.
The project focuses on independent learning, and problem solving; to empower girls to think critically and creatively, and use the toolkit at their disposal to enhance their entrepreneurial skills.
Due to the rising graph of coronavirus cases, schools were open for two weeks in February and closed again till mid June. They reopened briefly for the sole purpose of assessments and results and then closed for the summer break.
We initiated the planning phase and conducted demo visits in two out of the six selected schools during this two week opening.
In a meeting to discuss the project's future keeping the covid situation in mind, and government schools remaining closed, we started a summer programme with one of our partner organizations, Doors of Awareness, who run schools for slum children with the mission to empower deprived and marginalized communities by facilitating them through quality education and vocational training to contribute to the social and economic development of Pakistan. We have been working with them for the last five years and found the children vibrant and talented.
This programme will run through the summer and continue through the year. Following strict SOPs we have decreased the number of children in each club and divided sessions in time slots. The schools are very happy with this novel project and are cooperating fully to implement this with girls from Grades 8 and above.
To date we have conducted the following sessions;
1. Meeting with Schools' management and girls for project planning forms
2. Training of the creative practitioners and facilitators accompanying POG to the schools.
3. The Spidergram Exercise – (all about small group discussion, unpicking key ideas behind creativity and its definition in the context of creative education, exploring our own creativity and our strengths and development priorities and how we might develop the creativity of learners). Also useful for exploring all the Creative Habits of Mind and their sub-habits.
4. Introduction/orientation session for the girls to understand POG and its creative clubs.
The project aims to decrease gender inequality and make girls more confident and self assured by gaining valuable skills which would help them in securing better paid jobs or become social entrepreneurs themselves.
The girls, through exposure to materials, videos, project plans and tutorials. will be encouraged to become seekers and independent learners and develop skills of their interest.
Alif Laila will train and nurture the girls for one academic year, and introduce them to successful business women and mentors who will share their stories and strategies of starting and managing a business.
After rigorous and varied training, those young girls who design a project that shows marketable potential will be given financial and technical assistance for their startup.