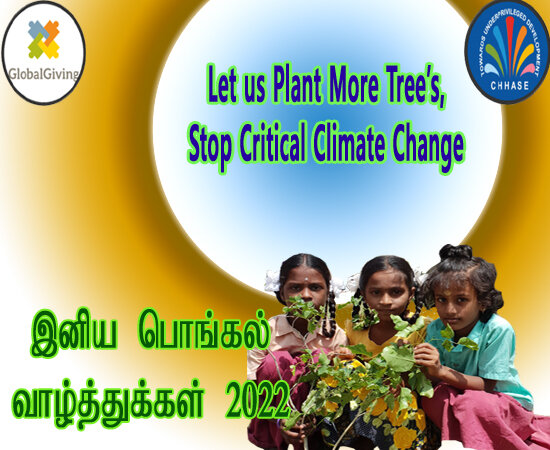 Dear Donor/ supporter !
CHHASE, our staff and our community wish you " HAPPY PONGAL ". A festival of thanks giving in Tamil Nadu.
About "PONGAL"
According to tradition, the festival marks the end of winter season and the start of the sun's six-month-long journey northwards when the sun enters the zodiac Makara (Capricorn). The festival is named after the ceremonial "Pongal", which means "to boil, overflow" and refers to the traditional dish prepared from the new harvest of rice boiled in milk with jaggery (raw sugar). To mark the festival, the pongal sweet dish is prepared, first offered to the gods and goddesses (goddess Pongal), followed sometimes with an offering to cows, and then shared by the family. Festive celebrations include decorating cows and their horns, ritual bathing and processions. It is traditionally an occasion for decorating rice-powder based Kolam artworks, offering prayers in the home, temples, getting together with family and friends, and exchanging gifts to renew social bonds of solidarity.
Pongal is one of the most important festivals celebrated by Tamil people in Tamil Nadu, Karnataka, Andhra Pradesh, Telengana and puducherry in India. It is also a major Tamil festival in Srilanka. It is observed by the Tamil diaspora worldwide, including those in Malaysia, Mauritius, South Africa, Singapore, United states, United kingdom and Canada.
The festival's most significant practice is the preparation of the traditional "pongal" dish. It utilizes freshly harvested rice, and is prepared by boiling it in milk and raw cane sugar (jaggery). Sometimes additional ingredients are added to the sweet dish, such as: Cardamom, raisins, Green gram and cashew nuts. Other ingredients include coconut and ghee.
CHHASEthanking all our monthly recurring donors. Such donations are our strength and it is pushing our projects to success.
We would love to hear your feedback, comments & Suggestion on our program. Please reach out to us at vincentpaul610@hotmail.com
Many thanks again for your support!!
Many Regards
Team CHHASE India.....
Stay Healthy & Keep Physical Distancing!!