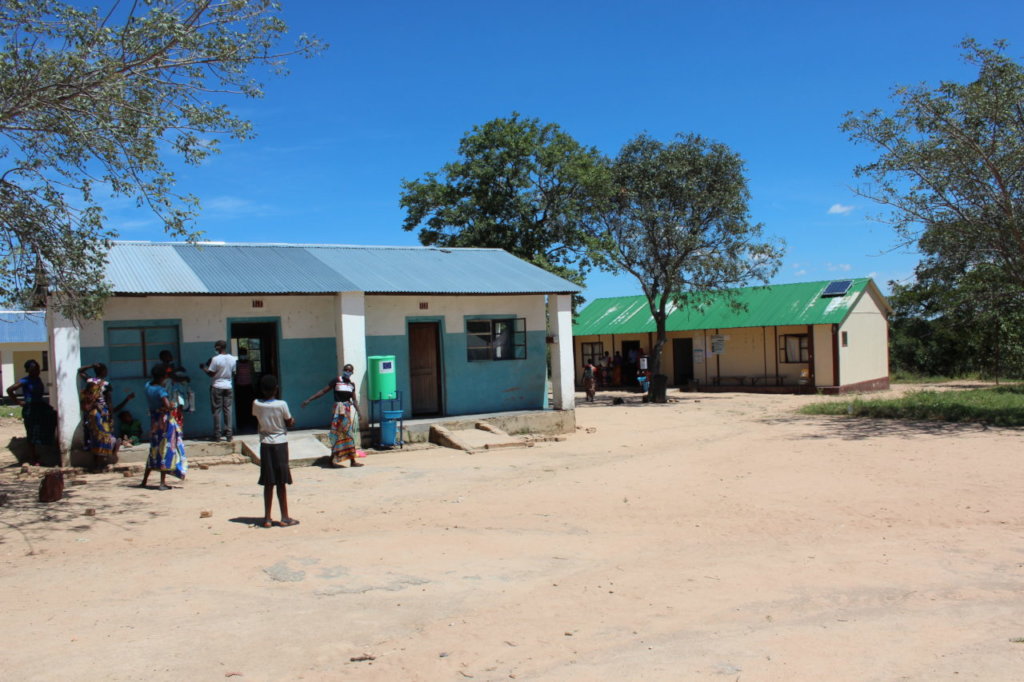 Over the last year On Call Africa have been through a year of change and review of how we could come up with ever better ways of strengthening rural health systems. Following a period of consultation with Ministry of Health, health workers, community health workers and community leaders, we have developed a new pilot project to develop model service packages for rural health facilities. Over the last few months we have begun delivery of this new approach, with the help of skilled volunteer doctors. Dr Greenan, one of our current volunteers, provides her reflections on our new approach, and how it differs from her previous volunteer experiences with On Call Africa.
"What a difference a year can make! When I had to leave Zambia in March 2020, after just 5 weeks of doing On-Call Africa (OCA)'s mobile clinics, I knew I'd be back again – and after completing my GP training in early April, the timing was perfect (pandemic aside) for a return trip. And so, two months ago, armed with a negative COVID test, paperwork proving my need to travel to work and a bag packed with as much PPE as I could carry, I set off from Heathrow.
Coming back to somewhere I had worked before had its advantages – I knew Livingstone well, knew some of OCA's staff and had experience of the Zambian healthcare system, so in some ways I knew what to expect. However, the way we are working now has changed drastically. With mobile clinics out of the question as long as the pandemic is ongoing (and who knows when it will end?), OCA set about working out a new, even more sustainable model of working. Instead of running mobile clinics in three different outreach posts each week, coordinated with the local rural health facilities, volunteers are now placed in one rural health facility for the duration of their placement, working together with and supporting staff to identify and implement quality improvement projects. And so Ellie and I, the guinea pigs of this new model, have found ourselves splitting our time between the base in Livingstone and Kanyanga, a rural health post in Zimba district.
Kanyanga, as a Rural Health Post, should serve a population of 3500. Instead, almost 25000 people live in its catchment area (which also covers 15 outreach posts up to 40 km away), and are served by two nurses, one clinical officer, one environmental health technician, and eight community health volunteers – these are unpaid volunteers who work incredibly hard to serve their communities. As you can imagine, its a busy clinic! In our time here so far, we've seen everything from axe-wounds to inhaled foreign bodies, malnutrition and liver disease, as well as the endless stream of minor illness and coughs and colds visiting the clinic.
As well as helping out in the clinics, our role is to observe the general running of the health post and try to find solutions to some of the problems. On my first day at Kanyanga, I was overwhelmed by the challenges I saw: the nearest hospital (Zimba Mission Hospital) is 2 hours away on poor roads, and transport is infrequent and too expensive for many to use, which results in more complex cases being managed at the clinic. District-level drug shortages lead to medication stock-outs (for example there have been no asthma medications at Kanyanga for at least 6 months), and poverty and water scarcity combined with poor levels of health literacy mean there is a high level of preventable disease seen. We clearly cannot 'fix' everything during our three months here, however we can start to make suggestions and implement small changes. Some of the projects we have started include, improving the antibiotic prescribing rates by training staff and educating patients in order to try and tackle both the risk of resistance but also the frequent drug stock-outs. We have also been working on improvements to the maternity assessment and referrals system to try and get the most high-risk pregnancies identified early and referred to Zimba for delivery, but there is still significant fear and resistance to this among patients. For those who rely on the monthly outreach services to access healthcare (staff travel out on the clinic motorbike), we are trialing a new outreach kit this week to try and streamline the services provided – and this has been well-received by the staff!
And this is all just phase 1 of the project: more volunteers will arrive after we leave to continue the projects we have started and develop others. Similar cycles of assessment and implementation will also take place at other rural health facilities. As part of the bigger picture, OCA plans to tackle some of the larger infrastructure problems by installing solar panels so that the maternity unit will have power, and a new bore hole to improve access to water at Kanyanga. We are also looking at ways to fundraise for a new mother's shelter: this is where pregnant women, who often have to travel long distances to attend Kanyanga, stay in the lead-up to delivery to ensure that they are close to the clinic for delivery: the current shelter is very basic and not an appealing place for a heavily pregnant woman to stay.
One of the major benefits of this new way of working is that there is the potential for sustainable long-term improvements. By embedding ourselves within the community and working alongside the Zambian healthcare staff, we can work together to come up with solutions to problems. We've had meetings with staff, patients, village headmen and the District Health Office director to ensure that any suggestions we have are realistic and in-line with the community's needs and ministry of health aims. The goal of sustainable improvements is what drew me to OCA last year, and we spent a lot of time then training community health workers and carrying out health promotion sessions with the communities we worked in to try and achieve this. The new way of working feels like an even bigger step forwards in that direction.
Having experienced both mobile clinics and rural health post placements, I think that the new model has some clear advantages in terms of long-term sustainability, which has always been part of the ethos of OCA (as it should be within the aims of any NGO). I'm really excited to keep in touch with OCA and its future volunteers based at Kanyanga to see how it continues to develop once I've returned to the UK. Who knows, I may even return one day to see the changes first hand!"
Links: