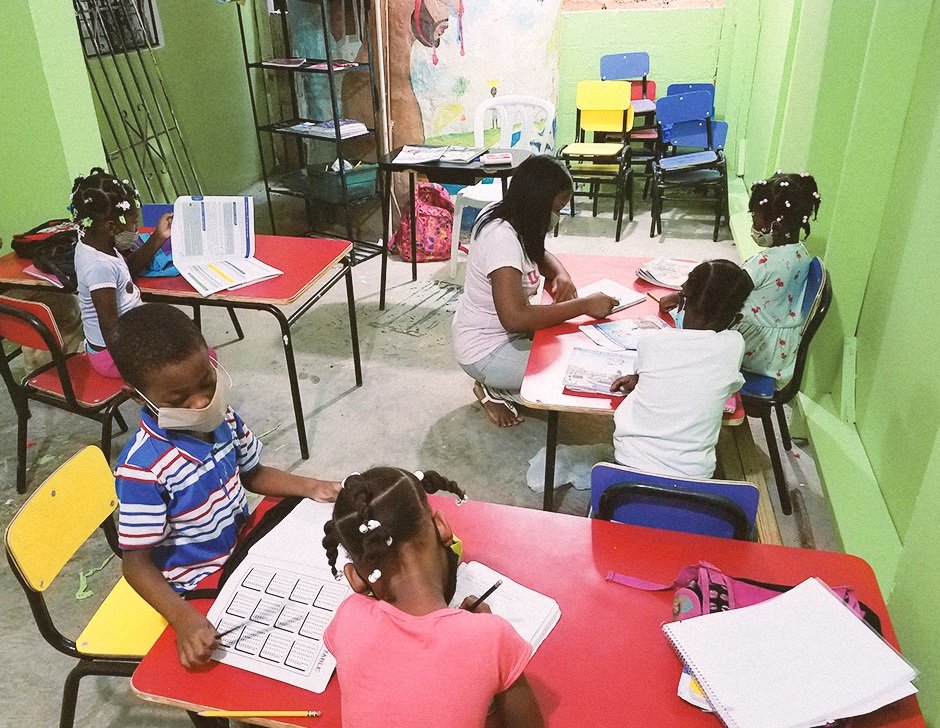 Many of us started this year filled with excitement, looking forward to seeing our dreams fulfilled without having any idea that something so unexpected would change everything, everywhere, and for everyone. For the people in Bienvenido, this was no different.
As soon as the Dominican government announced schools would need to use an online platform, we were genuinely concerned for the children in Bienvenido. Why? If you have been following our journey you know how important education is in preventing violence, drug use, and sexual abuse. It is also a vital piece in offering hope of a life beyond poverty. Therefore, we could not afford to let the kids in our program miss a year of school.
While an inner-city family might not struggle to have their kids attend online classes, this is not the reality of a child that lives on the outskirts in one of the most impoverished parts of Santo Domingo. The instability of electricity and lack of internet, and devices to connect to it, are the norm in Bienvenido. Taking action to keep these kids in school was necessary, so we created a plan that would allow them to receive high-quality instruction while following all safety regulations.
First, we made arrangements to allow in-person and online tutoring for our youngest children which participate in the Early Education Program. These children visit our project for class two days a week; one group of six students come on Monday and Wednesday, and another group of six on Tuesday and Thursday. This program is vital because many of the participants have never attended school before. It is our privilege to be part of their journey as first-time students walking towards freedom and self-empowerment through learning.
The second part of our plan allows over 20 elementary students to attend their virtual classes using the internet and new computers and tablets available at The Bienvenido Project. Tutors are also available during this time to help assist any child who needs it.
And finally, children in both the Early Education Program and Elementary School receive breakfast and lunch every day without exception. Having a full stomach makes it so much easier to focus on learning!
What we've been able to accomplish this year, on such short notice, could not have happened without YOU! We especially want to thank BNP Paribas (and specifically Susie, Berenice, and Patricia) who hosted a virtual fundraiser for our program, and Jodi and Aaron who also spearheaded raising funds for this year's educational programs. Enough funds were raised to provide 61 scholarships (11 more than our goal!), increase our internet speed and stability at the project, AND purchase 20 tablets. Your generosity this year blew us away and allowed us to offer hope to so many children who would otherwise never receive an education. THANK YOU!!!
We've been able to make such big strides in Bienvenido this year, but our work is not done. As children moved from the school building into their homes a new challenge has presented itself. Many parents are unable to read or write leaving them unable to support their children in their studies. So, in January 2021, we will be starting a brand new literacy program for the parents! This initiative will not only aid the children of Bienvenido in their studies, but also open up new opportunities to their parents. December 1st, #GivingTuesday, we'll be sharing more on how to amplify your support of this initiative through an opportunity to earn a portion of $1,000,000. Stay tuned!