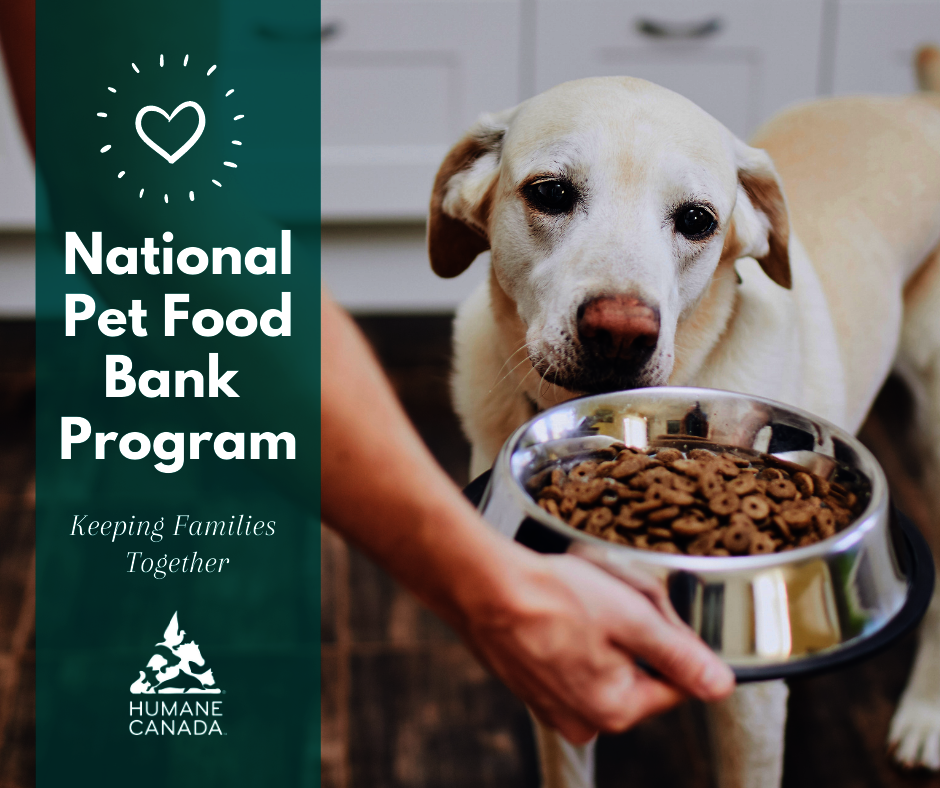 Hello wonderful supporters,
Did you know that 90% of Canadians with a pet identify them as family? Imagine not having enough resources to feed your family – all of them – even the animals.
Canadians are animal lovers with more than 60% of households having a pet. The pandemic created a crisis that across the country made both people and their beloved animals financially vulnerable. Humane Canada set out to support those vulnerable animals and their families. With your help, we strived to do two things; make pet food banking more accessible during this crisis and create a positive legacy from the Covid crisis – a national, accessible pet food bank system.
In January 2021, Humane Canada publicly launched a new grant program providing funding and support to organizations, helping vulnerable companion animals stay with their families through access to pet food and care items. This grant was made possible through Humane Canada donors like you, and a matching grant program. We received 51 grant applications and were able to support 8 organizations across the country to help feed 9,220 animals. We are so proud of this accomplishment but it also let us know that there were another 43 organizations that needed our help, amounting to more than 75,000 animals in need. So, we set to work to make more money available for another grant.
But we didn't want to stop with only a grant, we wanted to make sure that there was an effective system in Canada to support animals in need on an on-going basis. So, this summer we convened a National Taskforce to design a new model that will work to achieve our vision: that pet food support is readily accessible for owners of companion animals in Canada during times of need. An accessible and sustainable network of pet food bank services that will help keep pets and people together and reduce pet surrenders. We are ready to implement that strategy to increase access for people in need and to increase donor support.
We are excited to announce that we plan to launch a second grant cycle in October of this year! Humane Canada is starting a fund specifically for granting to organizations that provide pet food to vulnerable animals. It is a first of its kind in Canada. We could not do this without your help so please continue to give and to support our efforts to ensure that those individuals who are struggling to feed their pets receive the help they need and that we can keep families together through these difficult times.
From the bottom of our hearts, thank you for supporting our National Pet Food Bank program, we hope you will continue to join us in funding this important effort to directly feed vulnerable animals.
Links: