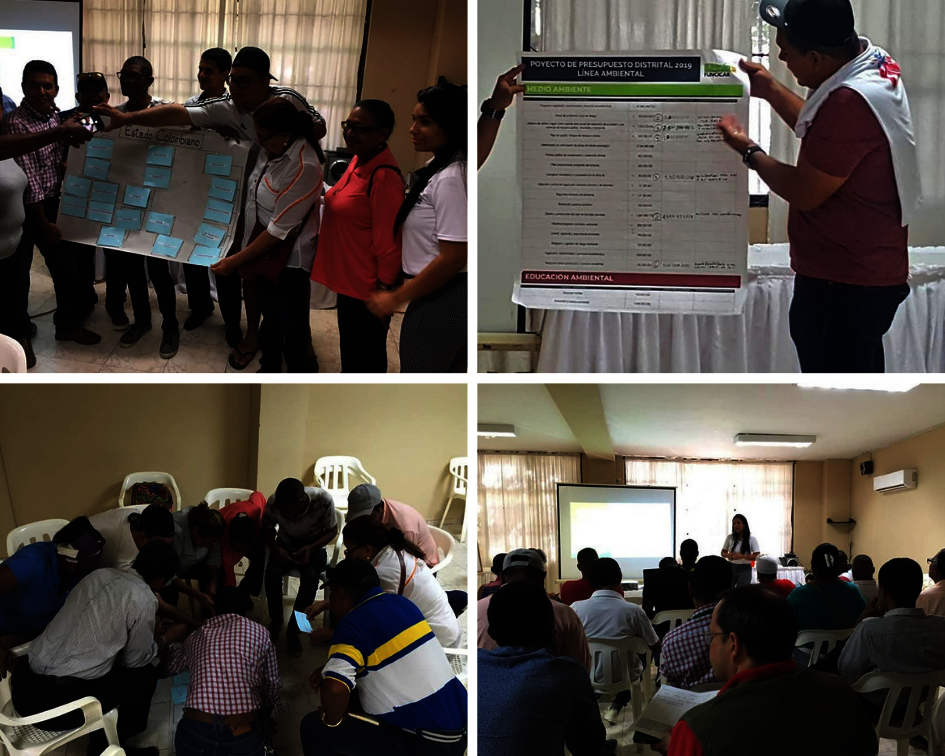 Thank you for donating to Vigila Cartagena, for believing in a project that loves this city and investigates public investment. In March 2019 we sent you a report about our work and today we want to update you on our achievements and the effect we have had in our community.
Through our investigative work we have achieved the following:
The Attorney General's office took preventive measures following Funcicar's concerns about quality irregularities in several contracting processes in the mayor's office (Alcaldía de Cartagena Localidad 2).

The City Council (Concejo Distrital) implemented our recommendations regarding insufficient requirements in the contracting process for a public investment worth $391MM.

The Soledad Acosta de Samper school overhauled their contracting process as a result of Funcicar's recommendations, which in turn lead to a better quality building.

The Attorney General's office and other government agencies that investigate corruption have opened investigations and implemented preventative strategies as a direct result of Funcicar investigative work.

Important management decisions to safeguard public integrity from irregularities that we identify. One of these decisions was to withdraw the previous Secretary of Infrastructure from office, in part, for the alerts issued by Vigila that involve alleged property detriment in the construction of 3 city parks. See more.

Government control entities, such as the Attorney General's office and government comptrollers, use us as a resource, which was the case with the Edurbe early childhood project contract.

Community leaders and journalists have replicated our research model.

We are an active voice in national political debates, and were invited to observe a meeting regarding the accountability and transparency of the Attorney General's Office.
Now, some achievements about city-wide projects we follow...
1. River and natural reserve Juan Angola
We affected the suspension of the Edurbe - District agreement because it did not have the technical requirements of the law that would guarantee the quality of the investment, case alerted by Vigila Cartagena. See more.
We also train community leaders to monitor the reinvestment of these public resources (picture 1), and supported the creation of an Environmental Development Plan (Plan de Desarrollo Ambiental) in which local communities played an important role.
2. School Food Program (Programa de Alimentación Escolar 2019)
The Mayor's Office of Cartagena extended the terms of the call for the contracting process after our reports. However, as there were no bidders in this process, they proceeded to contract through commercial exchange, we were invited by the mayor to oversee these processes and guarantee legality.
In addition, the Mayor's Office applied our recommendations regarding the need for greater transparency in the hiring process for contractors via changes to social media. (picture 2).
3. Coastal Protection
The Attorney General's Office requested an open call for contract works related to coastal protection constructions following Vigila Cartagena alerts. See more.
4. National Games (Juegos Nacionales Bolívar 2019)
We issue observations and alerts about the tender for works at the Jaime Morón Stadium, which is why the process was discarded and reopened, the second time including the suggested adjustments from Vigila Cartagena. Given our recommendations, information access strategies have been implemented in hiring hearings. We advocate for greater citizen involvement regarding these processes in the public City Council hearings.
________________________
VERSIÓN EN ESPAÑOL
¡Nuevo reporte! Conoce qué ha logrado Vigila Cartagena
Apreciado aportante de Vigila Cartagena, ¡gracias por creer en este proyecto que ama a nuestra ciudad y está haciendo control a la inversión pública! En marzo del 2019 te enviamos el último informe sobre sobre nuestro trabajo, hoy queremos contarte más sobre nuestros logros e incidencia.
A través de nuestra participación en diferentes instancias de control institucional, logramos que...
- Procuraduría inició acción preventiva a raíz de nuestras alertas sobre presuntas irregularidades en proceso de contratación de la Alcaldía Local 2 para capacitaciones sobre gestión de calidad, en isla privada.
- El Concejo Distrital acogiera nuestras recomendaciones orientadas a que se ampliaran los elementos de análisis en el estudio y aprobación de un proyecto de crédito público solicitado por el Distrito por $391MM.
- La Institución Educativa Soledad Acosta de Samper solicitara nuestra vigilancia a un proceso contractual de obras que adelantó y posteriormente descartara y volviera a abrir la contratación para acoger a cabalidad los ajustes sugeridos.
- Los Entes de Control iniciaran acciones preventivas e investigaciones a raíz de alertas y denuncias del programa.
- Importantes decisiones de la administración para salvaguardar la integridad pública a partir de irregularidades que identificamos. Una de estas decisiones fue retirar del cargo a la anterior secretaria de Infraestructura, en parte, por las alertas emitidas por Vigila que involucran presunto detrimento patrimonial en la construcción de 3 parques de la ciudad. Ver más.
- Somos fuente para investigaciones de entes de control: caso Edurbe contrato primera infancia: Procuraduría y Contraloría.
- Medios de comunicación y líderes comunales repliquen nuestro modelo de investigación.
- Somos una voz activa en el debate: Invitados a la Rendición de Cuentas de la Procuraduría General de la Nación.
En cuanto a proyectos de ciudad...
Programa de Alimentación Escolar 2019: La Alcaldía de Cartagena amplió los plazos de la convocatoria luego de nuestras observaciones

. No obstante, al no contar con proponentes en este proceso, se procedió a contratar a través de la bolsa mercantil y fuimos

Invitados por el alcalde a conocer las etapas y garantías de la contratación mediante esta figura.

Además la Alcaldía acogió nuestras recomendaciones sobre dar mayor visibilidad al proceso de contratación a través de sus redes sociales (ver imagen 2).
Protección Costera: La Procuraduría solicitó convocatoria abierta para contratar obras de este proyecto, ante alertas de Vigila Cartagena sobre uso de invitación cerrada. Ver más.
Juegos Nacionales: Emitimos observaciones y alerta sobre la licitación para obras en el Estadio Jaime Morón por lo cual se descartó el proceso y se volvió a convocar atendiendo los ajustes sugeridos. Ante nuestras recomendaciones, se han implementado estrategias de acceso a la información en audiencias de contratación. Motivamos la audiencia de control político en el Concejo Distrital.