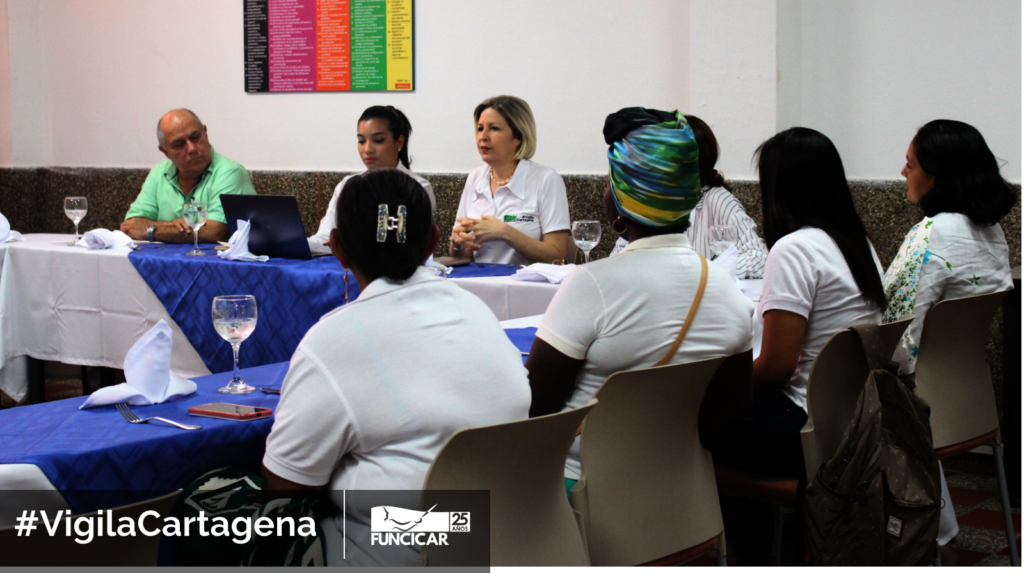 En nuestro reporte anterior, te informamos sobre el trabajo que habíamos realizado hasta noviembre del 2018. ¡Hoy te traemos noticias sobre todo nuestro trabajo hasta marzo de este año!
LOGROS Y ACCIONES:
¡Hemos movilizado a la ciudadanía de Cartagena hacia la lucha contra la corrupción!... para eso:
Documentamos presuntas irregularidades en la contratación del gobierno de nuestra ciudad y de nuestro departamento (Bolívar) las difundimos por medio de piezas de comunicación que llamamos "alertas". Hasta el momento han sido 28. Consúltalas aquí
Formamos a más de 1.350 personas en mecanismos de lucha anticorrupción en distintos talleres y reuniones. La mayoría de ellos son líderes de las comunidades que tienen un rol activo en la vigilancia a la inversión pública en sus barrios.
Tuvimos la primera reunión de nuestro Comité Ciudadano de Lucha Contra la Corrupción. Leer más.
Sacamos a la luz cómo se manejan nuestros recursos analizando, consolidando y difundiendo cómo va la inversión pública en 6 informes. Este año, 2019 lo iniciamos con la publicación del informe sobre los financiadores de las campañas de los congresistas de nuestro departamento, Bolívar, y del último alcalde electo. Ver más
Aportamos insumos al control fiscal, penal y disciplinario, los organismos encargados de este seguimiento están priorizando los temas que vigilamos.
Documentamos y presentamos 9 denuncias ante entres de control.
Realizamos 15 mesas de trabajo con entes de control: 5 con la Procuraduría (control disciplinario), 2 con la Fiscalía (acción penal), 1 con la contraloría (control fiscal), 3 con la CGN, 1 con la Secretaría de la Transparencia, 1 con el Concejo, 1 con la DIAN.
Seguimos cuidando los recursos que amparan a nuestra niñez, tercera edad y comunidades.
Identificamos deficiencias en los requisitos de los contratos de la Alcaldía de Cartagena y presentamos 52 documentos con 186 observaciones, de las cuales, 86 fueron acogidas.
Asistimos a las audiencias donde la Alcaldía de Cartagena o la Gobernación de Bolívar definen los requisitos finales que exigirá cierto contrato y a las audiencias donde se elige a los contratistas. En total, han sido 38.
Vamos a campo a verificar la inversión. Ya hemos hecho 6 visitas a parques, canchas, al Coliseo Northon Madrid y a la prueba de conocimiento de aspirantes a contralor/a Distrital. En este año, 2019 visitamos 3 parques y 1 cancha para comprobar cómo fue la inversión… ¡pronto tendremos noticias sobre lo que encontramos!
También, hemos realizado 7 mesas de trabajo con expertos para impulsar la cualificación de lo que hacemos.
Vigila Cartagena es una iniciativa colectiva de ciudad, liderada por Funcicar y respaldada por ciudadanos, organizaciones y empresas, que desde el año 2017 está identificando malas prácticas de contratación con el fin de minimizar los riesgos de corrupción, promover la transparencia y la calidad de la inversión pública.


¡GRACIAS!
Con tu donación, este ha sido un gran año de trabajo para nuestro proyecto, y ya vemos sus resultados en el empoderamiento de ciudadanía, la mejora del rigor técnico en algunos procesos de contratación del Distrito basados en nuestras observaciones, y las investigaciones en curso por parte de los entes de control a partir de nuestras denuncias.
Sin embargo, todavía necesitamos un ingeniero que supervise la ejecución de las obras e identifique posibles irregularidades. Únete a nosotros y cuéntale a todos lo que estamos haciendo para el desarrollo de Cartagena y cómo él o ella pueden contribuir también.

____________________________


What we have done? 2018-2019

In our last report we told you about our work until november/2018. Today we have news about all our work until this march!


ACHIEVEMENTS AND ACTIONS:
We have awaken citizens to have an active role in the fight against coruption! To do that…
We keep record of possible public contract's bad practices of Cartagena's goverment and Bolivar's goverment as early alerts and diffuse them as infographics, reports or videos. Until now, we have published 28. See more
We continue monitoring the progress of the following infrastructure projects: Coastal Protection, rain drainage master plan, Fifth Avenue of Manga neighborhood, and works for the National Games 2019.
We have trained more than 1.350 people in topics related to fight against corruption in differents workshops and meetings. More o that people are leaders that watch over the public contract in their neighborhoods.
We had the first meeting of our Fighting Against Corruption Citizens Committee. Reed more
We bring to light how our public money is managed analyzing, consolidating and diffusing it in 6 reports. This year, 2019, we published our Campaign Finance's Report about the lasts two votes we had: Bolivar's Congress Members and Cartagena's Mayor.

We give supplies to fiscal, penal and disciplinary control. The public entities in charge of this monitoring are prioritizing the issues that we monitor.

We document and file 9 complaints.
We had 15 working groups with control entities. Some of them were this: 5 with Procuraduría (disciplinary control), 2 with Fiscalía (criminal action), 1 with Contraloría (fiscal control) and 1 with presidential department of transparency.
We still watching over the public money destined to our kids, seniors and communities.
We have identified deficiencies in the requirements of the contracts of Cartagena's goverment and presented 52 documents with 186 observations, 86 of them were accepted, so the requirements were improved.
We attend the hearings where the Cartagena's goverment or Bolivar's goverment define the final requirements that a certain contract will require and the audiences where the contractors are chosen. In total, they have been 41.
We make field visits to verify the investment: we have already made 6 visits. This year, 2019 we visited 3 parks and 1 sports field to see how the investment was ... soon we will have news about what we found!
We also have made 7 work meetings with experts to promote the qualification of our work.
Vigila Cartagena is a collective initiative of the city, led by Funcicar and supported by citizens, organizations and business. Since 2017 is identifying public contract's bad practices in order to minimize corruption risks, promote transparency and quality of public investment.
THANK YOU!
With your donation, this has been a great period of work for our project, and we already see its results in the empowerment of citizenship, the improvement of technical rigor in some public contracts based on our observations, and the ongoing investigations by part of the control bodies based on our complaints.
However, we still need an engineer to supervise the execution of the works and identify possible irregularities. Join us and tell everyone what we are doing for the development of Cartagena and how he or she can contribute as well!