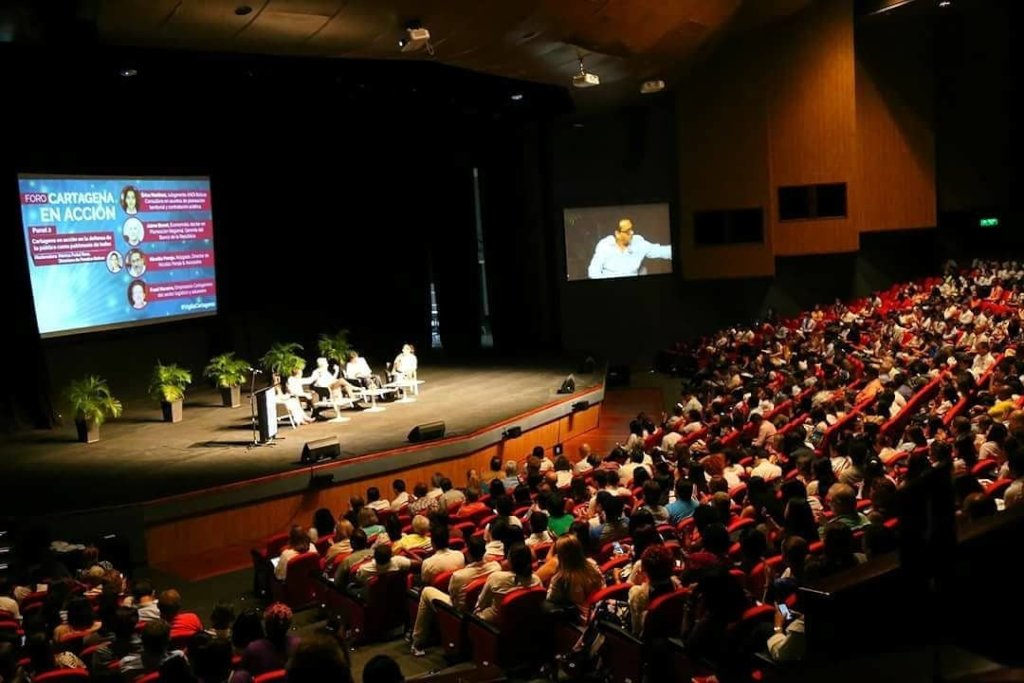 Ya cumplimos medio año desde que empezamos a trabajar juntos para monitorear la inversión pública en Cartagena. Con tu valioso aporte han sido muchas las acciones y los logros que hemos alcanzado y queremos compartir contigo:
Acciones:
-Convocamos y comprometimos a la ciudadanía a unirse al equipo del control ciudadano con el foro "Cartagena en Acción". En este espacio se compartieron propuestas de líderes ciudananos, representantes de los gremios, la academia, y cerramos con unas palabras de apoyo del Procurador general de la Nación. Revive aquí los mejores momentos.
-Emitimos alertas sobre posibles malas prácticas en 5 procesos de contratación relacionados con la construcción y reparación de parques en distintos barrios de la ciudad. Lee más aquí.
-Seguimos vigilando los avances de Protección Costera, Plan Maestro de Drenajes Pluviales y las Obras para los Juegos Nacionales 2019.
-Publicamos un informe sobre la contratación en las 3 alcaldías locales. Consúltalo aquí.
-Presentamos recomendaciones sobre contratación a Edurbe, la Alcaldía Distrital y la Gobernación de Bolívar.
-Hemos difundido las convocatorias de contratación del Distrito a través de redes sociales; así aportamos a que se democratice la contratación.
Logros:
Los entes de control están adelantando investigaciones a partir de denuncias que les presentamos.
Fomentamos mayor rigor técnico en algunos procesos de contratación. A partir de nuestras observaciones, la Alcaldía ha ajustado los siguientes contratos:
Alimentación al Adulto Mayor
Programa de Alimentación Escolar-

PAE
Todo esto ha sido resultado de un trabajo colectivo y es muestra del poder ciudadano. Sin embargo, todavía falta mucho por hacer.
Las donaciones recaudadas para el programa permitirán soportar los costos hasta el mes de noviembre de 2018. Con esto hemos contratado a 4 de los 10 miembros del equipo: directora del proyecto, investigador de contratación, abogado y comunicador.
Nuestra incidencia podría mejorar si, por ejemplo, contáramos con un ingeniero que identifique irregularidades en obras de gran cuantía como la intervención a Instituciones Educativas que la empresa Edurbe llevó a cabo.
Recuerda que puedes aportar a Vigila Cartagena desde cualquier lugar a través de GlobalGiving.
***
English version:
We have already completed half a year since we began working together to monitor public investment in Cartagena. With your valuable contribution there have been many actions and achievements that we want to share with you:
Actions:
-We commited the citizenship to join us with the forum "Cartagena in Action." In this space there were shared proposals of local leaders, representatives of the industries, the academy, and closed with a few words of support from the Attorney General of the Nation. Relive the best moments here.
-We sent early alerts about possible bad practices in 5 hiring processes related to the construction and repair of parks in different neighborhoods of the city. Read more here.
-We continue monitoring the progress of the following infraestructure projects: Coastal Protection, Rain drainage master plan, and works for the National Games 2019.
-We published a report on hiring in the 3 local municipalities. Check it here.
-We presented recommendations on hiring in 3 local entities: Edurbe, the District Mayor's Office and the Governor's Office of Bolívar.
-We have publicized the recruitment calls of the District through social networks; this is how we contribute to the democratization of hiring.
Achievements:
-The control entities are carrying out investigations based on complaints that we presented to them.
-We promote better technical rigor in some hiring processes. Based on our observations, the Mayor's office has adjusted the following contracts:
All this has been the result of collective work and is a sign of citizen power. However, there is still much to be done.
The donations collected for the program will support the costs until November 2018. With this money, we have hired 4 of the 10 team members: project director, hiring researcher, lawyer and communicator.
Our impact could improve if, for example, we had an engineer who identifies irregularities in large-scale works such as the intervention to Educational Institutions that the Edurbe company carried out.
Remember that you can contribute to Vigila Cartagena from anywhere through GlobalGiving.