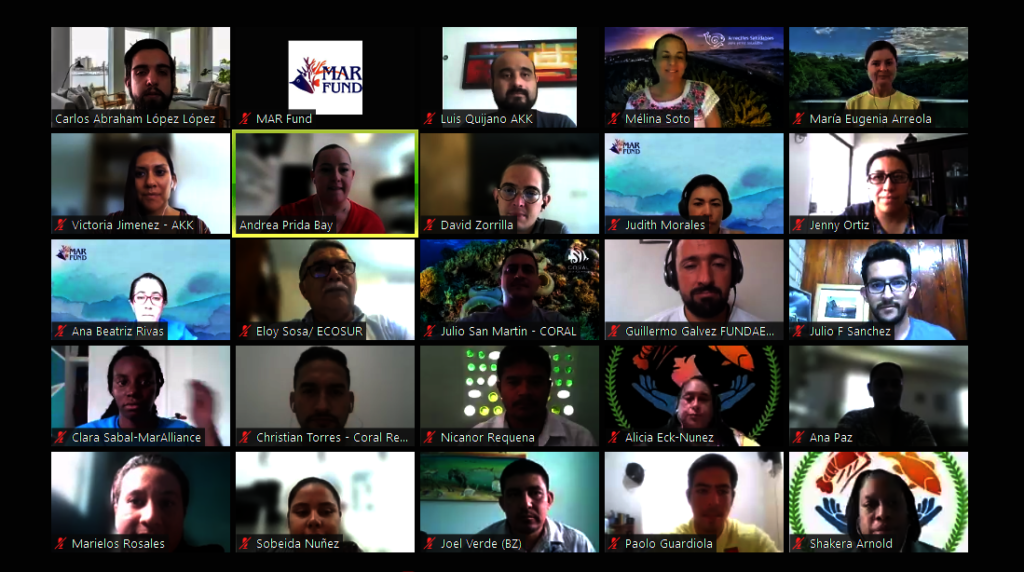 Within the framework of the Gulf and Caribbean Fisheries Institute (GCFI) meeting in Merida Yucatan, Mexico carried out in November 2017, The Mesoamerican Reef Fund (MAR Fund), the Fondo Mexicano para la Conservación de la Naturaleza (FMCN) and Rare Conservation organized a side event to lay the foundations for the creation of the Mesoamerican Reef Sustainable Fisheries Network (MAR-SFNet).
Derived from the side event, MAR Fund and FMCN developed a follow up meeting in November 2018 to consolidate the network to promote and support the sustainability of fisheries, especially small-scale fisheries, in the MAR region. Since its consolidation, the MAR-SFNet, formed by civil society organizations, community organizations, academic institutions and fishing cooperatives from the four countries (Mexico, Belize, Guatemala and Honduras) of the MAR currently working in fisheries, have gathered to follow up on their indicators, marketing, legal framework, capacity building, strategic communication, financial sustainability and their work plan.
This initiative has generated a strategic document that maps and analyzes key actors, projects and organizations that work in the small-scale fishing sector in the Mesoamerican Reef (MAR). This document presents information about priorities, opportunities, limitations and threats that the fishing sector faces and it also provides trustworthy data to support and inform the Network's next steps with a regional and multilevel approach.
Thanks to your support, we were able to strengthen the Network, in collaboration with funds from the Integrated Reef to Ridge Management of the Mesoamerican Reef Ecoregion" Project (MAR2R-CCAD/WWF-GEF), and the general assembly in August 2022 was developed. The objective of this meeting was to carry out the updating and appointment of the new Executive Committee (2022 – 2024) of the Network, share the activities the Network has been developing, lessons learnt from 2021 and the plan for the up-coming years.
We will keep you posted on the activities and results achieved by the Network.
Thank you for your support.
The MAR Fund Team