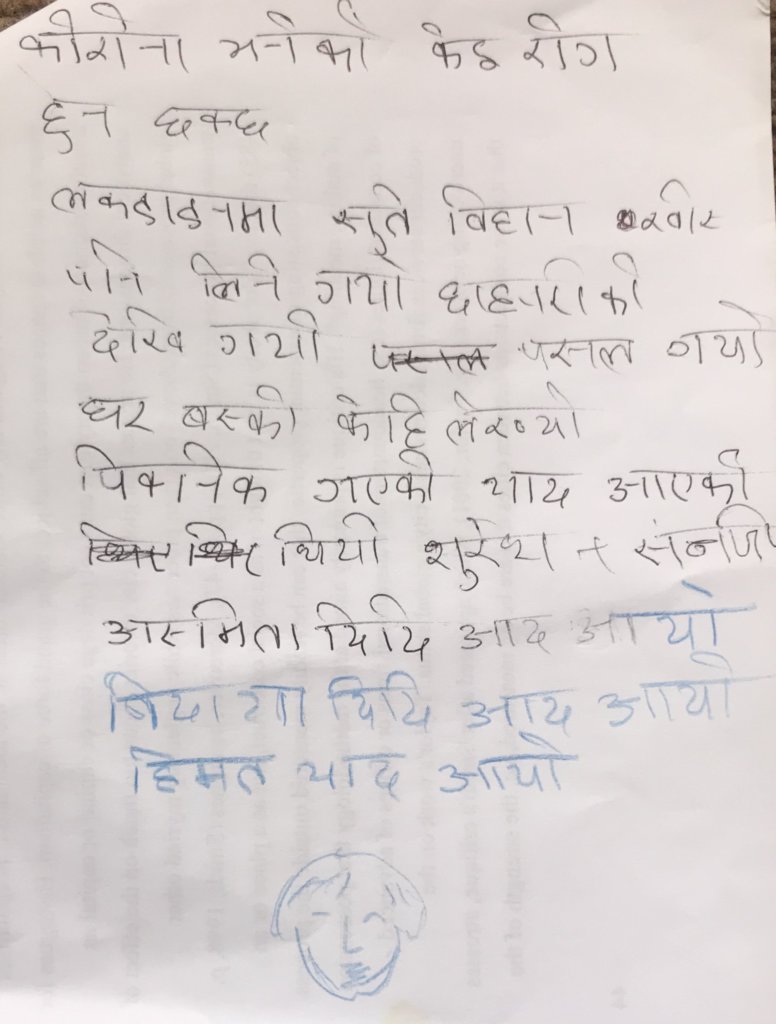 Sam is a male client in his thirties. Although he has a room provided by a local temple, he still roams the streets and can disappear for days at a time. He has been diagnosed with schizophrenia and experiences auditory hallucinations. Without assistance, he rarely takes his medication, although he has not been hospitalised since Chhahari Nepal for Mental Health (CNMH) began supporting him. His nephew is his primary carer, helping with medication and hospital appointments. He cannot work.
Sam does not understand the Covid-19 pandemic or the public health measures, although he began wearing a mask in public, months after this became mandatory. Sam's income came from begging at the temple, but this has not been possible during the lockdown. He continued to roam during the first week of lockdown, then stayed home for two weeks. Since then, he has been going out again, including to CNMH office every Wednesday for the (closed) Welcome Centre Sessions.
Since the lockdown, Sam has been going to his nephew's house every morning and evening for food, after which the nephew gives him his medication. It's good that during the lockdown there is the routine set up of going to his nephew. On two occasions he went several days without medication, once because the nephew forgot and once because Sam received food elsewhere. CNMH Staff has been in constant communication by phone with his nephew and sister.
He has been spending more time at home and looking after himself better. His (late) mother's friend lives nearby and has been providing Chhahari with regular updates, including seeing him washing and changing his clothes more often. CNMH staff is teaching Sam on a regular basis to use a mobile phone but he still struggles so regular home visits have continued under lockdown. CNMH provided arts and crafts materials, which he enjoys and uses to express himself.( Attached Sam's expression of lockdown)
CNMH prioritised continuity of care above all else, to the greatest extent possible and are continuously working to ensure our clients have access to a sufficient supply of medication, food, shelter and social support.