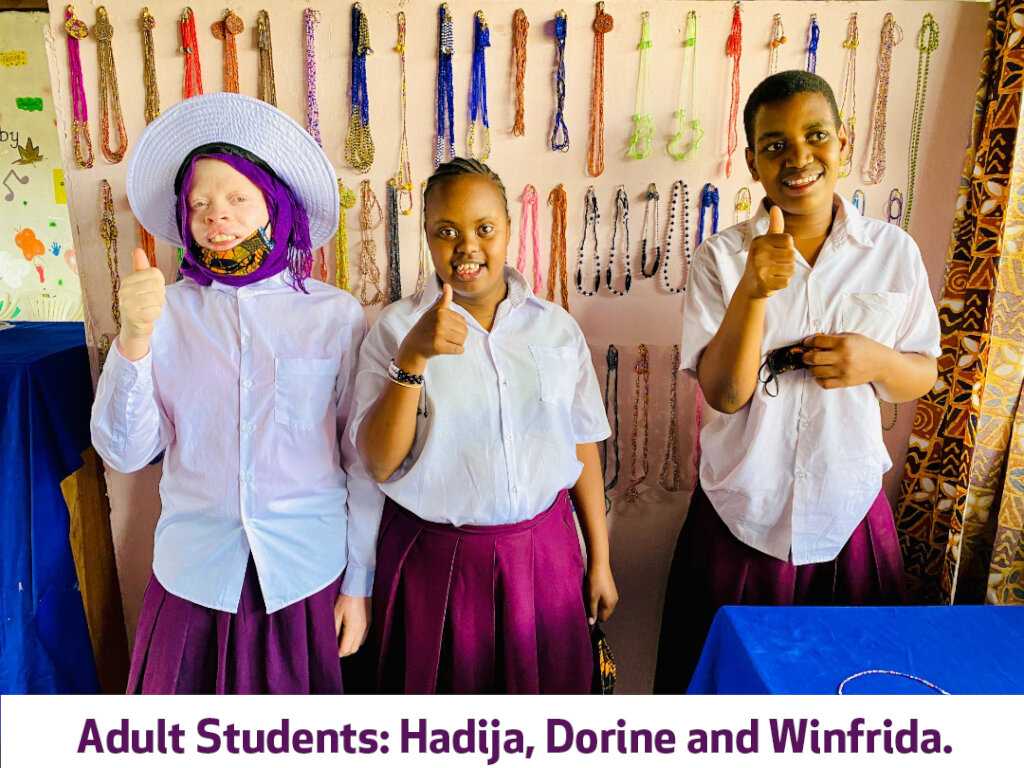 EMPOWER 30 STUDENTS WITH DISABILITY IN TANZANIA, REPORT NUMBER 6: MAIN ACTIVITIES AND ACHIEVEMENTS OF STEP BY STEP LEARNING CENTRE, SSLC IN 2021.
INTRODUCTION: This report will summarise the main activities and achievements of 2021 vis a vis our vision, mission, goals and activities.
MISSION STATEMENT
SSLC's mission is to promote the physical, intellectual, psychological and social development of each child through a holistic educational provision in an inclusive, empathetic, respectful, positive and stimulating environment so that special needs students and their families feel safe, accepted and loved. Staff use child-centered training and learning methods to encourage all children, including those having severe disabilities, to reach their maximum potential.
VISION STATEMENT
SSLC aims to grow its capacity to provide a safe and stimulating learning and working environment for mentally and severely physically challenged students for as long as they need such support to progressively improve and learn appropriate Life and Job skills in order to achieve a degree of independence and dignity.
MAIN GOALS
Fifteen young students (age 6 to 17) with mental and physical challenges will access appropriate education, life skills training and appropriate therapy.
Fifteen young adults (over 18) with mental and physical challenges will get training in Job skills and thereafter employment, income, self-esteem, confidence and emotional empowerment.
Six Income Generating Projects (IGPs) will receive enough input to become viable and self-sustainable.
Fourteen Staff will receive support to provide compassionate, high quality holistic teaching, training and therapy to SSLC students.
MAIN ACTIVITIES
Drawing an Individual Learning Program (ILP) for each student with input from his/her parents or guardians, then setting goals for each student
Conducting one on one, Hand over hand, Experiential - hands on teaching and training the young students in basic functional literacy and life skills
Providing professional therapies (Physiotherapy, Reflexology, Occupational Therapy and Speech Training plus Music, Dance, Art and Crafts.
Training and mentoring young adults on the job in the Income Generating Projects (IGPs): jewelry making from beads; gardening and Livestock keeping of cows, sheep, chicken, fish and bees.
Expanding the IGPs and professionalizing the job skills to make the projects financially viable and sustainable.
Providing administrative and support services to the program.
Collaborating with parents, community leaders and other similar programs in order to advocate for the rights of the disabled and sell the SSLC model.
STAKEHOLDERS: In 2021, we had a total of 210 project participants and beneficiaries (107 females and 103 males). These were students, staff, parents/ guardians and their families.
JUNIOR CORE PROGRAM (AGES 3 TO 17)
Most of our students came from poor families without the means to pay for therapy or education that can improve their wellbeing, and they (especially girls) were at high risk of discrimination, neglect, sexual and physical abuse if left to fend for themselves in the community. The Junior Program had 16 students with varying degrees of physical and mental challenges: 7 with autism, 8 cerebral palsy and 1 Downs syndrome. Two students dropped out due to difficult family circumstances. Over 80% of the students were able to attend school 80% and above of the time. 80% and above of the students met the goals set in their Individual Learning Programs (ILPs). We enrolled 5 new students in 2021. However, there was a growing list of other young students waiting to enroll.
HOME BASED PROGRAM (HBP)
The HBP served 5 students who could not attend school due to distance, difficult family circumstances and severe physical challenges. Teachers followed them home on Fridays. When we had visitors offering intensive specialist services and training, such as in physiotherapy or occupational therapy, we invited them and their guardians/caretakers to attend the workshops.
ADULT PROGRAM (AGES 18 AND ABOVE)
SSLC's Adult Program catered for 12 adult students most of them graduates from the Junior Program: 4 are living with autism, 2 cerebral palsy, 2 Down's syndrome, 2 slow learners, 1 albinism and 1 Pfeiffer's type I syndrome. They learnt job/employment skills on the job in our Income Generating Projects (IGPs). The IGPs are developed on the school premises so that adult students safely engaged in producing and selling products to generate revenue which, supplemented by grants, can give them an income. These IGPs include livestock keeping of sheep, chicken, fish, bees and ducks; fruit and vegetable farming and jewelry making using beads. These activities have been our most effective advocacy demonstrating that disability is not inability. They also enhanced the students' independence and value to their families thus reducing the stigmatization and rejection that most of them experience. The ultimate goal is to settle, in due course, an Adult Program graduate back into her/his community with her/his own business after mastering an income generating project at SSLC and /or when the family and community environment is judged to be positive for the student.
One heartwarming story of an Adult Student is that of Hadija Bakary who was saved narrowly from an early marriage. Hadija is 20. Someone from her community reported to the Director of Albino Peacemakers that there was a young albino girl being sold off to an early marriage to whoever can pay her father anything. She was reported to be mentally challenged as well because she completed primary 7 with all zeros. I am on the BOD of Albino Peacemakers so Martha the director asked if we could enrol her on our Adult Program. I said yes and she joined SSLC. She had sun burn wounds all over her face and mouth. The eyes were so affected she couldn't look anyone in the eyes, instead she looked up or down to avoid the light. She was so shy she could hardly speak. She got all zeros because she couldn't see the black board.
Within just one month of intensive care, treatment and sunscreen protection supervised by Martha herself, plus acceptance, kindness, patience and love from the safe, positive environment at SSLC, it was obvious that Hadija's "handicap" was false. She is a very smart beautiful girl, excelling and leading the others in the projects. She is beginning to read and write! She is aspiring to do her own business one day! Her life has completely turned around.
ADVOCACY
SSLC was an active participant in community activities such as Sports and the colorful marches around town on World Autism, Downs' Syndrome and Disability Days. We raised public awareness of disability as a dignified state deserving of equal respect as the rest of society. SSLC's work has become a model of care and provision for this population. In the past 16 years of my involvement, I have witnessed extreme denial where children are hidden to acceptance where many parents, guardians and community members turn up in large numbers to support students with disabilities.
MAIN ACHIEVEMENTS
Started Home Based Program (HBP) during COVID-19 lockdown.
Started COVID-19 relief activities, like distribution of food items.
We extended Income Generating Projects (IGPs) to include fruit trees, dairy cows and a biogas system.
Repaired block one by replacing the roofing, painting and tiling.
Constructed a second fishpond, a bigger chicken house and five-keyhole gardens.
Fenced the five acres school compound to improve safety for students and general security.
Pulled municipal water to school to get clean running water.
Virtually hosted students from Susquehanna University, Pensylvania, USA, to fundraise for SSLC
Had an external evaluation of Step by Step Learning Centre, SSLC done by a consultant.
Continued raising funds onto GlobalGiving (GG) platform.
Wrote three big proposals.
Established partnership with four universities abroad to volunteer with SSLC.
Recruited two special needs education graduate teachers.
Received a Direct Aid Program (DAP) grant from the Australian embassy.
Enrolled five new students into the program.
Participated in disability sports, International Autism day and Down syndrome day.
Received and worked with an overseas internship student
Received a Charitable Status from Tanzanian Government
Started construction of basic housing units for severe students to live on campus at SSLC
Conducted training sessions on Disability and Autism Spectrum Disorder (ASD) at a big convention for teachers organized by The Foundation For Tomorrow.
SUSTAINABILITY
SSLC is supported by donations, grants, student Sponsors and Volunteers. The Income Generating Projects grew, improved and are on their way to becoming viable Social Enterprises. However, the negative impacts of COVID-19, Delta and now Omicron are still very real. We have lost support from one major donor and so are grateful we can step up our fundraising on GlobalGiving this year, 2022.