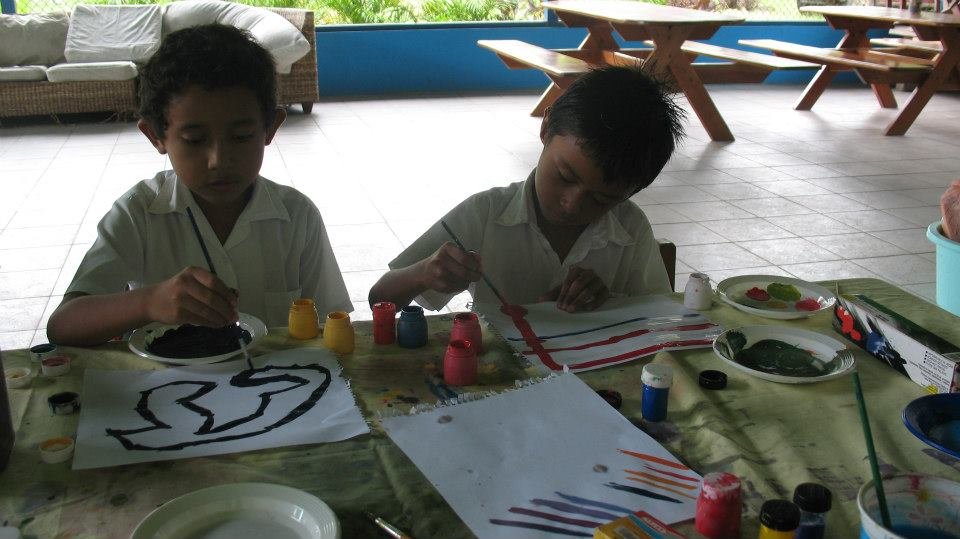 We are pleased to be able to share with you a recent donation report that we have received from the field, showing the extent of the difference that your donations are making - we can't thank you enough!
The ESL and Art teacher have had a huge impact on the school and the community and we will continue this program in 2013. The students have made remarkable progress not just in the English language or artistically, but also socially and emotionally. The adult evening classes are popular and the community are grateful for the opportunity to learn English, which has helped many to access the bustling tourism trade - increasing their family income and creating a higher living standard.
The school supplies and Art supplies have also been invaluable - many children had never held a paintbrush or used paint, many students were without a pencil, let alone a pencil-case - now they have the proper equipment to learn and express themselves.
Finally the infrastructural repair - this has had the most impact, the school was in a very bad state when we started the project. All roofs leaked, causing huge pools of water in the classrooms and wetting the children, the leaks also caused electrical problems with a fan sparking and a computer being blown up. The classrooms were hot and uncomfortable - we installed blinds and fans, painted the interior and built shelving units, fixed electrical and plumbing issues. The school kitchen had rats eating dry food products as there were no cupboards or shelves, the gas tank was housed in the kitchen which was very unsafe and the floor was broken cement which was a breeding ground for bacteria. We now have a very happy school cook and a hygienic kitchen for her to work in, as well as new cafeteria tables for the children to eat at. The landscaping is ongoing, branch control of hazardous trees - that have fallen on the school roof in the past as well as the grounds, also keeping the grass at a safe height as the area is popular for coral snakes.
With the school flag now flying proudly and the school freshly painted and repaired, the staff, students and community are very proud of their beautiful school in Mal Pais and the community is very grateful for all the donations and support. With ESL, Art and the new bilingual Pre-school program already up and running we can now really start making an impact in the locals life's - allowing mother's to go work and their children being offered a quality learning program that will stand them in good stead for the future.