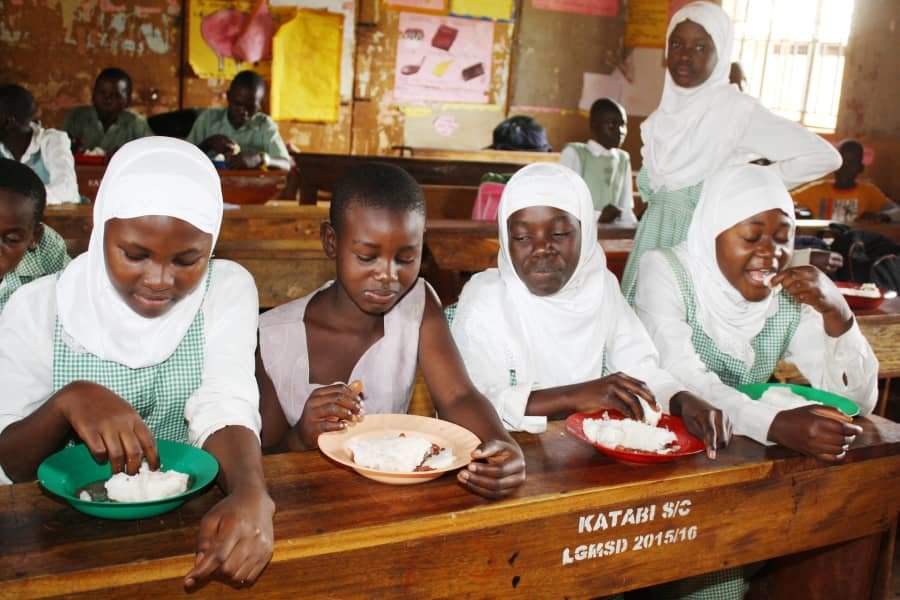 Our nutrition program continues to expand with your help…
We've been able to provide 644 students with nutritious breakfast and lunch on a daily basis since the program began in January. As the students have begun returning to the classroom on a phased COVID-19 re-entry plan, we've been able to reach every returning student with two full meals a day. Children are heading to class with full bellies and focused minds, thanks to your generous support!
Hear from Entebbe UMEA's Head Mistress on how it's going:
"We are so grateful for the support we've received from Tender Grassroots. Normally the children show up hungry and this is more difficult after COVID. The program has reduced the pressure on me as the Head Mistress and I hope we can continue it for the students" - Ms. Nalweyiso, Head Mistress, Entebbe UMEA Primary School
Ensuring every child at Entebbe UMEA has access to clean water...
At Tender Grassroots we believe in holistic development and we know that part of making sure students are well-nourished at school means ensuring they also have access to clean and safe drinking water.
A recent assessment at the Entebbe UMEA primary school found that the water and sanitation systems at the school are insufficient, jeopardizing the children's access to safe water and their health. The main issues cited at the school were an outdated pump connected to stagnant water, which increases the risk of waterborne illness, and crumbling latrines which are both unsanitary and shameful for the children to use. We need your support to build an effective water filtration and storage system and improve the latrines and changing rooms for girls.
Donate to our clean water project here & keep an eye out for the project's features on GlobalGiving's homepage on August 12th, World Youth Day!