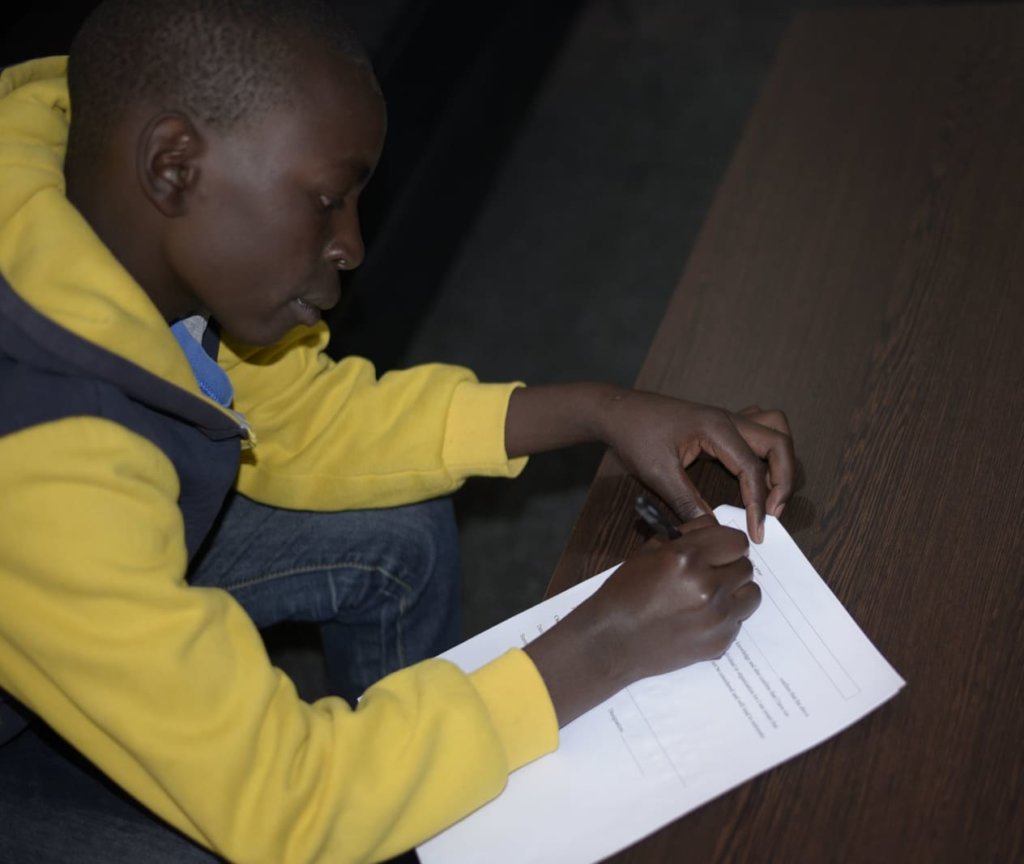 Mombasa County is 795kms far from Kisii County. It takes 13.5 hours to travel by bus from the town of Mombasa to Kisii.
At the heart of Mombasa (a city at the coast of Kenya) is a small informal settlement named Mtongwe. It is occupied by low income families majority of whom survive on less a dollar a day.
Meet young Lloyd. He has been brought up in the Mtongwe area all his life. He is the middle child of five siblings. His single parent is overwhelmed by the challenge of raising five children. She ends up lost in cheap liquor dens. And this has had a serious effect on her children.
A local church opted to have all the children join primary school. This while the children's grandmother decided to do menial jobs at least to be able to feed them. It had to be joint effort.
The children knowing how important it is to acquire education have been giving their best.
Lloyd cleared primary school early this year and earned a slot in a national high school far away in Kisii County. But the reality of discontinuing with education was dawning every single day.
Loyd had no one to turn to. His mum could hardly tell what was happening with her own life leave alone children. His grandmother had enough challenges of providing at least a meal a day. While their local church still had the burden of educating his younger siblings still finding their way and calming their storms in primary school.
Days turned into weeks and weeks into months.Every single day he felt it was becoming impossible to continue with education. But he wasn't going to give up yet. So he decided to walk from house to house, knocking every of his neighbhour's door to try his luck. He was asking people to help him join high school.
One of the occupants in the houses he visited happened was deeply touched by his courage and resolution to fight for his chance. She joined him in looking for help. One visit led to many otyers and eventually the request reached Affecto Foundation's office. His dream was revived. He joined Kisii High School albeit very late. But he is full of gratitude.
Lloyd knows he has alot on his hands. He has his future to safeguard. He has his family to unshackle from the deep end of poverty. He has his local community to take care of. He wants to live a life of inspiration. That's why he is keen on getting the best of his high school life as Affecto Foundation sponsors him right from form one till fourth form.
GlobalGiving has been a great partner in ensuring this comes to a reality. Through 621.17 dollars raised during the GlobalGiving campaign, Affecto Foundation has been able to support not only Lloyd but 15 other students facing financial distress and ensuring they join different schools in our country.
Affecto Foundation desires to reach as many as 400 students every year.
Thank you GlobalGiving for making this happen. We appreciate every support we receive from this global community. Indeed we keep touching lives, one at a time.