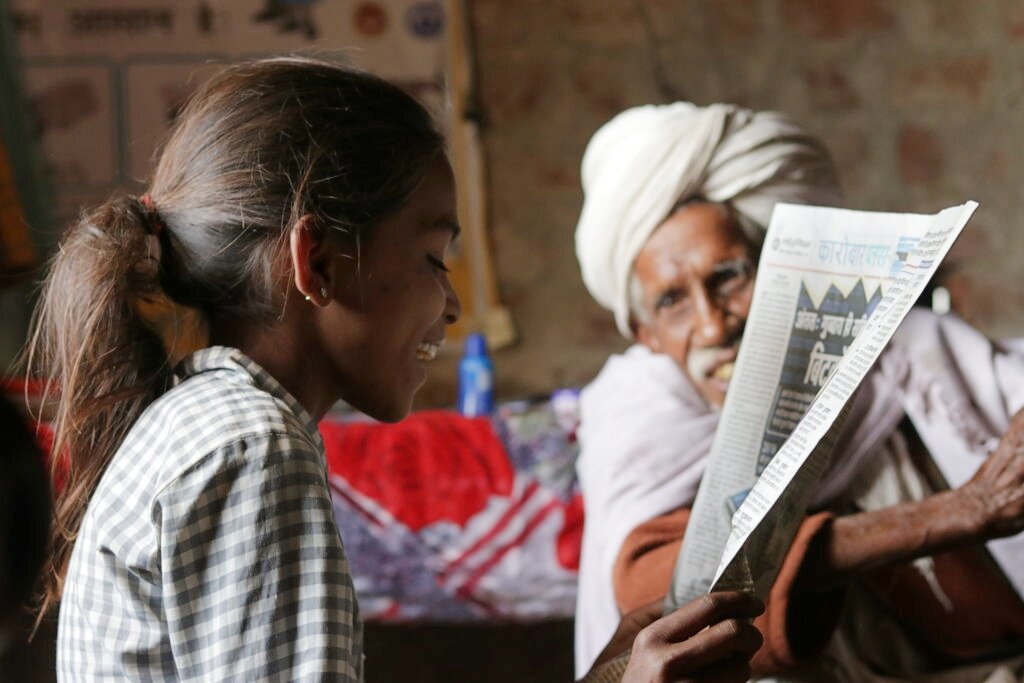 Thank you—we can't say it enough! Because of your generosity, people struggling through the COVID-19 pandemic in India were able to get the resources they needed to respond to outbreaks and protect the most vulnerable communities.
Since the start of the COVID-19 pandemic, India has remained at the center of the crisis. With more than 44 million infections and up to millions of lives lost, communities across India are navigating the extensive impacts, especially in remote and neglected parts of the country.
As waves of COVID-19 infections brought unprecedented losses, the most disadvantaged and poorest communities bore the brunt of the effects. Women and girls represent most caregivers and health care workers, and they remain on the front lines as infections remain high. School closures have impacted more than 247 million students and increased inequity in access to education. And as factories and workplaces closed down, millions of migrant workers who traveled from rural areas to urban cities for better employment opportunities were forced to return home and grapple with the loss of income and uncertainty of the future.
Earlier this year, restrictions eased, and India saw a dramatic increase in vaccinations. With more than 2 billion vaccines administered, people have begun to return to work, interact, and embrace loved ones. However, vaccine inequality and hesitancy continue to hamper recovery efforts. Families across the country are still reeling from the impacts of the pandemic; more than 75 million Indians fell into poverty over the past two years, accounting for a 60% rise in global poverty.
GlobalGiving's nonprofit partners have played an important role in ensuring hard-to-reach, disaster-prone communities and first responders have the information and resources they need to address these challenges and keep their communities safe.
Thanks to your support, GlobalGiving's India COVID-19 Relief Fund has powered high-impact, community-led nonprofit organizations at the forefront of this crisis.
In the words of Bina Rani, Founder and CEO of iPartner India, your gift has made a significant impact:

"Thank you very much for recognizing the importance of our work with communities who were left bereft during the ongoing pandemic. This grant you've provided will go a long way in making a huge difference to communities that need it the most."
Here is a description of some of the critical work you've supported:
iPartner India

has established programs to increase access to healthy foods and boost livelihoods in low-income communities. iPartner's Smart Kitchen Garden program teaches women how to set up, care for, and manage the vegetables and earnings from their backyard garden. They're also providing psychosocial support to dozens of sex workers and funding their micro-businesses to ensure they have a sustainable income.
SevaChild International

provides emergency aid kits for people living in rural, impoverished, and disaster-prone communities. Devastating floods in Uttarakhand and Madhya Pradesh destroyed thousands of homes and farmlands, and the combined impacts of the ongoing floods and the pandemic have left thousands in need of basic aid. SevaChild International has distributed hundreds of kits with food, personal protective equipment, and menstrual and health supplies in hard-to-reach areas.
Educate Girls

works to increase access to education for out-of-school girls in India's rural regions. They operate in 20,000+ villages in Rajasthan, Madhya Pradesh, and Uttar Pradesh. Since pandemic-related school closures worsened the pre-existing learning crisis, Educate Girls conducted extensive research with the support of the local government and communities to find solutions. With an aim to enable and facilitate learning engagement and preparedness to go to school among rural children, they started a community-based learning program to create a safe and conducive environment for children's learning.
Your support of the GlobalGiving India COVID-19 Relief Fund has made a marked difference for communities across India facing the hardships the pandemic caused. It means people like Bina received critical resources to help their community recover from the pandemic.
This fund is no longer accepting donations, and this will be the last fund report of this kind from our team. But communities continue to experience the pandemic's impacts, complicated by climate shocks and global economic challenges. Through the GlobalGiving Coronavirus Relief Fund, we will continue advancing community-led recovery around the world.
You can stay connected with our work through Twitter, Instagram, Facebook, and our Learn Library, where we regularly share stories about the incredible impact of the powerful GlobalGiving community. If you haven't already, subscribe to get periodic email updates from our team here.
With gratitude,
Victoria + the GlobalGiving Team