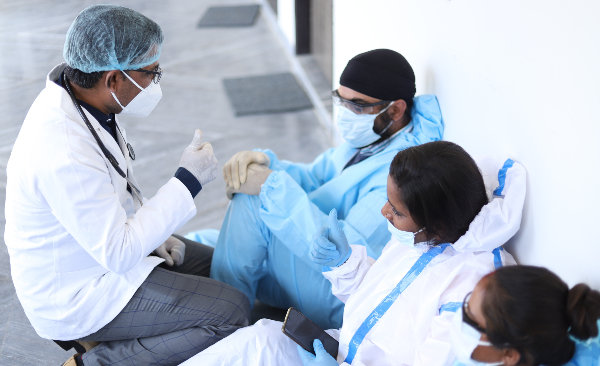 This spring brought a deadly second COVID-19 wave to communities in India as many people were anticipating a long-awaited emergence from the pandemic. In May, daily cases peaked at more than 400,000—a global record. Sadly, the actual figures are likely much higher than the official data show. Exhausted frontline medical workers struggled to access oxygen and other critical medical supplies. Families and individuals in India are still enduring increased infection rates, a shortage of medical care, and a slow vaccine rollout. At every stage, our nonprofit partners have delivered hope and relief through medical support, food supplies, and by meeting other basic needs as they surfaced across the country.
With your support, people across India have received the care and assistance they require in their time of need. Your donation fueled the emergency response for families in Goa, New Delhi, Mumbai, Rajasthan, Tamil Nadu, Bangalore, and many other areas of the country. Thank you.
Here are some of the exceptional nonprofit teams providing critical support as the pandemic continues:
International Medical Corps is meeting the most urgent health needs—providing supplies like oxygen concentrators, ventilators, patient monitors, personal protective equipment, and setting up temporary COVID-19 health facilities. As the situation evolves, their teams remain flexible in their response and consider the entire continuum of care.
People First International's team is working alongside the local government in the state of Bihar to reach hundreds of families most severely affected by COVID-19. They're arranging groups to deliver personal protective equipment, vaccinations, health checkups, and hygiene training. They also offer support through employment opportunities and by helping children continue their education if they're unable to attend school.
Direct Relief has been working with local Indian nonprofit partners, global logistics companies, and large-scale manufacturers to source and transport oxygen concentrators and other critical medical relief items to India.
El Shaddai Charitable Trust Ltd's teams are providing daily cooked meals to wage workers, migrant laborers, and families with limited income, across informal settlements in Goa.
Milaan Foundation is equipping frontline health workers with lifesaving medical kits to treat COVID-19 patients in home isolation across northern India.
Udayan Care USA focuses on providing necessities during the pandemic and education access for girls and low-income families in New Delhi that are struggling to make ends meet.
Sphoorti Foundation USA is delivering groceries, health kits, and hygiene products in Andhra Pradesh.
Our hope is that India can avoid bracing for a third wave of this deadly pandemic. However, with the generous support of donors like you and the commitment of our nonprofit partners to these affected communities, we will continue to deliver relief to where it's needed most.
GlobalGiving is also working with nonprofits around the world to continue delivering crucial support during the pandemic through our global Coronavirus Relief Fund.
In gratitude and solidarity,
Sandrina + the GlobalGiving Team