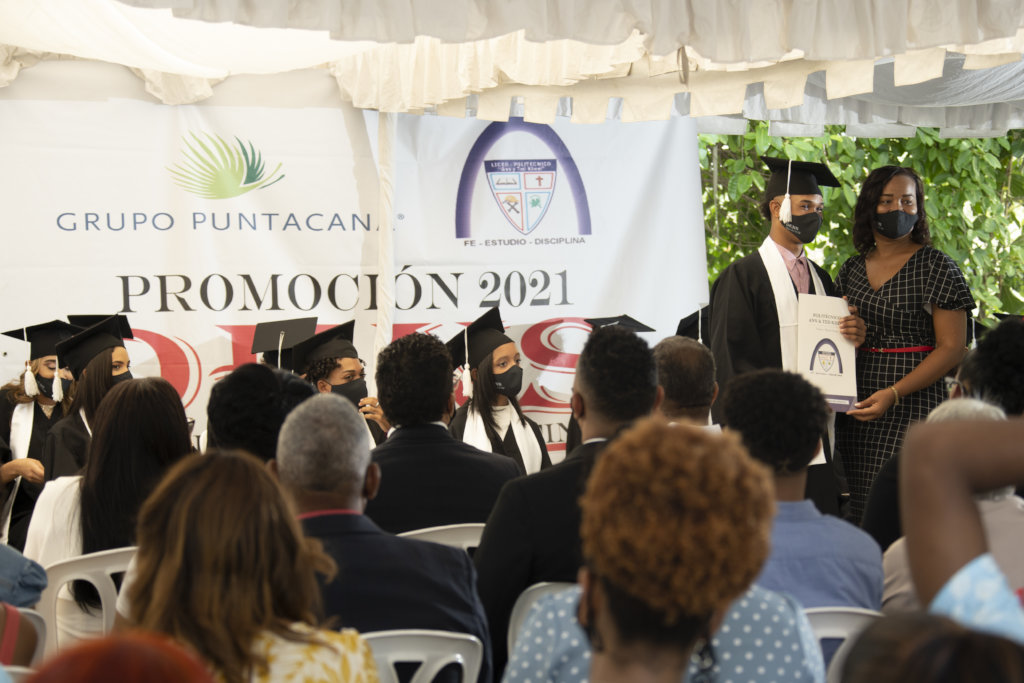 Dear donor, please accept a warm greeting. Thank you for your donation, we are thrilled to have your support. Through your donation we have been able to accomplish many goals and continue working towards to offering an affordable and quality education that fosters the professional and personal development of the young beneficiaries. You truly make the difference to us, and we are extremely grateful !
We are delighted to share with you these pictures of the 16th Graduation Ceremony of the school which took place yesterday July 29. 72 youth were graduated from high school (technical training included) and some students and teachers were awarded for their performance.
The Principal of the school expressed his satisfaction for the achievements of the last school year (despite the challenges of the virtual education) and exhorted the graduates to never forget the human values that were instilled in them.
Given the current circumstances, we decided to do a short and very simple ceremony. In fact, we had two ceremonies (one in the morning and the other in the afternoon), it is that to say that the graduates and their closest relatives were divided into two groups as part of the safety protocols. But it was still very meaningful and emotional, as always
The summer vacation just started. The 2021-2022 school year will start in the next September, which will be developed face to face according to the government decision given that the pandemic is under control and the national vaccination program is going very well.
We are very excited about the return of the students to the class rooms !
In the upcoming months we will keep you updated on the progress of our project. If you have any comment, advice or question, please let us know and we will respond as best we can.
Thank you very much again for your support, we truly appreciate it !
Best wishes !