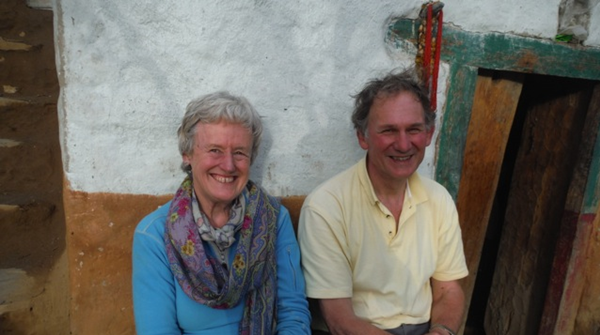 To Bajura in Nepal's Far West with PHASE, March 2015
By Sarah and Anthony Watson
(Althought Sarah and Ant didn't visit the exact region this project fund they visited an area very close)
The 15th July is a matching day on Global Giving from 2pm UK time donations will be matched!!
We are back at home after another trip with PHASE – enjoying, slightly guiltily, the pleasures of sitting on chairs, sleeping in soft beds, washing in private, hot water from a tap, and (as we as we love Nepali food) eating things other than rice and dhal. All this acts as a reminder of how privileged we are in our Western lifestyle, and also how privileged we were to live alongside PHASE health workers and other villagers, and to experience first-hand what such a different culture has to offer.
There are so many positives, probably the biggest of all being the friendliness of the people and the way they interact as a community in the remote mountain villages. They have a wonderfully self-supporting community structure. From the moment we set foot in the village of Wai, in Far West Bajura, we were made welcome.
We were greeted by village elders and their families, with flowers, garlands and red paint on our foreheads. Then we all sat round on a big tarpaulin and introduced ourselves (the locals as well as visitors). Sunita had come with us from the PHASE office in Kathmandu to travel round several health posts, and she acted as translator. The welcome continued throughout our stay in Wai. If Anthony, who was working on an irrigation project, happened to be on his own at our 'home', the neighbours, the lovely Mr and Mrs Ginn, would see he was well supplied with food and tea!
The community projects far exceeded that which would be found in many parts of this country. The community grows mainly barley, and were conscious that the irrigation arrangements were insufficient. The committee had approached PHASE, asking for advice on lifting water 200m up from the river. This was Anthony's project – to do a feasibility study – and was the reason we ended up in Wai.
Having had to cancel our planned trip last November at the last minute for family reasons, we were hoping the journey would go smoothly this time. Not so. At Manchester airport we were informed that a Turkish airliner had crash landed at Kathmandu that morning, closing the airport. Instead of going via Abu Dhabi, we were sent to Heathrow, and then to Kuala Lumpar – where we spent the next five days! Not quite what we had planned.
The following day we were back to the airport, where we waited for the (much smaller) plane to turn up. This took just nine passengers; the 35 minute flight flew quite low through the mountain ranges, giving us more wonderful views as we flew north to Kolti.
We were met on the runway by the lovely Yogesh, the senior nurse at the health post there. After a drink and a rest, we were taken on a walk through the olive grove. This area was used for a research project by a German company, aimed at finding the best type of olive tree to grow in the region. There are many wild olives, but these only yield 1-2% of oil, whereas cultivated trees can yield 15%.
The following day we walked the three hours to Wai, along with Sunita and Yam, PHASE employed agricultural assistants. The journey was mainly along the river, naturally with ups and downs, along a rocky track like many we had walked upon two years earlier. Mules were carrying loads in both directions. Were it not for the airstrip, this would be a seriously remote part of Nepal. The fact that there are daily (if conditions allow) flights from Nepalganj gives less of a sense of remoteness than the upper Gorkha valley, which we had visited on our previous trip with PHASE. For those going on to health posts in Humla, however, there is a real feeling of being seriously remote, as that can involve up to five more days of walking.
After our wonderful reception in Wai, we were given a drink and rest (it was a Saturday, the only day off in Nepal) before being taken up through the village to the health post. I was impressed by the building – a far better facility than I saw in Philim two years ago, which has recently been replaced. There was a good-sized consulting room, treatment room, ante natal room, storeroom and public meeting room, albeit with no power. This seems such a shame, since solar panels these days offer a relatively simple solution. But the building is owned and maintained by the government, not by PHASE, so one just has to wait...
Unlike many health posts, at Wai there were a number of government health workers (GHWs) before PHASE became involved seven months ago. The motivation and organisation of the GHWs sadly leaves a lot to be desired however, and the villagers were not happy. It has proved a big challenge for the two PHASE ANMs (auxiliary health workers), Chitra and Suprina, who, through their presence, aim by example to improve the standard of practice. They are doing a great job, and standards have improved a great deal over this period. Unfortunately, they still face daily challenges, especially finding their drug stocks in disarray, and having been able to make little progress with the PHASE philosophy of allowing all patients to have consultations in private.
Wai is a beautiful village, reminding one almost of a Mediterranean mountainside. The accommodation for PHASE workers lies at the edge of this, and as the hillside has a concave shape, there are wonderful views from here across the rest of the hillside village. The early mornings in March are cold, but when the sun hits the village at 8.30 am, steam rises with a vengeance from all the rooftops – one could almost imagine the village was on fire. People come out to warm themselves in the sun, the chattering starts, and the village comes to life.
One morning, there was a funeral procession. I had seen the lady in question the day before. She was maybe in her fifties (impossible to tell with Nepalis – they are usually a lot younger than they look), had been vomiting for five days and was very dehydrated. The ANMs and GHWs worked together in the clinic to put up a drip and gave her fluids. I learnt later (my lack of Nepali is a big problem, as most volunteers find) that she had been ill with renal failure for some time, and had had many admissions to hospital. The family were reluctant to take her there yet again. None the less, I had not expected her to die so soon, and was quite shocked when Chitra mentioned at the end of the day that she had died. Nepalis, I think, all have a much more philosophical approach to death than we have. Transport is such a major barrier, that they are much more likely to die in their own home.
The death was announced the next morning by a procession of men weaving their way through the barley fields below the village, carrying a long banner. Shortly afterwards there was a long procession of about 30 men, with the body being carried at shoulder height midway in the procession. The women are not expected to follow the procession, but watched from the rooftops crying and wailing loudly.
The days would start, as in all village households, with household chores followed by a meal of dhal bhat taken in the kitchen (on the floor, naturally). The working day begins around 10 am, and goes on, usually without a break of any sort, till around 5 pm. Arriving home, there would be tea and a 'snack', such as noodles. Hopefully there would then be time for me to have a teaching session with the girls, before they had to prepare the next meal of dhal bhat, eaten at about 8 pm. This worked best on two occasions when the 'chaps' cooked the food, giving us time for teaching! Dharma was best at this. He is the PHASE social mobility worker and is involved with everything from money saving meetings for village women, to agricultural and hygiene projects.
It was a different experience living with men! My previous experience, on Philim, had involved only the female ANMs. All ANMs and other female PHASE staff I have met are quiet, gentle committed, hardworking and sensitive, though fun and humorous with it. The men – in this instance – were also committed (definitely) and (fairly) hard working, but certainly not quiet! It all led to quite a lively household.
Anthony slept in the boys' room; I was next door with the girls. I was allowed the bed; they had the floor. There was much intermingling (entirely 'proper') between the two rooms, with little consideration given by the boys to privacy. We noted that this was very different in Kolti, where the characters were different, and men knocked and waited before entering the girls' room!
Sometimes we would play games, before or after the evening meal. They all loved these, especially rummikub!
My days were usually spent at the health post, commenting where possible on Chitra's and Suprina's (and sometimes the GHWs) consultations. The patients we saw were usually not so different from British general practice; small children with coughs and colds, adults with coughs, skin conditions, joint and back pains, and significantly more gastritis than we would normally see.
Quite a few 'extras' turned up when word got round that an English doctor was there! We saw a profoundly deaf six year old boy, very bright but without speech. His parents were motivated to help, but had taken him to a hospital and been told that nothing could be done till he was 10 – quite incorrect! With help from Gerda, we were able to advise reputable (and probably much cheaper) hospitals.
On other days we did 'home visits' to other small villages, up to two hours walk away. I loved these days! It's wonderful to be able to trek these remote mountain paths, with stunning views.
When we arrived at the villages we would be made very welcome. Chitra or Suprina would settle themselves with a small group outside, and wait for the group to become bigger, which did not take long at all! They would then talk to them, usually about childbirth, preparations, afterwards and complications, with the help of a laminated picture sheet. I was particularly impressed by one man, busy spinning wool with a small hand held device (popular round here) who asked a lot of questions. I asked what he was saying and was told he was mainly asking about how to recognise danger signs.
A visit to one village coincided with a vaccination clinic done by a government health worker (who I had met already in Wai). Suprina was able to take advantage of this by talking to many mothers with advice on childcare, family planning and doing surveys on the under fives, which are done routinely wherever possible, as part of a study looking at malnutrition levels.
Perinatal and maternal mortality has always been high in the area. A major focus of PHASE is to tackle this. The aim is that every birth should have an ANM in attendance. They will always go to a home delivery, however far they may have to walk – provided somebody tells them.
These days, most people, even in these areas, have mobile phones charged by solar power. This feels extraordinary, considering how few other possessions they have, but it does make calling for help a great deal easier. Otherwise a husband or relative will go for help. During my time in Phillim two years ago, I was lucky enough to go to a home delivery at 3 am. Thankfully it went smoothly!
If they choose, they can go to a 'birthing centre' (government provided). But this may be several hours walk away, and is likely to be a very basic facility, certainly lacking anywhere to stay before the birth, or for a relative to stay.
Anthony, meanwhile, would go off at 7 am with Dharma, Yam and other local men, armed with a long length of hosepipe, two walking poles and a GPS. They used these to measure water flow and fall along that stretch of river.
One day, as they were about to pass the school along the riverbank, they were stopped by the army. The important school leaving certificate exams were taking place, and nobody was allowed past, in case they might be smuggling in the answers. Finally a teacher was found to accompany them!
The feasibility study concluded that there would not be enough energy for a hydro powered pump; but there were other solutions, and at the village meeting shortly before we left, the villagers appeared pleased with Anthony's suggestions! At any rate, they had a free hydro engineering opinion...
Members of the water level team measuring the Karnali River
The staff were involved in a number of training meetings with assorted groups of local people in our week there. I sat in the cold in the mothers money saving group at 7:30 one morning, observed a village sanitation group meeting (much emphasis given to hand washing), and spent one day mainly with GHWs while Chitra and Suprina were busy with an all-day training session.
The agricultural boys were also busy, and one day held an 'animal camp' and inoculated over a thousand animals. There is no doubt that PHASE are having a gentle but very positive impact in this area. They are very much respected by the community (unlike, sadly, the GHWs), who turn to them for advice on various things, and are clearly delighted with the support they receive.
In Nepal's far west, it is still common, indeed normal, practice for women to be excluded from the home and from kitchens, both for five days when they are menstruating and for 28 days after childbirth, when they are also likely to be bleeding. During this time they will normally stay in the animal shed under the house.
We witnessed this first hand on our trek to RaRa Lake at the end of our official time with PHASE. We stayed in a household, and I was surprised to find that the husband, a teacher, had cooked our meal. He explained that his wife was menstruating and "in our culture, people do not go in the kitchen when they are sick". I was pleased at least to note that he took her some leftovers!
It is not that uncommon for deaths to occur, from hypothermia or even from snake bites. In one village alone, four babies died of cold in the last year. This no longer happens in most other parts of Nepal. PHASE is keen to eradicate the practice, but there is no easy solution. It is a much ingrained practice, and it seems to be the older women, rather than men, who are determined to perpetuate it.
After a final night at Wai, we were sent off in celebratory style by a gathering of neighbours, and walked the three hours (in midday heat) to Kolti. The next morning the plane appeared bright and early. The Kolti accommodation is right by the airstrip, so it is but a short hop to get on the plane. After a few hours of waiting in Nepalgunj, we were then off back to Kathmandu. Another wonderful experience – thank you PHASE!