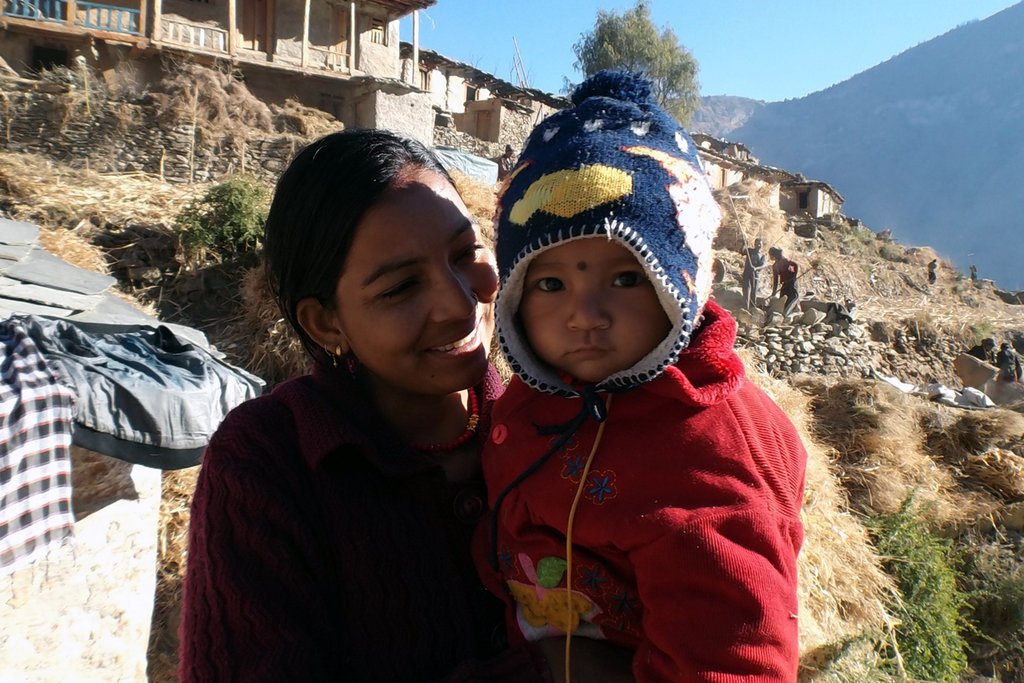 Humla is one of the most remote districts of Nepal, situated in the mountainous mid-west. Maila village is located 3-4 days walk from Simikot, headquarter of Humla. Here, people still die due to restricted access even to basic medicines like oral rehydration solution or Paracetamol. Difficult topography, illiteracy and lack of transportation facility have made the lives of people here very difficult and vulnerable.
This is the story of Raj a 25 year old married woman who lives in Maila, Kattelgaun-3 with her in-laws, husband and her two daughters. She was 8 months pregnant when she started having a noticeable headache from morning. She and her husband had been to Nepalgunj recently to identify if they will be having a son or daughter and as they wished, it was a son. Their happiness had no limit then.
That morning she was a little tensed because of the headache she was having but tried to ignore it as she used to have headaches during her last two pregnancies as well. So she hoped that as before, it will go away soon.
'I remember being advised by sisters of health post about danger signs of pregnancy when I had gone for ANC checkups. But thinking that my headache was a minor problem, I didn't do anything. After some hours I started feeling unwell. There was no one in my house and I was panicking.' Raj recalls.
When her brother-in-law returned home, he found her unconscious and shaking. Her family members thinking that it was because of labor pain, called a dhaami(traditional healer) for ritual treatment. It was only after a school teacherheard about it and scolded them that she was taken to the health post on a stretcher. Her condition was critical when she reached the health facility.
She had very high blood pressure which was getting worse. Junila, PHASE Nepal's ANM in Maila, diagnosed her with eclampsia which is highly dangerous for both mother and baby. She needed immediate treatment for that condition. Fortunately our staff was a trained SBA so she recognized the condition and knew that the correct management of this complication was immediate treatment with a high dose injection of Magnesium Sulphate. She also knew it was a bit risky in a remote area like Maila as a Magnesium Sulphate overdose can lead to respiratory arrest, but since it was the only option available, she went ahead. She also had the antidote, Calcium Gluconate, in case the patient's breathing became too weak.
After treatment Raj had no more seizures and some minutes later she started having labor pain and then delivered a baby boy. The baby didn't cry immediately after delivery so it required resuscitation. She was still unconscious and did not regain consciousness until the next day. Raj tells us, ' When I opened my eyes the next day, I felt like I was blessed with a new life. I had my baby beside me! I realized that my small mistake had nearly cost me my life. If I had followed the sister's advice then I and my baby wouldn't have had to face such a dangerous situation, and if Sister hadn't treated me I would not be here today. All my gratitude and wishes goes to PHASE Nepal.'