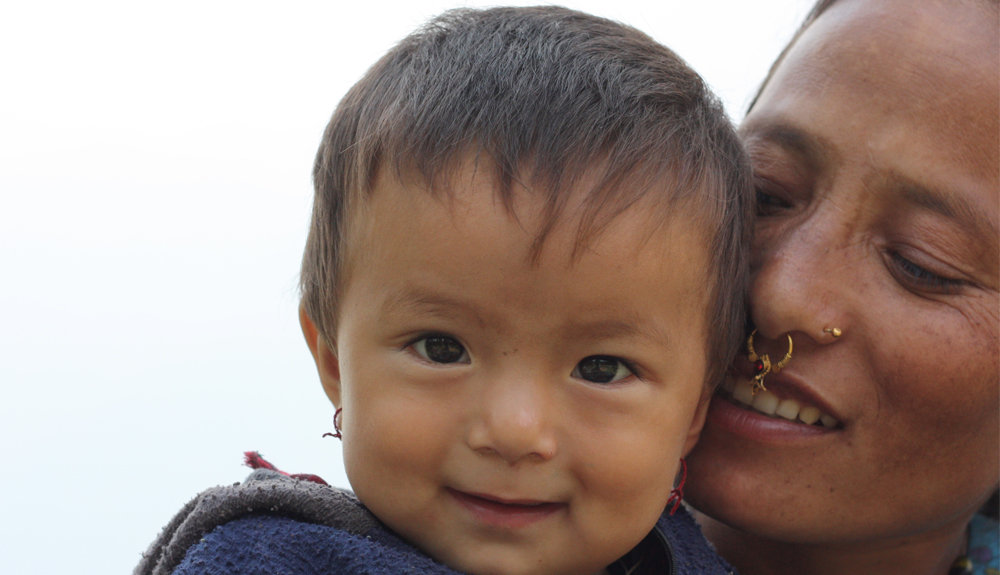 Friends! Our field staff have already reached their respective work stations after the long holidays of Dashain and Tihar festival. Between the festivals they got several trainings- Dental Training, Obstetric Training and some of them also received Women Empowerment Training in Kathmandu.
This time we would like to share the story of a malnourished child in Maila village: Kamala Jaisi is an 18 year old married women living in Maila village.
Kamala explains, "I often take part in mother's group meetings organized by PHASE health workers in my village. I have learnt a lot of things about antenatal care during health education sessions. Health staff also taught us about danger signs during pregnancy."
Some months after her marriage, Kamala got pregnant. She knew about antenatal services provided by PHASE health staff in the health post. She went for her regular antenatal care in the health post and the health workers gave her iron tablets and Albendazole to prevent anemia and worms.
Kamala remembers, "I went to the health post for antenatal check ups regularly. The PHASE sister said that everything is normal and good. In the 8th month, one day in the afternoon I felt a pain inside my tummy. At first I did not pay attention to the pain but it started to increase slowly and I could not bear it. I hurried to the health post. There I met the PHASE sister and immediately asked her about my pain. She checked me and said that it is labour pain, do not worry about pain it will increase a little more till you give birth. I was shocked to know this because it was just 8th month. I asked the PHASE sister about my date. She explained that sometimes this may happen and it is called premature delivery. After an hour or two, I gave birth to a baby."
Kamala gave birth to a baby boy in the 8th month of pregnancy. It was her first baby and because it was premature it was underweight i.e. only 2100 gram. PHASE staff taught her about the care of a premature baby and reassured her that everything will be fine.
Kamala says, "The PHASE sister said I have to breastfeed 8 times in a day, but unfortunately I could not do that because my breast was small and it did not produce enough milk. I went to the health post again and explained my problem. They taught me a different technique but it did not work again. They also advised me to feed boiled cow milk after mixing certain portion of water and sugar in it, as maybe my baby was too small and was not able to nurse well. I tried to feed cow's milk but my mother-in-law refused to do so. It is believed that feeding cow's milk makes the spirits angry which may harm the baby. Also, I was busy with regular household chores and could not take care of the baby too much except trying breastfeeding time to time."
Kamala was very busy tending the fields and her normal household chores. She could not take care of her baby intensively. Her baby could not grow well and got thinner.
She recalls, "My baby was getting too thin – he even could not cry loudly. My husband said that I had given birth to a curse and a sin of a previous life in the form of our baby, which will leave us soon and we will have only suffering and painful memory with us. He kept ignoring him and even refused to hold the baby, trying to avoid even looking at him"
In this community, there is still a belief that when someone has an abnormal or disabled baby in the house it is because of a curse or a sin from a previous life. Most people do not try to treat their abnormal or disabled babies because of this superstitious belief among the society.
"One day, the PHASE health worker came to my house during her regular routine of door-to-door health education sessions. The PHASE sister smiled when she saw me and asked me about my wellbeing and baby's health etc. I could not speak in front of her. I just showed my baby. Tears dropped from my eyes. She exclaimed with fear and anger seeing my thin baby." Kamala recalls, "the PHASE sister yelled at me because of not taking my baby to the health post even after this situation. She was also angry because of not feeding cow's milk according to her advice. I explained PHASE sister the reasons of not being able to feed cow's milk and visit health post."
Kamala's husband and mother-in-law refused when she wanted to go to the health post for advice. People in this area believe that it is not good to take babies and small children out of the house because a bad spirit may catch them.
"After my short explanation, the PHASE sister called my mother-in-law and husband outside the house. She requested us to sit together on the floor mat. She started to explain about baby health, baby feeding technique slowly and clearly. She clarified to my husband and mother-in-law that my baby is suffering from malnutrition." Kamala adds, "Sister requested me to bring a small half bowl of boiled cow's milk. After that she demonstrated to mix water and sugar in it and taught us to feed the baby. She clearly explained that no bad spirit will harm my baby if I feed cow's milk. She advised me to feed cow's milk every two hours. She also reminded me to bring the baby to the health post after two weeks."
Now, Kamala's husband and mother-in-law were also convinced and they allowed her to feed cow's milk. Kamala fed her baby with cow's milk according to the advice of the health staff. Her baby easily swallowed the milk. After a week she started to notice changes in her baby. She got excited and kept feeding her baby happily.
"My husband and mother-in-law also helped me making milk for baby. I kept feeding the baby in two hour intervals. After two weeks, my baby's face became lovely, his skin also started to look soft and healthy. I went to health post with baby. This time, my mother-in-law and husband both were happy and they allowed me to take baby to the health post." Kamala says, "When I reached the health post, sister was very happy when she saw my baby getting better! She weighed my baby. She said it is improving and advised me to continue feeding cow's milk. After 3 months I started to feed ready-made formula bought in the market. PHASE sister also advised me about vaccinations and the correct time for weaning. I kept going to health post every month. Now my baby is 8 months and 9 Kg – the right weight."
Malnutrition among young children is a common problem in Maila because of the factors described above: Young mothers often have very little time to care for their babies, and mothers in law often still follow unhelpful ancient traditions. Prejudice about what is and isn't good for small children, and worries about the bad luck attached to ill and disabled babies contribute to the effects that poverty and lack of alternative feeding sources can have. As Kamala's story illustrates, these factors are not insurmountable: because PHASE staff are trusted and known in the community, they can often persuade families to depart from tradition and follow their advice.
Kamala did not forget to thank health staff for their continuous help and support.