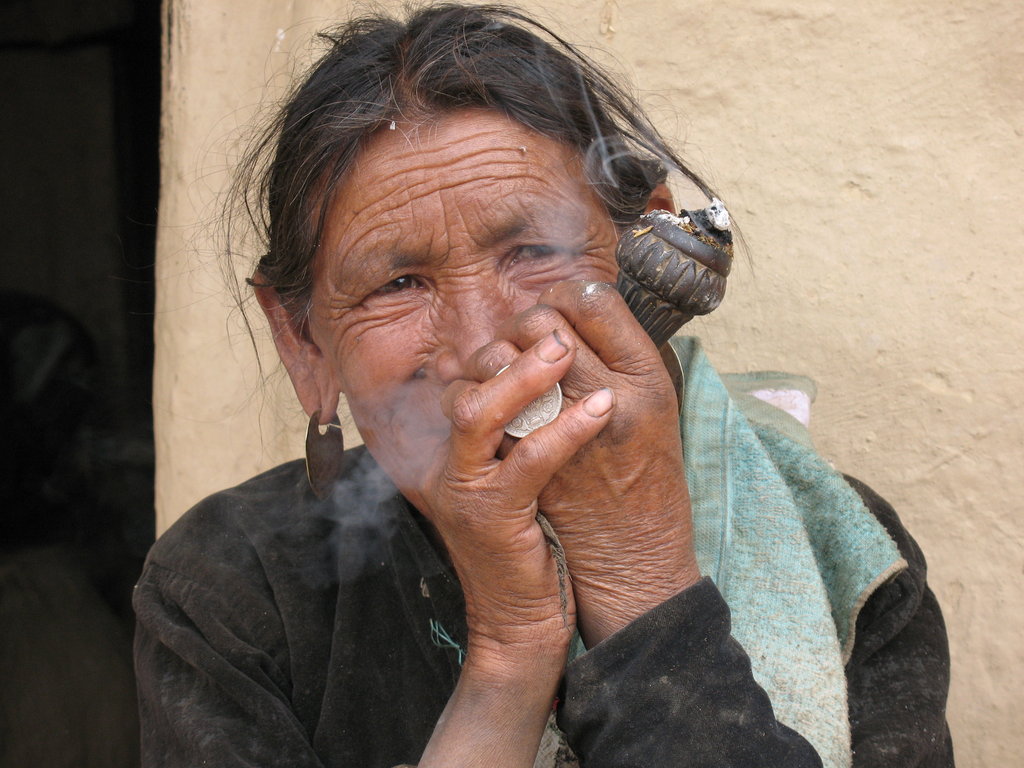 Meet Pulati Chadara. She is a 55 year old mother of five, and she lives in Maila village. This is her story.
'My husband died 10 years ago. His illness started with a cough that got worse and worse, until he could not walk and could hardly breathe. He used to smoke raw green tobacco leaf in a pipe, and so did I. We didn't know that this could be bad for you. Our village is so far from anywhere, and there wasn't even a basic health service here at that time, so, even when my husband was extremely ill we never thought about medication. I just used to take him to the local shaman who would perform sacrifices and rituals. Unfortunately nothing worked and after a prolonged and painful illness he died. It was traumatic for both me and the children.
Since that time I have also developed similar symptoms. It started with a small cough about 7 years ago, but it rapidly worsened and I became more or less confined to my bed. I assumed I would die the same way as my husband, and I was scared. In the meantime however, something had changed in our village. PHASE had started a clinic from the old disused government building, and I had heard that the workers had skills and medicines that treated illnesses that we had previously thought incurable.
So one day I got up from my bed and went to see the healthworkers there. The lady quickly informed me that the name of the disease was 'chronic bronchitis' and that there was medicine for this! Not only did she give me the medicine, she also informed me that it was caused through inhaling smoke. This was all the information I needed to kick my tobacco habit! I also try to be more aware of inhaling smoke when I am cooking. It is important for me to know the causes of my illness and what I can do about it.
I take the medicine daily. When I run out I go straight back to the healthpost as the old symptoms return within 3 days if I stop taking it. I can honestly say that PHASE has transformed my life; I can't tell you how different I feel now. PHASE has in fact transformed our whole community, making treatment available for a whole range of diseases that we previously had either suffered through or died from. And the educational programmes are hugely empowering for illiterate people like us; now we know what we can do ourselves to improve our family's health.
I would like to extend my heartfelt gratitude to PHASE and all the supporters that make its programmes possible. I can honestly say that you have saved my life. I only wish that it had been possible to save my husband and that he was alive to see this progress. He would have been very proud to see this in our community.'
Pulati and her husband are unfortunately not unique cases. In Maila and the surrounding villages smoke-related illnesses such as asthma and chronic obstructive pulmonary diseases such as bronchitis are extremely common, partly due to high tobacco usage but also because wood fires are used for all cooking and heating. Women especially spend many hours a day, every day, inhaling smoke in the kitchen.
Thankfully, as Putali points out, things are changing in Maila village, and the community is becoming more informed about environmental health hazards such as smoke. They are also are learning to trust in modern medicine and come to the healthpost at the first signs of illness.
We can't do it without your help.
We have currently raised about a third of what we need to keep this healthpost open for a year.
Please consider making another small donation, or sharing this story with your friends.
On Wednesday 14th March, GlobalGiving will match all donations made by 30%. This means that your money will be worth more for PHASE and the people of Maila. Please keep us in your minds and hearts that day and for the rest of the year and we look forward to sharing more stories of hope and joy in the next few months.
With gratitude,
PHASE Nepal and the people of Maila
Links: