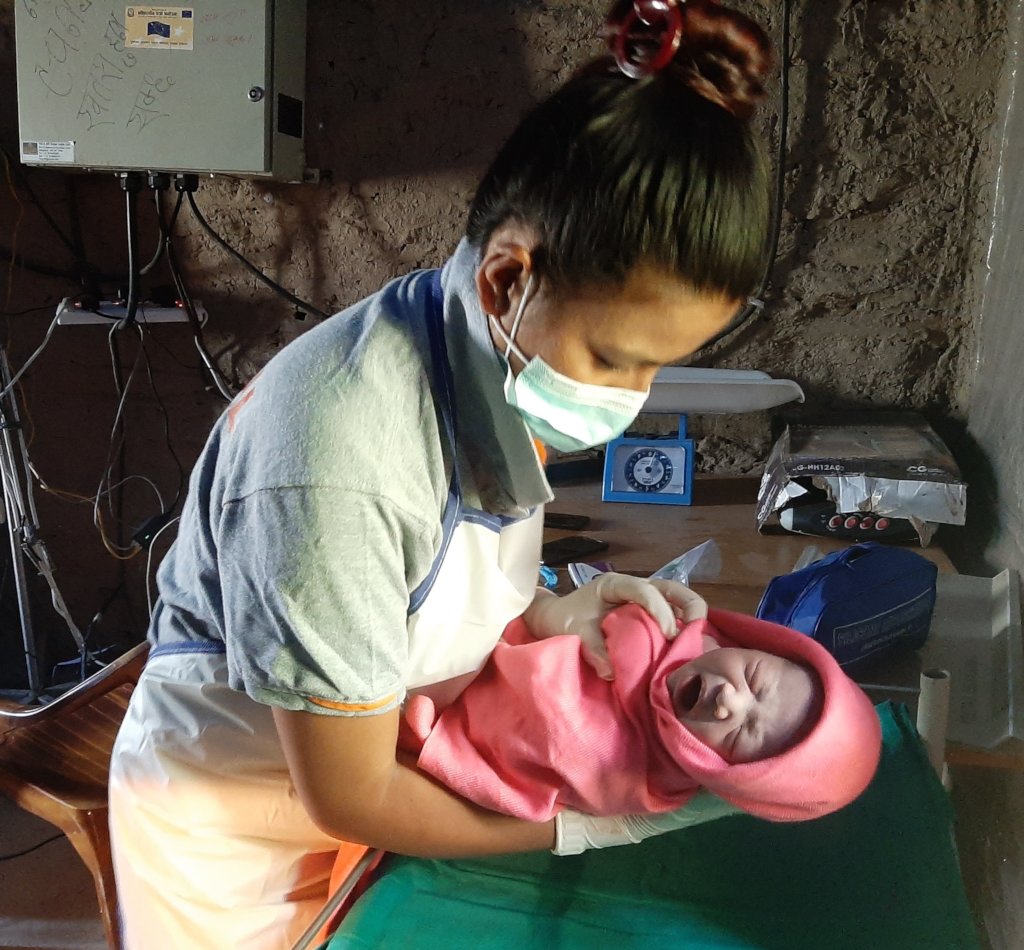 PHASE Nepal's continuous efforts on ensuring quality health services in the remote mountainous village have kept enabled women to have better antenatal care, better nutrition, and safer delivery attended by PHASE Nepal nurses. In this report, we would like to share 3 such stories for to you have a glimpse of PHASE Nepal's Health Services in the remote.
The names of the women as well as the staff members are changed for privacy.
#STORY 1 Regained weight and Natural delivery
This is a story of twenty-one years old Maya, who lives in Bhee, Soru, Mugu. Just like many of the people in her village, her family also mostly relies upon their farm production for daily needs. On which her family of five can rely for half of the year.
In her village, sharing about pregnancy with family members is still a thing of shame. She already has a daughter of three. Binita knew her period was missing for the last few months. She had assumed she might have become pregnant again, but she hadn't share it with her in-laws and even her husband.
PHASE ANMs Devi and Tara were at her home for a regular home visit when they found that she was already four months pregnant.
Tara shared, "When we asked her if she had any health issues, first, she was reluctant. She whispered to us that her period was missing for few months! Openly talking about pregnacy is a taboo which are working to change"
On examination, we found out she was pregnant. She looked lean and tired. Soon, we informed her family members about her condition and suggested them to bring her to the health post for further examination."
Maya showed up to health post, the next day. While checking her vitals she was only 46 kg and her blood pressure was low(90/70mmHg)
Maya, remembers her condition then, "I mostly felt tired, dizzy and did not want to eat food. I thought that this is because I work a lot. After coming to the health post, I knew I was underweight and that was dangerous for my baby's growth. Then I started to eat healthier foods. I fed myself in small quantities and frequently. That helped me gain weight. By the time of my delivery, I was 52 kg and I was feeling less tired."
As advised by the PHASE ANMs, she was regular for her monthly antenatal checkup but yet she didn't come to the health post for her delivery. Her neighbor informed that her labor had started, then our ANM reach her home quickly. There they found that she was at a shed with labor pain.
Tara, PHASE ANM shares, "As she was already on labor we quickly examined her vitals and supported her through the process. She was able to deliver her baby successfully.
We counseled her husband to continue her on providing warm soups, vegetables, and meat and take care of the baby."
Maya's mother-in-law shared, "She was going through labor and I didn't know what to do. Sisters came for her rescue, then I felt relief. Thank you for your support!"
Maya shared, "I changed my eating habits as per the Sisters' (PHASE ANMs') advice, I gained weight and was successful in delivering a healthy baby. Still, I have continued to balance my diet with pulses, meat, and vegetables."
#STORY 2 Underweight baby regained weight
Chaya, is a twenty-one-year-old female living in Mugu. She had delivered a baby in July, at the PHASE-supported health post. She was regular in our touch, she attended all the ANC checkups and our counseling session. But her delivery happened to be a month earlier than her date. So, her baby was low in weight.
Our ANM shared, "As her baby was underweight on each alternate day we personally went at her home to know the condition of mother and baby. We guided her to breastfeed her baby as frequently as possible and also suggested her mother-in-law to feed the mother enough soups, meat, and vegetables. That would help in milk production."
Now after, eight months, she recalls, "When born my baby was extremely small. I was scared to hold it. I did exactly what sisters (ANMs) advised, to frequently feed my baby with breast milk and also feed myself with plenty of soups, meats, and vegetables. In just a month my baby was 2.5kg. The baby I almost gave up is now 7kg and the arm circumference is 13cm (healthy baby). I feel surprised and also thankful to sisters' advice."
Her mother-in-law, who is also local FCHV, shared, "I don't know how her baby was underweight. After birth, we didn't expect the baby to survive because the baby looked tiny and weak and couldn't suck the breast milk. As suggested few months after only frequent breastfeeding, we started to feed her enriched food paste (super flour) using locally available grains. That changed everything!"
Chaaya further explains how she found ANC and mothers' group meetings useful for her child.
"Steps like keeping my baby covered in my chest (Kangaroo mother care), age was feeding super flour, increasing food quantity, maintaining hygiene, regular monitoring of weight and height, immunization has supported me. In the super flour-making session I learned that proper proportion is essential to get the correct amount of nutrients for my child. I learned we need one part of pulses/beans, two-part of cereals, which need to be roasted and grounded to powder. That super flour can be served with milk/hot water with a small portion of ghee/oil and egg.
All these ideas, I learned in orientations and home visits were helpful for me to grow my baby healthy,"
Her mother-in-law shares, "People say that Mugu is the most remote area of Nepal. I am thankful to sisters who have come to our rescue even at the time of the pandemic. It is of great care and support. This is a new beginning for me and my family!
#STORY 3 A Complicated Delivery During Lockdown
Patali was expecting her first child and her due date was coming near. She was in regular contact with PHASE supported clinic at Humla, Tumcha. As her husband had left for India for work, she was living with her parents.
During her last antenatal check-up, she tested positive for Hepatitis-B in the kit. This means she had to be referred to a higher center to safely deliver her baby. I not could easily be transmitted to the baby.
PHASE ANM explained to her about her serious condition and treatment plan. She was referred to district headquarter hospital Gamgadi, Mugu for medical attention and further confirmation.
She traveled with her parents to the hospital. But there she could not get the shots she required for the safe delivery of her baby. As she was already a week overdue for her delivery, the paramedics at the hospital referred her to the Provincial Headquater hospital.
To reach there was a great challenge for her. She had less option to travel to a long off-road trip of 24hours or an airway, which is both time-consuming and extremely expensive for her.
Our team immediately started looking for evacuation, they coordinated with district authorities to arrange an emergency helicopter evacuation. She was safely reached to the hospital and was able to deliver a healthy baby.
She shares, "At one time I could not think anything, what to do next. I felt completely helpless. But with sisters' (ANM) support and effort, everything went well. We are safe now."
PHASE ANM shares, "If not managed according to the need the baby would have been infected with a lifelong chance of developing an infection. When we found her condition, we tried everything to have her delivery safe. We even contacted to get vaccines in the district level, but that would take a longer time. We had no time so we did what was best for her."
During the COVID-19 lockdown, PHASE's health staff are continuing to serve vulnerable, remote communities in Nepal, throughout the health and economic crisis caused by COVID-19. Our PHASE ANMs and health staff continue to serve as a link between vulnerable communities and quality healthcare, identifying patients with health problems, counseling, diagnosing, treating, and referring patients to higher centers. During this uncertain time, we were able to save lives of mothers and babies.