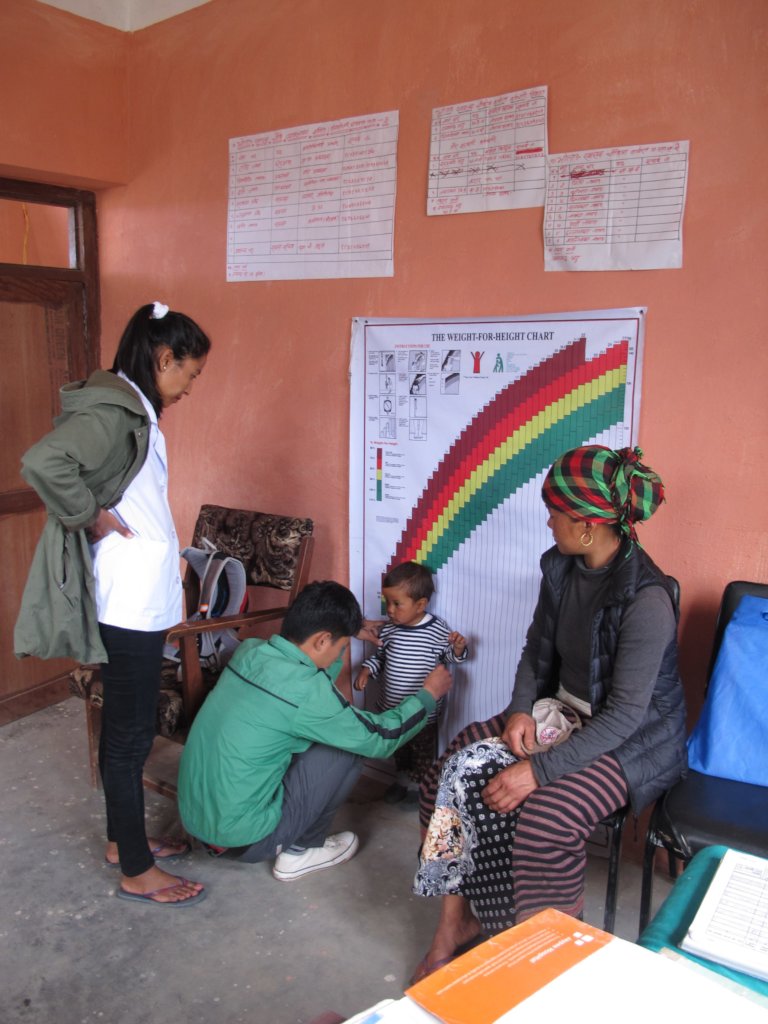 HIMALAYAN HEALTHCARE PROJECT UPDATE IN THE LAST 3 MONTHS
Health program has been one of the core programmes of PHASE Nepal since its inception 12 year ago. PHASE has been providing health services rural, deprived communities of 5 remote districts of Nepal reaching more than 25 most isolated himalayan communities through rural health improving concept. Here is the short summary of overall health project activites of PHASE Nepal.
OPD services:
During the reporting period 10430 male and 13796 females were treated for different reasons within working areas . Among them, total 5594 number of children under five.
Numerous cases are examined from OPD and outreach clinics, which more often are treated within the centers. For serious cases, discussion were made with central emergency team and were referred to the higher centres.
Maternal Health
Mother and Child health (MCH) is top most priority component in our working areas, for which PHASE has been regularly conducting different activities. PHASE has been working on all aspects of safe motherhood program i.e preventive, promotive and curative sectors.
Detail achievement of maternal health programme has been described below:
Antenatal care (ANC):
Total 377 pregnant women visited the health facility for 1st ANC checkups in all project sites in the last 3 months. The data showed that 1st ANC visit is good and 4th ANC visit is also in increasing trend, as in most of working areas more than 50% pregnant women came for 4th ANC visit, which really indicates that our interventions (health education, awareness raising program for motivating women) are showing its effects.
Delivery and Postnatal Care:
During this reporting period 119 women received Institutional delivery service and 53 women were assisted by our health workers for home delivery. PNC services was provided to 204 mothers, similarly 204 newborn examinations have been done within project areas.
Family Planning
A total of 482 men and 1248 women were benefitted with modern temporary family planning services. While 482 men used condoms women chose several methods. 280 used pills, 944 used depo 3 montly injection and 24 chosed arm implants.
Health Awareness Activities
PHASE conducts a number of health awareness activities based on the need of the communities it is working. Some of the major activtie are Nutrition workshop, Traditional healers training, CBIMNCI training and Child protection training , door to door visits, school health education and street drama. Public audit is conducted twice a year for the trasparency of the service and expenditure.
Similarly, meetings with FCHVs, mothers' group and health facility management committee were done monthly.
During the reporting period various awareness-raising programs has been conducted rigorously, 1715 events were organized and 22,014 community people were participated in such different activities.
Urban and Environmental Health
PHASE Nepal has initiated working in the field of research combining this with an intervention on Environmental and Occupational Health issues of informal waste workers in Kathmandu valley as well as Sisdol landfill site in Nuwakot district of Nepal. The project is providing medical care to vulnerable populations affected by natural disasters, disease, famine, poverty or exclusion. First Phase i.e baseline has already been accomplished and project implementation activity has been ongoing.
During the reporting period, 257 number of informal waste workers visited urban OPD for various reasons. 35 couples were provided with different measures of temporary family planning services. Detail of other programme activities is as follows:
Environment and Occupational Risk Awareness
The Peer Educators and Health care workers of PHASE have been providing health education to the informal waste workers of Kathmandu on various health related issues such as personal hygiene, environmental sanitation, Safety at work,various disease condition and their prevention.
Support to waste workers group
In this quarter , three additional waste workers groups were formed successfully in Sisdole, Nuwakot. With this, eight sub-groups of waste workers have been formed comprising a total of 200 waste workers including scrape dealers and waste workers. Monthly meeting of all eight groups has been conducted .
Environmental Risk Mitigation Measures
This quarter , sample Personal Protective Equipments (PPE) were purchased to test on peer educators. Peer educators will examine quality, comfortability and practicability of PPEs purchased. Based on their decisions, PPEs will be purchased in the next quarter.
Medical Outreach Activities
Awareness session on health and hygiene has been provided at Shantinagar and Sisdole areas. Moreover, door to door visits have also been performed in Shantinagar and Sisdole areas.
Environmental and Occupational Health Research and evidence-based information sharing
Pre-tested Key Informant Interviews (KII) were transcribed and translated and send to the research team for getting feedback. After getting feedback from the research team, qualitative tools were revised and re-phrased. Key Informant Interviews were conducted at Shantinagar and Teku.
PHASE Team wholeheartedly expresses its gratitude to its numerous individual and intitutionals donors and supporters to make all this essential services possible in some of the most needy communities of Nepal.