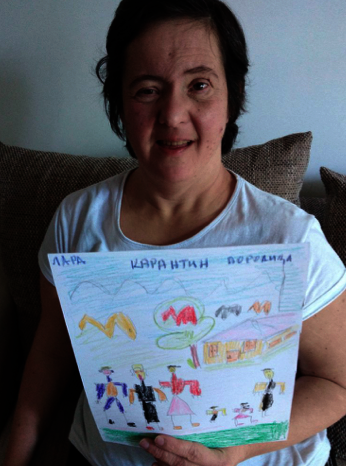 On March 11th the World Health Organization officially characterized COVID-19 as a pandemic. With this announcement the world came to terms with the fact that the virus had reached all corners of the earth. On March 15th a state of emergency was declared in Serbia and KEC was forced to close its doors. It was hard to tell those we serve, those people who depend on our services, that for their own safety and the safety of those around them they needed to stay at home.
During this global pandemic people have been forced to confront big changes in their daily lives, adapt to the new realities and social losses. Many of our beneficiaries feel this even more acutely. They are scared, confused, bored and lonely. They need to be engaged and supported while forced to practice social distancing.
Recognizing this KEC redirected its efforts to electronic check-ins with our beneficiaries and their families. Our great team quickly developed new methods for connecting with our clients and soon after started implementation. The team's highest priority in each contact was to maintain empathy despite the distance. During daily online calls, chats or small remote group sessions the counselor, special education teacher, speech therapist, psychologist affirmed to each of our beneficiaries that their fears, anger and distress were valid emotions and helped them cope with them.
In addition to these electronic sessions KEC also helped families with their existential needs. The majority of our families are single parents and many of them barely survive financially in normal times. Like for so many people, the COVID virus has only made survival even more difficult. We managed to collect and distribute 121 food packages for our families.
KEC staff and families are eager for the programs to begin again "in real life" but we are still closed for now. Considering the special needs of our community we are cautious about reopening. We will consult with the authorities about how and when to do this. Until then we will all have to accept the socially distanced version of KEC.
Your help and support enables us to keep providing this support to our beneficiaries and their families. The KEC team hopes that you and your families are safe and healthy.