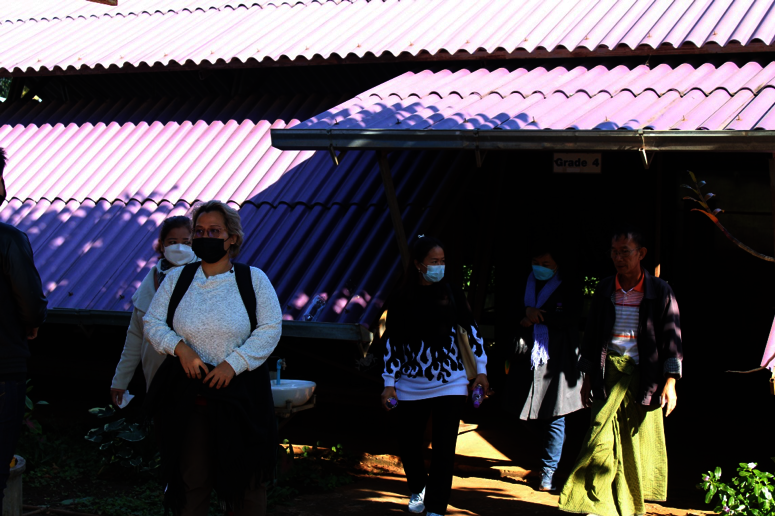 I. Main Challenges
Documentation and Security: Documentation remains a widespread challenge for the migrant community, especially for migrant teachers working at Migrant Learning Centers (MLCs). According to the Bridge Participatory Action Research on the Future of Migrant Education in Thailand, as of November 2019, only 35% of migrant teachers have a legal document such as ten years card or work permit by different types of ID. Also, 74% of MLC teachers hold Migrant Educational Coordination Center (MECC) cards. MECC is an organization under the Tak Primary Education Service Area Office 2 (Tak PESAO 2), which leads coordination between MLCs, NGOs, CBOs, and Government parties. All Migrant learning Centers in Tak province have to register under MECC. Then, to get a MECC card, the teacher must have a BMTA member card. Likewise, 41 MLCs are BMTA partner schools, and over 300 teachers are BMTA member teachers and hold BMTA cards and MECC cards. These cards provide teachers some safety, but it is not a legally recognized form of identity. It is not an option for someone from Myanmar to obtain a legal work permit as a teacher. This obstacle and many other documentation challenges make the life of a teacher at Migrant Learning Centers full of uncertainty and risk. Most of the Migrant teachers who live and work at Tak Province were arrested by local police and fined 3,000THB.
Teacher Support: Continued financial support for MLC teachers is still needed. Also, without qualified teachers, we cannot provide quality education to our migrant community.
MLCs Operation Support: Due to the prolonged closure of MLCs, most of the MLCs lack funding to support school operation costs. Finally, there is a gap between donors and MLCs as both need to collaborate, understand the challenging situation, and provide sustainable solutions.
II. Activities carried out in the last 6 month
Support for teachers' pink card
BMTA is tirelessly working for migrant teachers and migrant education during the Covid-19 pandemic. Starting December 17, 2021, BMTA worked closely with Suwannimit Foundation to provide legal documents to migrant teachers under BMTA. Due to financial limitations, BMTA could only cover half of the cost of the pink card for 26 migrant teachers from our partner schools. However, the process is ongoing, and the paper given by the Thai Labor Office is used by teachers when they travel around Mae Sot until they have the Pink Card. Once migrant teachers get the Pink Card, they can feel safe from arrest and fines.
Assessment for School Reopening Plan
During the reporting period of December 2021 and January 2022, we conducted an assessment of 38 Migrant Learning Centers regarding the school reopening plan. We identified and assessed the needs and the areas that require support for the reopening of the schools. After the assessment, we conducted data analysis.
COVID-19 Vaccination for schools
As mentioned in our previous report, we successfully collaborated with our educational and health partners to provide COVID-19 vaccines for approximately 100 teachers and 300 students from 30 Migrant Learning Centers who work with us. Additionally, we distributed masks and hand gel to our 30 partner Migrant Learning Centers.
Child Safeguarding Project
BMTA collaborates with other educational and child protection partners in the Child Safeguarding project of Mae Tao Clinic, which aims to provide child safeguarding knowledge to the migrant learning centers, create a safe space for students, and apply Child Safeguarding Policy. We have conducted online training with the management team of the Migrant Learning Centers and given a ToT (Training of Teachers) to representatives from our partner organizations who have the potential to become trainers. Our trainer teams have been conducting online training on Child Safeguarding for teachers and staff at every level. Ninety-four teachers and staff from 20 Migrant Learning Centers have received the training during February and March 2022. Ten more MLCs under BMTA are waiting to get their training as well.
III. Planned future activities
Following the need of the Migrant Learning Centers identified after the assessment, we have two main plans for the next reporting period, distribute water sinks for washing hands to 30 migrant learning centers and raise awareness on education. We plan to conduct PTA training for the parents of our students. However, there is a possibility that we might have to modify and adjust our plan due to the COVID-19 situation.
IV. Our recommendation
According to our assessment result, Migrant Learning Center operation cost is one of the biggest challenges during the Covid-19 pandemic. Documentation and the salary of teachers follow as second challenges. Therefore, to retain and support migrant teachers and MLCs, we need funding and setting a formal process for legal registration and documentation of teachers.
BMTA and Suwannimit Foundation are working together for migrant teachers through your fund. By obtaining this document, migrant teachers will not be arrested and fined. Migrant teachers can travel around Mae Sot for Home Base Learning and school visiting activities. However, this ID does not provide them with status as a professional teacher in Thailand.