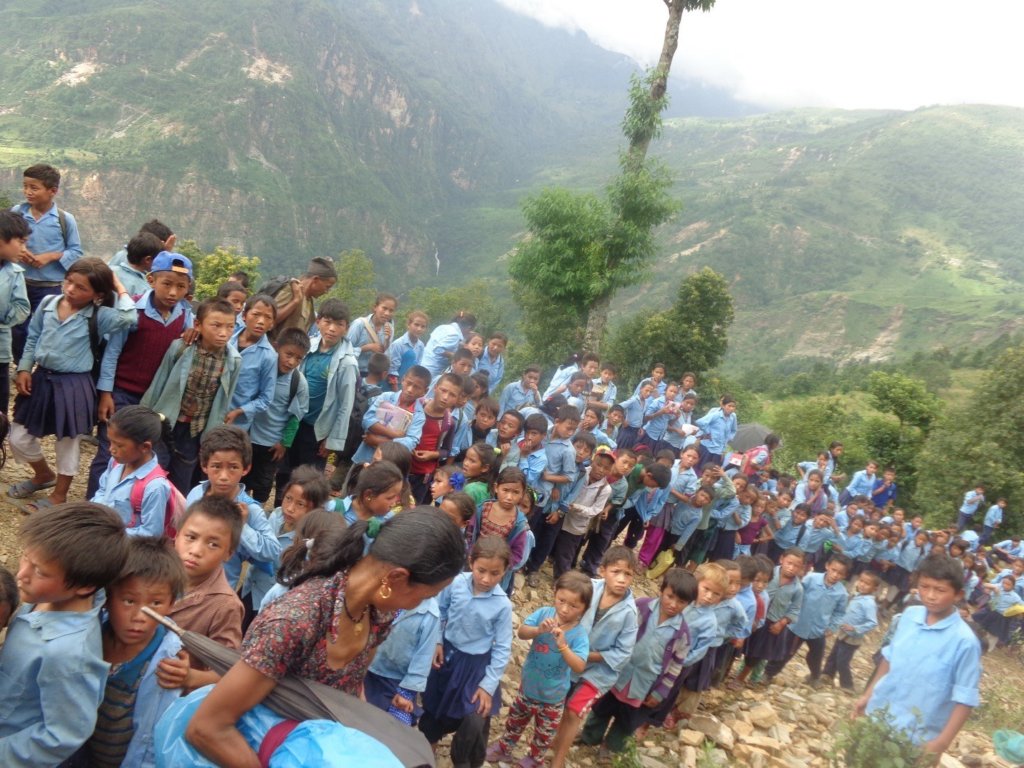 Over 1 million children in Nepal have been without access to safe permanent classrooms, educational materials and health facilities following the massive earthquake of 25th April 2015. With the aim of bringing children back to school, PHASE undertook a project to create Temporary Learning Centres through setting up tents and providing children with basic stationary materials.
PHASE has established 43 Temporary Learning Centres (TLC's), 2 resource centres in Sindupalchowk district and 2 TLC's in Gorkha district. To encourage children to return to these TLC's and to support their learning, PHASE distributed 'Back to School' packs amongst 1339 students from Hagam region and 67 students from Fulpingkot region.
PHASE were able to supply a staggering amount of equipment to these communities including 14,000 exercise books, 8,400 pens, 8,400 pencils, 1,400 school bags, 4,200 erasers and 4,200 sharpeners.
As a result of the 'Back to School'Project, at least 1,200 children are back in school regularly and have sufficient educational materials. This is important for the conduct of normal classes. Parents commented how happy they are to see the return of their children to education and one of the parents said PHASE Nepal's educational materials distribution project had diminished the worry of the lack of schooling to all the parents in Hagam. Teachers from all the schools in Hagam participated in the distribution process, so it was very special that they were able to supply educational materials to their students. Mr. Bhakta Bahadur Thapa, Principal of Bankalidevi Secondary School, recognised the efforts towards 'Back to School' project at the materials distribution event and Mr Birendra Jung, Assistant District Education Officer, expressed his gratitude on behalf of District Education Office towards PHASE Nepal for supporting children in Hagam.
Children expressed that their school materials had been buried in the rubble and the government had resumed schooling without any support and that prior to PHASE'S tent support the children had to study in an open space. Almost all the students expressed their gratitude towards the Temporary Learning Centre and Educational material.
The Government is also working alongside Cluster partners to train more than 19,000 teachers on psychosocial support and life-saving messages that the children will need in the coming months and years.
Temporary Learning Centres and school material distributions play a vital role after such a catastrophic event such as an earthquake. They minimise disruption to children's education, protect them from exploitation and abuse, and provide them with messages to keep them safe and healthy. Going to school also allows children to regain a vital sense of routine that can help them come to terms with their experiences.
You can clearly see from the photographs below how many children PHASE were able to help through this project.
If you would like to continue to support PHASE and the children in Hagam donate to our project here - http://www.globalgiving.co.uk/projects/help-children-in-nepal-to-continue-their-education/ or email sarah@phaseworldwide.org for recieved updates about our work.