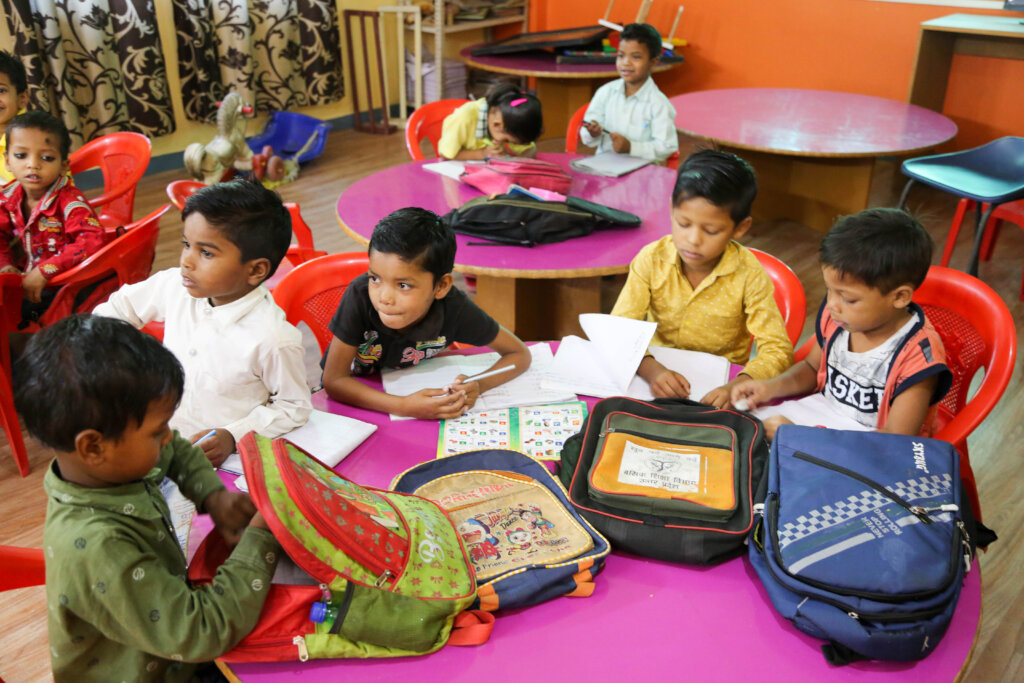 The "Keshwa Open Shelter Home" program in Robertsganj includes the daily care and education of 25 boys aged 6-10 years from 9 a.m. to 5 p.m. from Monday to Saturday, except on public holidays. We pick up the children from home and bring them into our Keshwa Child Welfare Center in the morning and start the day with a morning prayer.
This is followed by a three-hour lesson in Hindi, English, mathematics, and general knowledge. The children receive daily instruction in these subjects. At 1 p.m. there will be lunch together. After the meal, the children have time until 4 p.m. for games, singing, dancing and other leisure activities. This promotes social interaction, as some children are shy and reserved.
After the play phase, the children are brought back home by 5 p.m. Over time we will bring many of the children from this program together with the school children from Keshwa Gurukul School so that separate classes will emerge. The children can then also use our newly purchased playground opposite the Keshwa Child Welfare Center.
All children are from families who live below the poverty line. They come from three villages in a distance of around 3-4 kilometers from our Keshwa Child Welfare Center. Normally parents are not always motivated to send their children to school as they need them to earn some money. Sometimes it is a challenge to win the parents into sending their children to school as often as possible.
We only can reach them as we are in permanent contact with the families and over time, we build a trustful relationship and try to strengthen the self-confidence of the women. So, education of the children and family consulting goes hand in hand. But it will take time and we are not successful in all cases as some people are still not convinced. But we are making good progress and get support from local Government.
In order to bring more children from the villages we need a school bus. This will be our next investment as soon as the budget is available.
Thank you so much for your great support. Without you nothing would work.