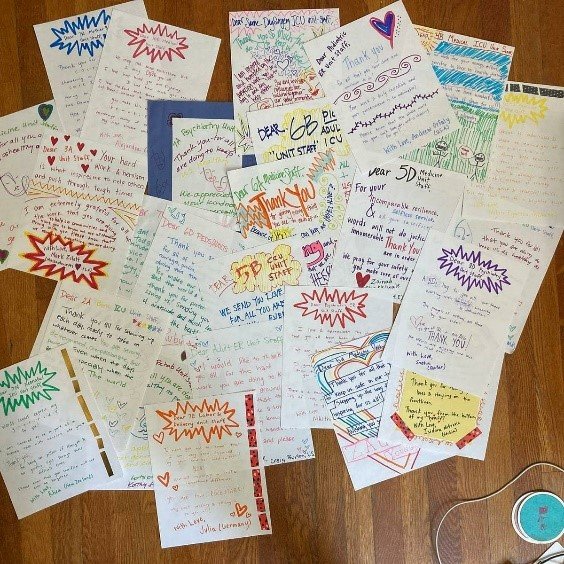 We have made new friends and sent a lot more letters!
Hello there!
It's been a while and we have quite a bit to report! Last time round we signed off with our World Refugee Day digital fest and figuring out logistics to reach out to our camp partners. We are pleased to say that we have been able to meet some tiny tots and do more. Read on to find out the exciting projects we have finished and are working on.
1) Letters of Love reached USA and Italy
If you have been following our earlier work, you know that we are working with Campaign Ambassadors around the world to scribe letters that we receive digitally to send to medical staff at the frontlines. We were finally able to get letters delivered to our hospital partners in Syracuse, USA and Cremona, Italy. On account of the hospitals being in high-risk zones, it took us longer than expected to get the letters delivered but we faced the odds and were able to safely evoke some smiles. Fun fact – the pictures of the team in Cremona, Italy by Paolo a fellow doctor at the facility inspired our entire #silvERlinings campaign to celebrate the doctors and staff. Stay tuned as we work on sorting out the logistics to more deliveries around the globe.
2) Fundraiser to support Lebanon
The world was shocked by the unfortunate events that unfolded in Beirut on August 4th and all we wanted to do was champion the rebuilding efforts that were happening on-ground and around the world. So, we partnered with 26 Letters, a Lebanon - based non-profit organisation that offers free education to children to help raise funds for the facility that was destroyed and families of students who had incurred losses and needed help.
3) Work in Palestine.
Our Operations Manager in Palestine, Daniela got in touch with a community centre to create a socially safe place for our team of volunteers to interact with children with disabilities. Given the times we are in, Letters of Love distributed care packages with goodies, masks, gloves and sanitisers to the children in addition to conducting skits and interactive session to engage with the children. We have always advocated the use of art to educate and get through to children and this project was centred around performance art to encourage the children to express and voice their thoughts. Of course, this was all beautifully wrapped up with the distribution of letters!
4) The Merakil Project
Our DearHeroes campaign in Abu Dhabi, United Arab Emirates (U.A.E) reached the periphery of another team in the U.A.E. who were essentially also thanking the medical staff at hospitals digitally. It only made sense to collaborate and amplify the opportunity to collect gratitude. We partnered with The Merakil Project for the month of September to collect songs, dances, graphic art, written notes; art in all forms online that would be sent to a hospital team in Dubai, U.A.E.
5) New Year is around the corner.
Meet Greet and Scribbles have been much-awaited events for Letters of Love followers where events are conducted in their respective cities to come together and hand-make cards that are packed and sent to refugee camps around the world. On account of covid restrictions, we are unable to conduct our usual line-up of events. However, the letter-writing has not ceased. Clara, our delightful Student Ambassador organized a Meet Greet and Scribble at a community center in Syracuse, USA where people of all age groups came together to write and doodle some love.
This year has been a tumultuous one but amidst all the uncertainty there has been a massive surge of hope and yearning to latch onto the light. Thankfully, with your support and constant well-wishes we have been able to further our work and efforts to litter the world with joy and continue striving forward.
A LOT MORE EXCITING NEWS COMING YOUR WAY!
So till next time, stay safe and kind!
THANK YOU VERY MUCH: D