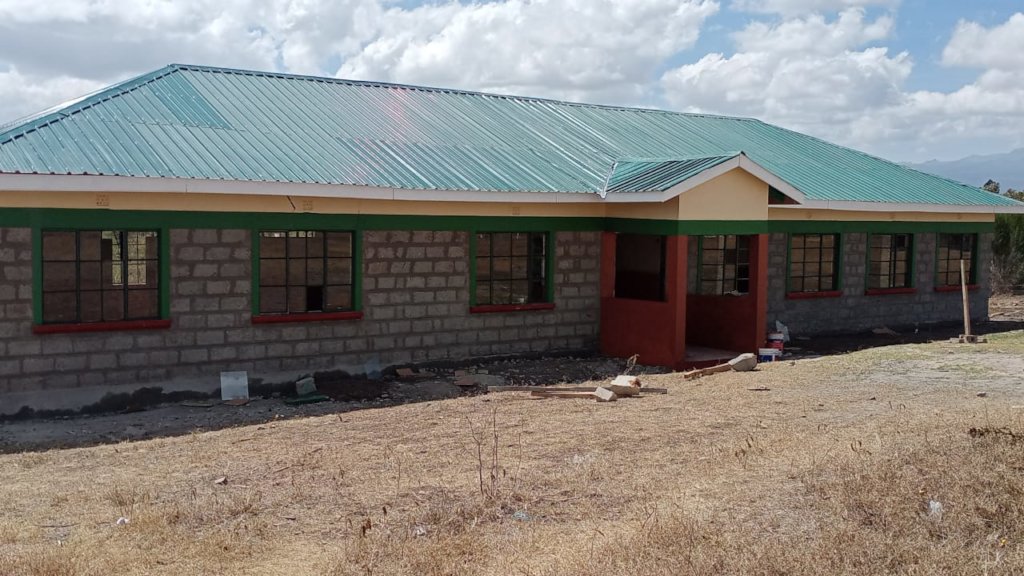 We are happy to let you know that the Mwituria dormitory construction – made possible by your generous donations, is in its final stage! As you may remember, thanks to your overwhelming response to our call to support the education of our community children, we decided to build two dormitories – from just one originally, which would increase the boarding capacity from 64 to 128, and add teachers' housing to ensure the children are properly supervised and kept safe, particularly at night.
Building progress
The first dormitory has now been fitted with windows, the paintwork is complete. The only items remaining are the fitting of the doors and landscaping.
The superstructure on the second dormitory is complete and it is currently being roofed. The teacher's block and washroom structures are also in the roofing stage.
The school board has been regularly inspecting the construction work and confirmed that the quality of the work is as per the school's expectations. The Ol Pejeta logistics team has also been instrumental in ensuring that the project is up to standard by making weekly site visits. This is a project that we are particularly proud of.
Administration
The school will need to be re-registered with the Ministry of Education as a boarding school. The registration is pending and will be pursued once all the construction works are complete, inspected, and deemed safe and habitable for school-going children.
Delays and New Timeline
We had previously reported an expected project timeline ending December 2020. However, Kenya – in particular Laikipia where the school is based – received an unforeseen amount of rainfall from the beginning of December 2020, which halted any work that was going on at the site. Additionally, the rain made the roads impassable making it very challenging for the truckloads of construction material to make it to the site.
The team has now recalculated a new timeline with the current conditions and estimates that the work will be completed by the 6th of March, 2021.
Thank you so much once again for your support on this project. We all cannot wait to see the smiles on the students' faces once the dormitories are opened. It will have a tremendous impact on the community and the future of conservation in the area.