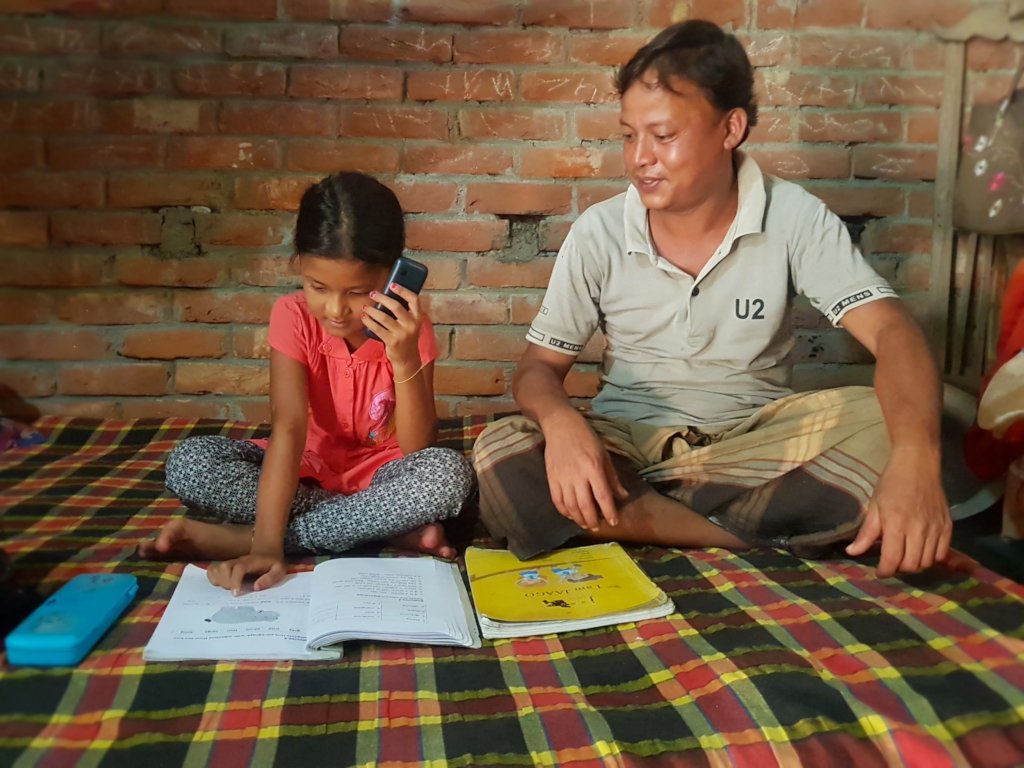 Rabeya* from JAAGO Bandarban school does not want network issues to disrupt her education. So she travels miles every day to her school and calls her teachers to take lessons and homework. But she is in need of your support currently. Help children like Rabeya get an education and take on the world.
Rabeya studies in grade 4 at JAAGO Bandarban school. She is receiving her education over the telephone, as schools are now closed due to the pandemic. However, her home in Bandarban is in a hilly area outside of telephone and mobile network coverage. Not willing to let this disrupt her education, she travels every day to her school campus with her father, which has network access and calls her teachers to take lessons and homework. She sits on the school balcony every day until sunset and finishes her homework and studies. For her security, one of our community officers accompanies her during her entire stay at the school premises.
Because of supporters like you, Rabeya and her family have hope that she'll be able to go back to school and have another chance at a childhood. Creating lasting change in the lives of these children facing a crisis, poverty is absolutely not possible without you.

But there are more children across Bangladesh who share a similar story and need your urgent support. Please give now to ensure we can help children like Rabeya each and every day moving forward.
Gratitude Note:
JAAGO Foundation has always dreamt of a better tomorrow where our children, no matter what economic background they come from, will have the opportunity to receive an education. And it couldn't have been possible without our NGO partners, corporates, donors, and well-wishers who have been our companions in the journey of fulfilling this dream. Your help and support have always inspired us to move forward. Thank you for your generous support of our "Free of Cost School for Underprivileged Children" project, which has been able to put a smile on the faces of 4000 underprivileged children. We would love to express our appreciation on behalf of all JAAGO students, teachers, parents, and employees. With you all, we dream of a beautiful future.
*Under the safeguarding policy to protect the child's rights, either the name or the picture, or both, have been changed.